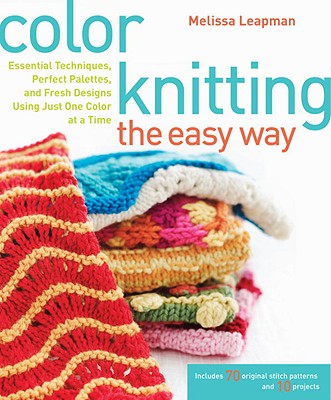 Color Knitting the Easy Way: Essential Techniques, Perfect Palettes, and Fresh Designs Using Just One Color at a Time (Paperback)
Essential Techniques, Perfect Palettes, and Fresh Designs Using Just One Color at a Time
Potter Craft, 9780307449429, 160pp.
Publication Date: April 27, 2010
* Individual store prices may vary.
or
Not Currently Available for Direct Purchase
Description
Embrace color with simple techniques from knitting and colorwork master Melissa Leapman A cozy hat and scarf set to match a winter coat, mittens in a young child's favorite colors, a sweater to bring out the blue of a friend's eyes, a throw pillow that revives the look of a room. Selecting and combining just the right color palette makes any project extra special-and makes our knitting even more fun. In Color Knitting the Easy Way, renowned knitwear designer, teacher, and author Melissa Leapman explores the simplest and most popular ways of knitting with two or more yarn colors--using just one color in each knitted row. No more juggling multiple yarns in your hands as you knit One-color, one-row stitch techniques allow for a minimal learning curve but can yield maximum impact. From basic stripes to intricate slip stitch and mosaic patterns, Leapman's clear, easy-to-use instructions explain the foundations of color knitting and how to combine basic stitches to achieve texture, vibrancy, and patterns that will wow family and friends. Ten original projects, including an everyday clutch, dress, jacket, sweaters, and more, allow you to practice each new technique and are do-able for even beginning knitters. And more than 70 unique stitch patterns will inspire knitters of all skill levels to create their own custom designs. Throughout, Leapman reveals tips and tricks to help you avoid common problems and to answer the questions most asked by knitters in the popular workshops she teaches around the country. In addition, Leapman demystifies the color wheel and shows you how to use it to get the look you want for your finished projects, whether you want to highlight stitchwork, bust through your sash, or even camouflage a figure flaw With sections on general knitting techniques, chart reading, and every color combination around the color wheel, Color Knitting the Easy Way has all the tools you'll need to knit patterns for two or more colors the fun--and easy--way.
About the Author
MELISSA LEAPMAN is a widely published knitwear designer, whose patterns have appeared in every premier needlework publication in the country, including Vogue Knitting, Knitter's, McCalls, Family Circle, Better Homes and Gardens, and Interweave Knits. She has been a featured guest on DIY's Knitty Gritty, Lifetime TV's Handmade by Design, Shay Pendray's Needle Arts Studio on PBS, and HGTV's Sew Much More. Her knit, crochet, and design workshops are popular nationwide.
Advertisement