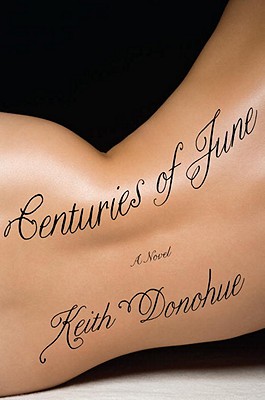 Centuries of June (Hardcover)
Crown, 9780307450289, 352pp.
Publication Date: May 31, 2011
Other Editions of This Title:
Digital Audiobook (5/30/2011)
Paperback (11/20/2012)
* Individual store prices may vary.
Description
Keith Donohue has been praised for his vivid imagination and for evoking "the otherworldly with humor and the ordinary with wonder" (Audrey Niffenegger). His first novel, The Stolen Child, was a national bestseller, and his second novel, Angels of Destruction, was hailed as "a magical tale of love and redemption that is as wonderfully written as it is captivating" (Pittsburgh Post-Gazette). Centuries of June is a bold departure, a work of dazzling breadth and technical virtuosity.

Set in the bathroom of an old house just before dawn on a night in June, Centuries of June is a black comedy about a man who is attempting to tell the story of how he ended up on the floor with a hole in his head. But he keeps getting interrupted by a series of suspects—eight women lying in the bedroom just down the hall. Each woman tells a story drawn from five centuries of American myth and legend in a wild medley of styles and voices.

Centuries of June is a romp through history, a madcap murder mystery, an existential ghost story, and a stunning tour de force at once ingenious, sexy, inspiring, and ultimately deeply moving.
About the Author
Keith Donohue is the author of the acclaimed novels "The Stolen Child" and "Angels of Destruction." For several years he was a speechwriter at the National Endowment for the Arts in Washington, D.C., and he now works at another federal agency. He lives with his family in Wheaton, Maryland.
Praise For Centuries of June…
"Part ghost story, part psychological mystery and part vaudeville show. Think Scheherazade by way of "Tristram Shandy" by way of "The Sixth Sense."—Washington Post

"A tour de force in its mastery of styles, the book also has moments of high silliness—though toward the end Donohue weaves the threads of plot together in a surprising and affecting way."—Kirkus Reviews

"Donohue's faultless eye for character and keen sense of humor keeps what could easily become a muddled mess pristine, with members of his quorum shining individually but also acting as cogs in the larger story's machinery. There are moments when the reader is left to wonder how things can possibly come together, but it's worthwhile to trust Donohue's narrators as they lead this puzzling and greatly satisfying trip."—Publishers Weekly

"Donohue's polished prose holds the story together and offers a more than satisfying ending."—Booklist

"VERDICT: Donohue's tour de force blends aspects of time travel and reincarnation genres into a witty whole. With a touch of David Mitchell and Audrey Niffenegger, but a witty style uniquely the author's own, this novel about a clueless man, who may in some future life get it right, is a pleasure to read."—Library Journal

"[T]he product here is uniquely Donohue, and the craft seamless in the spinning of an absorbing skein of yarns in a marvelous display of voice weaving together to form a single tapestry: a "parti-colored utterance" (to quote Annie Dillard) unfolding about love, mortality, men and women, memory, family, and the fundamental force of storytelling." —Buffalo News
or
Not Currently Available for Direct Purchase