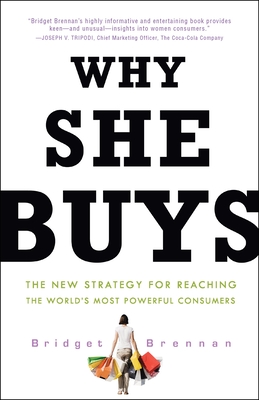 Why She Buys
The New Strategy for Reaching the World's Most Powerful Consumers
Paperback

* Individual store prices may vary.
Other Editions of This Title:
Digital Audiobook (10/10/2016)
MP3 CD (10/11/2016)
Compact Disc (10/11/2016)
Description
If the consumer economy had a sex, it would be female.
If the business world had a sex, it would be male.

And therein lies the pickle.

Women are the engine of the global economy, driving 80 percent of consumer spending in the United States alone. They hold the purse strings, and when they've got a tight grip on them as they do now, companies must be shrewder than ever to win them over. Just when executives have mastered becoming technology literate, they find there's another skill they need: becoming female literate.

This isn't always easy. Gender is the most powerful determinant of how a person views the world and everything in it. It's stronger than age, income, or race. While there are mountains of research done every year segmenting consumers and analyzing why they buy, more often than not it doesn't factor in the one piece of information that trumps them all: the sex of the buyer. It's stunning how many companies overlook the psychology of gender when we all know that men and women look at the world so differently.

Bridget Brennan's Why She Buys shows decision makers how to bridge this divide and capture the business of the world's most powerful consumers just when they need it most.

• No Matter Where You Live, Women Are a Foreign Country: You'll discover the value in studying women with the same intensity that you would a foreign market. Women grow up within a culture of their own gender, which is often invisible to men. Brennan dissects this female culture and explains the important brain differences
between men and women that may cause your female customers to notice things about your products, marketing campaigns, or sales environment that you might have overlooked.

• The High Fives: There are five major trends driving the global female population that are key to determining their wants and needs. These global shifts are just beginning to be tapped by businesses, and learning about them can provide you with an invaluable blueprint for long-range planning.

• The Good, the Bad, and the Ugly: Find out how the best and brightest companies have cracked the female code, and hear horror stories about those that haven't. Through instructive case studies and interviews, Why She Buys provides practical, field-proven techniques that you can apply to your business immediately, from giants like Procter & Gamble and Toyota to upstarts like Method home-care products and lululemon athletica apparel.

At a time when every company is looking for a competitive advantage, Bridget Brennan offers a new and effective lens for capturing market share.
Praise For Why She Buys: The New Strategy for Reaching the World's Most Powerful Consumers…
"Bridget Brennan's book provides a highly readable road map to help marketers and salespeople understand women's beliefs, values, and sensitivities. Given that women account for a high percentage of purchases, while many products are developed and sold by men, a reading of Bridget's book will go a long way to closing this gap and improving the satisfaction of both genders." —Philip Kotler, S. C. Johnson & Son Professor of International Marketing, Kellogg School of Management, Northwestern University

"Bridget Brennan's highly informative and entertaining book provides keen–and unusual–insights into both the psychological makeup of women consumers and the demographic facts that everyone in business needs to know in order to execute marketing strategies in this challenging economic environment. Long live the Female Economy!" —Joseph V. Tripodi, chief marketing and commercial officer, The Coca-Cola Company

"Ms. Brennan is all about the commerce she observes.  'If the consumer economy had a sex, it would be female.  If the business world had a sex, it would be male.  And therein lies the pickle.' [She] explores the marketing opportunities offered by trends…all of which leave women making even more buying decisions." –Wall Street Journal

"Is the customer always right?  Yes, She is: An entertaining and …rich account of…untapped opportunities.  Fun and anecdotal." --Financial Times 

"Lively, insightful and relentlessly engaging…should be required reading for anyone burdened with a Y chromosome." –Fortune Small Business

"Brennan details the major trends behind female spending and provides strategies for companies to crack the code." –Forbes Woman

"[Brennan] explains why the existing misunderstanding of gender cultures isn't just a gender gap but a gender "canyon," and provides case studies of female-focused initiatives from marketers such as Callaway, Ryland Homes, Lululemon, Lexus and MasterCard" – Advertising Age

"Word of mouth can make or break a brand, and this book confirms the fact that women talk to other women more about products than men do" --Journal of Consumer Marketing

"Why She Buys [guides] retailers and consumer goods manufacturers on how [women] are increasingly powerful consumers and how they think and shop."–LA Times

"Nab the Women's Market" – Investors Business Daily

"Since we (women) are driving the economy and the economy could use a boost, it's all good news" – ABC NEWS NOW

"[Women] are the most important constituency because they make all the decisions….a much needed perspective" – Fox Business Morning

"Witty and insightful" – Marie Claire India
Currency, 9780307450395, 320pp.
Publication Date: September 13, 2011
About the Author
BRIDGET BRENNAN is the CEO of Female Factor. She has pioneered marketing and sales strategies that appeal to women and has worked with major companies to put them into practice. Throughout her award-winning career, Brennan has worked for clients such as Whirlpool, Johnson & Johnson, Colgate-Palmolive, Pizza Hut, and United Airlines. She is a popular speaker who has lectured at Northwestern University's Kellogg School of Management. She lives in Chicago.