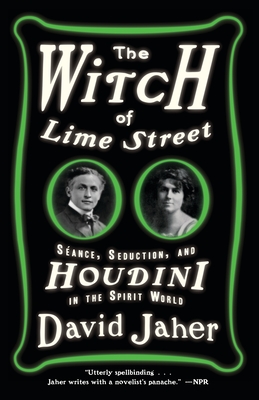 The Witch of Lime Street
Séance, Seduction, and Houdini in the Spirit World
Paperback

* Individual store prices may vary.
Other Editions of This Title:
Digital Audiobook (10/5/2015)
Hardcover (10/6/2015)
Compact Disc (10/6/2015)
Description
History comes alive in this textured account of the rivalry between Harry Houdini and the so-called Witch of Lime Street, whose iconic lives intersected at a time when science was on the verge of embracing the paranormal.

The 1920s are famous as the golden age of jazz and glamour, but it was also an era of fevered yearning for communion with the spirit world, after the loss of tens of millions in the First World War and the Spanish-flu epidemic. A desperate search for reunion with dead loved ones precipitated a tidal wave of self-proclaimed psychics—and, as reputable media sought stories on occult phenomena, mediums became celebrities.

Against this backdrop, in 1924, the pretty wife of a distinguished Boston surgeon came to embody the raging national debate over Spiritualism, a movement devoted to communication with the dead. Reporters dubbed her the blonde Witch of Lime Street, but she was known to her followers simply as Margery. Her most vocal advocate was none other than Sherlock Holmes' creator Sir Arthur Conan Doyle, who believed so thoroughly in Margery's powers that he urged her to enter a controversial contest, sponsored by Scientific American and offering a large cash prize to the first medium declared authentic by its impressive five-man investigative committee.  Admired for both her exceptional charm and her dazzling effects, Margery was the best hope for the psychic practice to be empirically verified.  Her supernatural gifts beguiled four of the judges. There was only one left to convince...the acclaimed escape artist, Harry Houdini.

David Jaher's extraordinary debut culminates in the showdown between Houdini, a relentless unmasker of charlatans, and Margery, the nation's most credible spirit medium. The Witch of Lime Street, the first book to capture their electric public rivalry and the competition that brought them into each other's orbit, returns us to an oft-mythologized era to deepen our understanding of its history, all while igniting our imagination and engaging with the timeless question: Is there life after death?
Praise For The Witch of Lime Street: Séance, Seduction, and Houdini in the Spirit World…
Praise for David Jaher's The Witch of Lime Street

An NPR Best Book of 2015

"Riveting reading...flamboyant, enigmatic, and complex characters. [Jaher] is also a diligent researcher, and his storytelling skills are impressive."
—Wall Street Journal

"Occasionally, you run across a book so good it feels like a secret — and spend months recommending it to anyone who will listen. That's The Witch of Lime Street."
—Genevieve Valentine, NPR's Best Books of 2015

"David Jaher's stunning and brilliantly written account of the battle between the Great Houdini and the blond Witch of Lime Street illuminates a lost period in American history...One of Jaher's great achievements is to build real suspense in a tale whose conclusion is foreordained…captivating and unforgettable." 
—Cass Sunstein, The New York Review of Books

"David Jaher's utterly spellbinding The Witch of Lime Street…painstakingly sets its scene, which spans more than a decade and involves so many interrelated figures that you almost expect a list of dramatis personae…Jaher writes with a novelist's panache about the intricacies of the egos in play (Houdini's and Doyle's more than most, though several contest judges give them a run for their money). With the result something of a foregone conclusion — you'll notice "psychical research" is not currently a household industry — it's all the more impressive that Jaher builds the sense of mystery effortlessly, without seeming as though he's actually withholding any of the key information about the society medium who would rock Scientific American. He chronicles Mrs. Crandon's social circle with a mixture of poetic sympathy and journalistic distance. (And he backstories her husband Dr. Crandon with a beat of the what-the-hell candor that makes this book such a page-turner.)…But like any good magician, Jaher has other tricks up his sleeve. As the plot thickens, we begin to see macabre glimpses of things falling apart: examples of Houdini's short temper, power struggles between journalism and academia, hints of Mina's personal and family demons. It was a raucous age, and The Witch of Lime Street makes sure its spooky showdown happens smack in the middle of the action. It's a delightful history, a captivating mystery, and thanks to Jaher's stylish flourishes, even the big reveals maintain an air of high-wire theatricality — like any good magician, The Witch of Lime Street knew what we wanted all along."
—NPR

"So carefully paced that readers will still need to pinch themselves to remember the book is nonfiction...The supernatural moments of The Witch of Lime Street are balanced by the author's deft contextualization and inclusion of correspondence and other archival materials. Lurid and almost unbelievable, Jaher's debut is a fascinating and sensational chapter of U.S. history."
—Minneapolis Star Tribune

"Through deep sourcing of newspaper articles and personal correspondence, Jaher himself has succeeded in reviving ghosts."
—Washington Post

"David Jaher's colorful account of the career of the woman reporters dubbed The Witch of Lime Street sets her in the context of a wider war over the validity of the spirit world… Jaher calls forth a vivid cast of characters in a world no less interesting for being thoroughly physical."
—Columbus Dispatch

"In his book The Witch of Lime Street, first-time author David Jaher does a bit of his own sleight of hand, pulling a solid piece of historical reporting out of the ethereal and often tawdry world of spiritualism... Jaher's research of spiritualism and its early 20th-century cast of characters is meticulous."
—Milwaukee Journal Sentinel

"Tightly paced and furiously entertaining...The Witch of Lime Street is a well-researched history of the links between vaudeville, magic and mediumship told with verve and humor. Fans of Glen David Gold's novel Carter Beats the Devil will find much to enjoy here."
—Bookpage

"The story of how the Scientific American investigation unfolds grows richer the longer it goes on... The Witch of Lime Street is sure to be an important addition to Houdini studies."
—Dallas Morning News

"Some of the 20th century's most colorful and larger-than-life figures come together in a story that is almost too bizarre to believe...Jaher is a very gifted storyteller."
 —Historical Novels Review

"Jaher brings Harry Houdini's crusade against Spiritualism back into popular knowledge in his gripping first book…a fascinating look at the Spiritualist movement in 1920s America."
—Publishers Weekly [Starred Review]

"Jaher's narrative style is as engaging as his character portraits are colorful. Together, they bring a bygone age and its defining spiritual obsessions roaring to life. Fascinating, sometimes thrilling, reading."
—Kirkus Reviews

"In this excellent first book…, it is the cat-and-mouse game between Houdini and Margery that will keep readers turning pages. Jaher's narrative gifts keep the story moving while imbuing a real sense of the personality and humanity of the protagonists. This book will be enjoyed by fans of Houdini and the occult and by those fascinated with American social history and Jazz Age culture."
—Library Journal

"A colorful, fascinating depiction of a response to a time of great losses and the human need to reconnect, however dubiously, with departed loved ones."
—Booklist

"A beautifully written, deeply researched, and delightfully mysterious tale of grifters and ghosts in the Jazz Age. David Jaher writes about the battle between science and spiritualism with a charming combination of sympathy, skepticism, and suspense. Jaher has made a great debut as a historian and a story-teller."
—Debby Applegate, Pulitzer Prize-winning author of The Most Famous Man in America
 
 "A perfectly told mystery story involving a famed early 20th century medium, who thrilled her followers and puzzled even celebrity skeptics such as Harry Houdini. This compelling book by David Jaher is a genuinely lovely exploration of our belief systems, both magical and rational. I can promise you that once you finish it, you'll want to sit down and read it again. That's exactly what I did."
—Deborah Blum, Pulitzer Prize winner and author of Ghost Hunters and The Poisoner's Handbook
 
 "A spectacular debut that is both a thrilling page-turner and an unforgettable tale of a high-stakes rivalry."
—David King, bestselling author of Death in the City of Light and Vienna, 1814
 
"Reads like a collection of mysterious tarot cards—Ouija boards, bizarre madame mediums, and yes our friend the Great Houdini. Read it if you dare.
—Lily Koppel, New York Times Bestselling Author of The Astronaut Wives Club
 
 "Jaher's meticulously researched account of Scientific American's infamous contest to find an authentic medium had me racing through the pages to find out how it all turns out. To keep this spoiler-free I'll just say that the paranormal showdown of the early 20th century doesn't wrap up how you may think."
—Stacy Horn, author of Unbelievable: Investigations into Ghosts, Poltergeists, Telepathy, and Other Unseen Phenomena, from the Duke Parapsychology Laboratory
 
"David Jaher's tale of the bizarre 1920s fever fad for spiritualism and séances is as gripping as a mystery thriller, as evocative of that post-Great War decade as a documentary, and as haunting as a ghost story. A fascinating piece of time travel to a forgotten era."
—Kate Buford, author of Native American Son: The Life and Sporting Legend of Jim Thorpe
 
"In this meticulously researched and entertaining work, David Jaher explores a largely forgotten chapter in Anglo-American history—the post-World War I rise of spiritualism, born of a deep desire to commune with the spirits of slain soldiers. The cast of fascinating, masterfully drawn characters ranges from Harry Houdini, a supreme rationalist, to Margery Crandon, a self-proclaimed Boston medium with a huge following. This is, on a deep level, a cautionary tale of the bizarre, painful deception and self-deception associated with human unwillingness to accept the finality of death—especially youthful death."
—Susan Jacoby, author of Freethinkers and The Age of American Unreason
Broadway Books, 9780307451071, 448pp.
Publication Date: October 11, 2016
About the Author
DAVID JAHER received a BA from Brandeis University and an MFA in film production from New York University. At NYU, he was the recipient of the WTC Johnson Fellowship for directing. A New York
native and resident, he is a screenwriter and is writing his next work of American history.


or
Not Currently Available for Direct Purchase