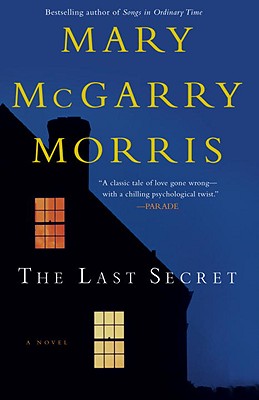 The Last Secret (Paperback)
Three Rivers Press (CA), 9780307451859, 278pp.
Publication Date: April 6, 2010
* Individual store prices may vary.
or
Not Currently Available for Direct Purchase
Description
"There are few contemporary authors whose work can absorb readers so fully and with such immediacy that the line between character and reader begins to seem dangerously thin. Among these few is the brilliant Mary McGarry Morris." -Los Angeles Times Mary McGarry Morris has been hailed as "one of the most skillful writers at work in America today" (Michiko Kakutani, New York Times). In The Last Secret, she tells the riveting story of Nora Hammond, a woman blessed with the perfect life: a charming husband, two bright teenage children, a successful career in the family's newspaper business, and an esteemed role in the charity work of her New England town. But Nora's comfortable existence threatens to unravel when she learns of her husband's longtime affair-and when the specter of a sordid incident from her youth returns with terrifying force. Confronted by shame and betrayal, Nora suddenly feels dangerously alone. With no one to turn to, she becomes easy prey to a ghost from her past-the cunning, relentless Eddie Hawkins. A tautly told tale of psychological tension and chilling moral complexity, The Last Secret accelerates to a shattering conclusion as it explores the irreparable consequences of one family's crimes of the heart. The Last Secret burnishes Mary McGarry Morris's reputation as one of our most pro-digously gifted writers. From the Hardcover edition.
About the Author
Mary McGarry Morris was a National Book Award and PEN/Faulkner Award finalist for her first novel Vanished. A Dangerous Woman was chosen by Time magazine as one of the "Five Best Novels of the Year" and was made into a major motion picture. Her next novel, Songs in Ordinary Time, was a CBS television movie as well as an Oprah Book Club selection, propelling it to the top of the New York Times bestseller list as well as making it an international bestseller. Morris lives in Massachusetts.
Praise For The Last Secret…
Praise for THE LAST SECRET

"THE LAST SECRET would be another (!) depressing story of a woman discovering her husband's betrayal, but Morris pumps that old tale full of adrenaline by running a wicked psychological thriller in the background…What follows is a painfully insightful depiction of the disorienting effects of such betrayal while husband and wife attempt to preserve the theater of a successful marriage….It all leads to a propulsive climax that makes this sensitive work of literary fiction incredibly exciting."
–Ron Charles, The Washington Post

"A classic tale of love gone wrong - with a chilling psychological twist."
–Parade

"Acclaimed author McGarry Morris, whose novel Songs in Ordinary Time was blessed by Oprah, delivers a dark tale of a woman with a haunted past and a tortured present....McGarry Morris manages to make every page ominous yet mesmerizing, delving into issues of betrayal, fidelity and passion. It's an engrossing page-turner for those who enjoy psychological thrillers."
–
Wisconsin State Journal
"Morris approaches her characters with a deft, careful pen, never allowing the unusual situations or emotional tension to be anything but heartfelt and realistic...in this story, perfection fades into reality with a shocking series of twists and turns you can't help but devour quickly."
–Feminist Review

"Morris, whose previous novels include the National Book Award finalist Vanished and the Oprah's Book Club selection Songs in Ordinary Time, excels at delving into the interior lives of her characters."
–BookPage

"Nora Hammond is a well-to-do New England wife who appears to have the perfect life. But her world unravels after she learns of her husband's affair and realizes that an indiscretion from her own past isn't as well hidden as she thought."
–All You

"Morris, a PEN/Faulkner finalist (Vanished) and Oprah Book Club author (Songs in Ordinary Time), here offers a melodramatic plotline that develops into a memorable, cinematic novel through strong portrayals of complex personalities....As suspense builds, Morris adds context and depth by carefully revealing inner lives dominated by deception and loneliness, creating empathy for a variety of flawed characters, including even monstrous Eddie."
–Library Journal

"Keeping secrets leads to calamitous consequences in Morris's disturbing domestic thriller. Morris (The Lost Mother) knocks over a domino chain of events that…confirm the importance of comprehending past mistakes to avoid future ones."
—Publishers Weekly

Praise for Mary McGarry Morris

The Lost Mother
"[The] subtlest novel that ever kept me up into the small hours of the night, unable to look away."
—Washington Post

A Hole in the Universe
"Welcome to the world of Mary McGarry Morris–and what a world it is. Richly atmospheric, bristling with dialogue, so tightened with suspense it threatens to snap. Morris is a master at sympathetic portraits of those clinging to the peripheries of society. And nowhere is her talent more evident than in her extraordinary new novel, A Hole in the Universe."
—Washington Post

Fiona Range
"Morris is a master storyteller. . . . Fiona Range is a wealth of passion and heartbreak."
—USA Today

Songs in Ordinary Time
"A gritty, beautifully crafted novel rich in wisdom and suspense . . .secures Morris's status as one of our finest American writers."
—Miami Herald

A Dangerous Woman
"At once thrilling and deeply affecting . . . Should burnish Ms. Morris's reputation as one of the most skillful writers at work in America today."
—Michiko Kakutani, New York Times

Vanished
"Astonishing. Morris's book should be judged on its own merits, and against the work of our most highly practiced and accomplished novelists."
—Vogue
Advertisement