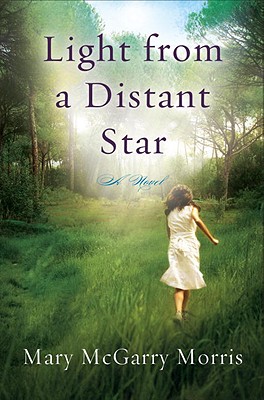 Light from a Distant Star (Hardcover)
Crown, 9780307451866, 336pp.
Publication Date: September 13, 2011
Other Editions of This Title:
Paperback (7/17/2012)
MP3 CD (9/13/2011)
Compact Disc (3/15/2012)
Compact Disc (9/13/2011)
Audio Cassette (9/1/2011)
* Individual store prices may vary.
Description
Light from a Distant Star is a gripping coming-of-age story with a brutal murder at its heart and a heroine as unforgettable as Harper Lee's "Scout."

It is early summer and Nellie Peck is on the cusp of adolescence – gangly, awkward, full of questions, but keenly observant and wiser than many of the adults in her life. The person she most admires is her father, Benjamin, a man of great integrity. His family's century old hardware store is failing and Nellie's mother has had to go back to work. Nellie's older half-sister has launched a disturbing search for her birth father. Often saddled through the long, hot days with her timid younger brother, Henry, Nellie is determined to toughen him up. And herself as well.

Three strangers enter Nellie's protected life. Brooding Max Devaney is an ex-con who works in her surly grandfather's junkyard. Reckless Bucky Saltonstall has just arrived from New York City to live with his elderly grandparents. And pretty Dolly Bedelia is a young stripper who rents the family's small, rear apartment and becomes the titillating focus of Nellie's eavesdropping.

When violence erupts in the lovely Peck house, the prime suspect seems obvious. Nellie knows who the real murderer is, but is soon silenced by fear and the threat of scandal. The truth, as she sees it, is shocking and unthinkable, and with everyone's eyes riveted on her in the courtroom, Nellie finds herself seized with doubt.

No one will listen. No one believes her, and a man's life hangs in the balance. A stunning evocation of innocence lost, Light from a Distant Star stands as an incredibly moving and powerful novel from one of America's finest writers.
About the Author
MARY MCGARRY MORRIS was a National Book Award and PEN/Faulkner Award finalist for her first novel "Vanished, " published in 1988. " A Dangerous Woman," published in 1991, was chosen by "Time" magazine as one of the "Five Best Novels of the Year" and was made into a major motion picture. Her next novel "Songs In Ordinary Time" was a CBS television movie as well as an Oprah Book Club selection in 1997, propelling it to the top of the "New York Times" bestseller list as well as making it an international bestseller.

Since then she has written four highly acclaimed novels, the most recent of which was "The Last Secret, " published by Crown in 2009. She lives in Massachusetts.
Praise For Light from a Distant Star…
"A timeless and timely look at small town life….Morris' page-turner, (which evokes To Kill a Mockingbird) will satisfy her fans and send new readers searching for her earlier titles."--The Washington Post

"Morris' finely crafted prose—simple and lyrical—captures perfectly that sliver of pre-adolescence when the very world around us seems to shudder and shift, when the adults we admire suddenly reveal their flaws, and everything we treasure seems to be slipping away."--Associated Press

"A timeless and timely look at small town life….Morris' page-turner, (which evokes To Kill a Mockingbird) will satisfy her fans and send new readers searching for her earlier titles."--Publishers Weekly 

"Mary McGarry Morris doesn't so much tell a story as spin a delicate and powerful web. With her elegant prose, beautifully drawn characters, and perfect pitch dialog, she lured me in.  And with her intense and gripping plot, she had me ensnared.  I was in love with the sensitive, smart and plucky Nellie from the very first moment I met her and I'll be thinking of her for a good long time.  Light From a Distant Star is a wonderful, powerful novel not to be missed."--Lisa Unger, New York Times bestselling author of Fragile

"Literary accolades, film adaptations, praise from Oprah—Andover's Mary McGarry Morris has earned them all for her suspenseful novels focused on small-town life."--Boston Magazine

"It's impossible to set aside "Light From a Distant Star" once you begin...a riveting read."--Washington Missourian 
or
Not Currently Available for Direct Purchase