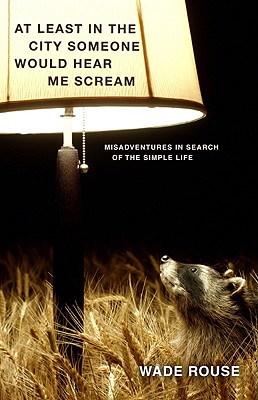 At Least in the City Someone Would Hear Me Scream
Misadventures in Search of the Simple Life
Hardcover

* Individual store prices may vary.
Other Editions of This Title:
Paperback (6/1/2010)
Description
We all dream it.
Wade Rouse actually did it.
Finally fed up with the frenzy of city life and a job he hates, Wade Rouse decided to make either the bravest decision of his life or the worst mistake since his botched Ogilvie home perm: to uproot his life and try, as Thoreau did some 160 years earlier, to "live a plain, simple life in radically reduced conditions."
In this rollicking and hilarious memoir, Wade and his partner, Gary, leave culture, cable, and consumerism behind and strike out for rural Michigan a place with fewer people than in their former spinning class. There, Wade discovers the simple life isn t so simple. Battling blizzards, bloodthirsty critters, and nosy neighbors equipped with night-vision goggles, Wade and his spirit, sanity, relationship, and Kenneth Cole pointy-toed boots are sorely tested with humorous and humiliating frequency. And though he never does learn where his well water actually comes from or how to survive without Kashi cereal, he does discover some things in the woods outside his knotty-pine cottage in Saugatuck, Michigan, that he always dreamed of but never imagined he d find happiness and a home.
"At Least in the City Someone Would Hear Me Scream" is a sidesplitting and heartwarming look at taking a risk, fulfilling a dream, and finding a home with very thick and very dark curtains. "

Praise For At Least in the City Someone Would Hear Me Scream: Misadventures in Search of the Simple Life…
"This is David Sedaris meets Dave Barry….every page is good for a laugh."
–Library Journal

"Rouse chronicles the hilarious escapades of these 'two neurotic urbanites' as they ensconce themselves in the woods without magazine subscriptions, malls, Trader Joe's, HGTV, or lattes. Rouse feels like a Martian confronting the locals at the general store, and suffers extreme anxiety when attempting ice fishing or karaoke. Gay or straight, any reader who has tried to 'fit in' somewhere outside his or her comfort zone will readily empathize with Rouse's rousing and ultimately successful lifestyle change."
–Booklist

"Wade Rouse is a true oddball: half Henry David Thoreau, half Oliver Wendell Douglas. AT LEAST IN THE CITY SOMEONE WOULD HEAR ME SCREAM is a funny, good-natured chronicle of a fish out of water, slowly learning to breathe."
–Tom Perrotta, bestselling author of Election, Little Children, and The Abstinence Teacher

"In AT LEAST IN THE CITY SOMEONE WOULD HEAR ME SCREAM, Wade Rouse's inner Eddie Albert does battle with his inner Eva Gabor. I won't tell you who wins, but the fight is immensely entertaining."
–A.J. Jacobs, bestselling author of The Year of Living Biblically

"Somewhere between Thoreau's Walden Pond and Oliver Douglas's Green Acres lies Wade Rouse. In AT LEAST IN THE CITY SOMEONE WOULD HEAR ME SCREAM, Rouse details his quest to shed the trappings of his fabulous life to live more simply… except no one told him how hard the simple life would be. Rouse is a master raconteur and his transition from city slicker to country mouse is filled with side-spitting humor, heart, and, of course, bands of marauding raccoons. This book has now taken its place at the top of my favorites list!"
—Jen Lancaster, bestselling author of Such a Pretty Fat and Pretty in Plaid





Crown Publishing Group (NY), 9780307451903, 320pp.
Publication Date: June 2, 2009
About the Author
WADE ROUSE is a writer living on the coast of Michigan. A graduate of Drury and Northwestern universities, he is the critically acclaimed author of the memoirs "America s Boy" and "Confessions of a Prep School Mommy Handler" and a contributor to "The Customer Is Always Wrong: The Retail Chronicles." His essays have been published in numerous national magazines and collections."
or
Not Currently Available for Direct Purchase