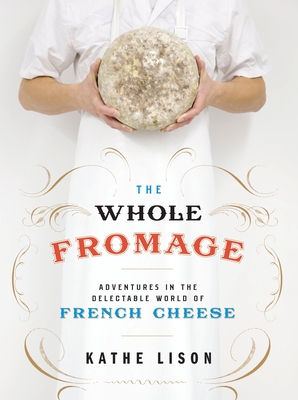 The Whole Fromage
Adventures in the Delectable World of French Cheese
Paperback

* Individual store prices may vary.
Description
An Amazon 2013 Best of the Year Pick

The French, sans doute, love their fromages. And there's much to love: hundreds of gloriously pungent varieties—crumbly, creamy, buttery, even shot through with bottle-green mold. So many varieties, in fact, that the aspiring gourmand may wonder: How does one make sense of it all?

In The Whole Fromage, Kathe Lison sets out to learn what makes French cheese so remarkable—why France is the "Cheese Mother Ship," in the words of one American expert. Her journey takes her to cheese caves tucked within the craggy volcanic rock of Auvergne, to a centuries-old monastery in the French Alps, and to the farmlands that keep cheesemaking traditions alive. She meets the dairy scientists, shepherds, and affineurs who make up the world of modern French cheese, and whose lifestyles and philosophies are as varied and flavorful as the delicacies they produce. Most delicious of all, she meets the cheeses themselves—from spruce-wrapped Mont d'Or, so gooey it's best eaten with a spoon; to luminous Beaufort, redolent of Alpine grasses and wildflowers, a single round of which can weigh as much as a Saint Bernard; to Camembert, invented in Normandy but beloved and imitated across the world.
   
With writing as piquant and rich as a well-aged Roquefort, as charming as a tender springtime chèvre, and yet as unsentimental as a stinky Maroilles, The Whole Fromage is a tasty exploration of one of the great culinary treasures of France.
Praise For The Whole Fromage: Adventures in the Delectable World of French Cheese…
"A mouth-watering read."—New York Post

"An inquisitive romp across France...Rich in storytelling, the book journeys between the historic past and the delicious present in one of the world's most diverse cheese realms. Pick up a copy of The Whole Fromage, and get lost in it."—Culture Magazine 

"From ancient villages to the heights of the Alps, Lison tracks down traditional cheese makers while sampling the fruits of their labors and offering descriptions as full of passion and flavor as the cheeses themselves."—Bask Magazine 

"Kathe Lison proves she is a passionée de fromage with her delightful foray into the French countryside.  From the Loire Valley to the Alpine slopes, Lison's journey is très amusant… [and] captures a passion of all things fromage."—Rob Kaufelt, owner of Murray's Cheese
 
"Kathe Lison is to French Cheese as Peter Mayle is to life in Provence.  The Whole Fromage reads like a novel- insightful with right amount of humility and humor."—Allison Hooper, owner of Vermont Creamery

"Marvelous. Chockfull of humor, story-telling, passion and adventure, Kathe Lison's cheese journey through France reads more like a novel than a true story. Plus, it conveys such a 'you are there' feeling that by the time you finish you've managed to take an entire trip without leaving your living room."—Laura Werlin, author of Laura Werlin's Cheese Essentials
 
"In my dreams, I get to do what Kathe Lison has done and tour France in search of cheese epiphanies. In the interim, I have her engaging book, The Whole Fromage, to remind me of the personal stories embedded in each wheel of great cheese." —Janet Fletcher, author of Cheese & Beer and Cheese & Wine

"France is a cheese-driven country, and this book gets right to its pungent, creamy heart." —Stephen Clarke, author of 1000 Years of Annoying the French

"Reading The Whole Fromage is like enjoying an illicit raw-milk Brie. Kathe Lison follows her nose across France to explore the country's wild obsession with cheese…If Joan Didion had fallen tastebuds over heels for French cheese, then she might have written this book." —Tenaya Darlington, author of Di Bruno Bros. House of Cheese
 
"A thorough, inspired look at France from a devoted and curious cheese lover and writer."—Kirstin Jackson, author of It's Not You, It's Brie

"Kathe Lison's book expresses her loving familiarity with the wonderful and complex world of French cheese. It takes you from the fields where the animals graze, through the creamery, shops and right to your table. Prepare to devoir this book! And prepare to be hungry!" —Lucia Watson, owner of Lucia's Restaurant and co-author of Savoring the Seasons of the Northern Heartland

"Lison seamlessly conveys the experience of tasting the creamy, luscious [Camembert] and its many cousins. Part travelogue, part homage to fromage, Lison's book is informative and endearing and will appeal to foodies, Francophiles, and hungry readers."—Publishers Weekly

"If anyone in America has a right to claim authority on the subject of cheese, author Lison does...A lot of books have been published about the history, culture, and virtues of France's cheeses, but this one celebrates the farmers, dairymen, and cheese makers who have established France's cheeses as still the world's standard."—Booklist

"Her curiosity piqued by the multitude of French cheeses, essayist and self-proclaimed cheesehead Lison chronicles her tasty culinary journey exploring the art and science of French cheese making...Whether Lison is ruminating on the short lactation cycle of sheep, the origins of rennet, or the grassy, lemony taste of a spring goat cheese, readers will have all their senses engaged."—Kirkus
Crown, 9780307452061, 288pp.
Publication Date: June 25, 2013
About the Author
KATHE LISON, A native of Wisconsin, "America's Dairyland," is an award-winning essayist whose work has appeared in numerous literary journals, and a recipient of an Emerging Artist Grant from the Utah Arts Council. She lives in Arizona.
or
Not Currently Available for Direct Purchase