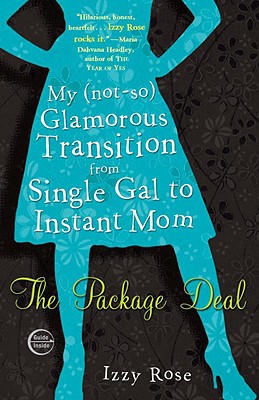 The Package Deal (Paperback)
My (Not-So) Glamorous Transition from Single Gal to Instant Mom
Three Rivers Press (CA), 9780307454331, 267pp.
Publication Date: May 5, 2009
* Individual store prices may vary.
Description
Meet Izzy Rose–a hilarious and chic new stepmom trying to come to terms with the package deal. A single "middle-class socialite" living in San Francisco, Izzy loved her career as a successful, Emmy Award-winning TV producer and she was fine with the fact that she was unmarried and kid-less at thirty-five. But, then she fell in love with an irresistible Southern man named Hank and her Izzy-centric lifestyle turned upside down.

In short order, Izzy finds herself saying I DO to becoming a wife and "instant mom" to Hank's two sons and packing her bags for a new life in Austin, Texas. There, Izzy struggles to hold on to a bit of her professional identity while reinventing the stepmother role in her sassy, stylish, but also loving and vulnerable way. Honest and daring, The Package Deal is a toast to the richness of her new life and a tribute to any woman whose ever fallen in love and then asked, What exactly did I get myself into?
About the Author
IZZY ROSE is an Emmy Award-winning TV producer and founder of StepmothersMilk.com.
Praise For The Package Deal: My (Not-So) Glamorous Transition from Single Gal to Instant Mom…
"Here's to Izzy Rose and The Package Deal: clearly, she's turning into not only a Fairly Good Mother (the most any of us can really hope for)­but even more important­a Fine Southerner as well! Her 'jump-on-off-that-cliff' bravery and her 'might-as-well-laugh' attitude are all the proof I need." ­Jill Conner Browne, THE Sweet Potato Queen

"In her sweet, funny, and immensely engaging book, Izzy Rose reminds us what it means to be a true family. I wonder if she'd adopt me." ­Cathy Alter, author of Up for Renewal: What Magazines Taught Me About Love, Sex, and Starting Over

"A laugh out loud memoir packed with good advice--a much needed resource for the fledgling or soon to be stepmother." ­Sally Bjornsen, author of The Single Girl's Guide to Marrying a Man, His Ex-Wife and His Kids

"If you are a stepmom, are about to become one or know one, you simply must read this hilarious and heartfelt memoir. Even if you're not a stepmom you'll enjoy it thoroughly, it's that good. The Package Deal by Izzy Rose offers a glimpse into the brave heart of a woman who takes on another woman's children with courage, honesty, and humor. Pour a glass of red wine, dish up a slice of gourmet cheese, and curl up with The Package Deal - the perfect tonic for any stepmother's soul." ­Jacquelyn B. Fletcher, award-winning author of A Career Girl's Guide to Becoming a Stepmom

"Izzy Rose nails how it is and what it feels like to be a new stepmom. There's nothing like that shocking first year! She moved from an exciting career in a perfect location with built in best friends to WHAT? -a strange place with no friends, no family and the expectation of raising someone else's half grown kids. Like many of us, Izzy was uprooted by love, and she portrays beautifully the strong love between her and her fiancé. It's that force that propels them to the next level of connection and confidence that makes it all worthwhile." ­Susan Wisdom, author of Stepcoupling
or
Not Currently Available for Direct Purchase