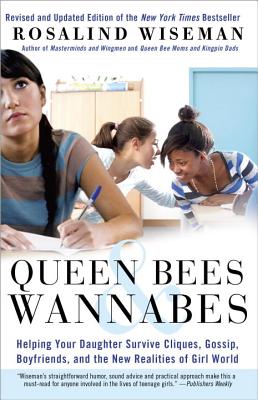 Queen Bees & Wannabes
Helping Your Daughter Survive Cliques, Gossip, Boyfriends, and the New Realities of Girl World
Paperback

* Individual store prices may vary.
Other Editions of This Title:
Paperback (7/26/2016)
Description
When Rosalind Wiseman first published "Queen Bees & Wannabes," she fundamentally changed the way adults look at girls friendships and conflicts from how they choose their best friends, how they express their anger, their boundaries with boys, and their relationships with parents. Wiseman showed how girls of every background are profoundly influenced by their interactions with one another.
Now, Wiseman has revised and updated her groundbreaking book for a new generation of girls and explores:
How girls experiences before adolescence impact their teen years, future relationships, and overall success
The different roles girls play in and outside of cliques as Queen Bees, Targets, and Bystanders, and how this defines how they and others are treated
Girls power plays from fake apologies to fights over IM and text messages
Where boys fit into the equation of girl conflicts and how you can help your daughter better hold her own with the opposite sex
Checking your baggage recognizing how your experiences impact the way you parent, and how to be sanely involved in your daughter's difficult, yet common social conflicts
Packed with insights about technology's impact on Girl World and enlivened with the experiences of girls, boys, and parents, the book that inspired the hit movie "Mean Girls "offers concrete strategies to help you empower your daughter to be socially competent and treat herself with dignity.
Praise For Queen Bees & Wannabes: Helping Your Daughter Survive Cliques, Gossip, Boyfriends, and the New Realities of Girl World…
"Wise, humorous, life-affirming advice for parents that is utterly respectful of girls. I recommend parents mark it up, turn the corners of pages, and heed Wiseman's creative and practical strategies for guiding girls along the sometimes treacherous pathways of growing up today. Queen Bees and Wannabes is Mapquest for parents of girls, from fifth grade all the way to young adulthood."—Patricia Hersch, author of A Tribe Apart: A Journey into the Heart of American Adolescence

"Who's in? Who's out? Who's cool? Who's not? Why is one girl elevated to royal status and another shunned? Queen Bees and Wannabes answers these unfathomable questions and so many more. Wiseman gives parents the insight, compassion, and skill needed to guide girls through the rocky terrain of the adolescent social world. This is such an honest and helpful book; we recommend it highly." —Nina Shandler, author of Ophelia's Mom and Sara Shandler, author of the bestselling Ophelia Speaks

"Laced with humor, insight, and practical suggestions, Queen Bees and Wannabes is the one volume that's been missing from the growing shelf of girl-centered publications. Wiseman explains the inner workings of teen culture and teaches parents, educators, and peers how to respond."—Whitney Ransome and Meg Miln Moulton, executive directors, National Coalition of Girls' Schools

"Wiseman cuts through wishful parental thinking with a wonderful mixture of humor, facts, girls' voices, and a healthy dollop of reality. No, the harm cliques cause is not a natural fact of life. Wiseman gives us both hope and strategies to help our girls (and boys) build a more healthy, nurturing world for themselves."—Joe Kelly, author, Dads and Daughters: How to Inspire, Understand and Support Your Daughter When She's Growing Up So Fast, executive director, Dads and Daughters

"Rosalind Wiseman invites us into the "Girl World" with insight, honesty, and humor. Based on the most thorough, helpful research I know of, this book should be required reading for parents, teachers, and health professionals." —Edes P. Gilbert, acting president, Independent Educational Services
Three Rivers Press (CA), 9780307454447, 433pp.
Publication Date: October 13, 2009
About the Author
ROSALIND WISEMAN is an internationally recognized expert on children, teens, parenting, bullying, social justice, and ethical leadership.

Wiseman is the author of "Queen Bees and Wannabes: Helping Your Daughter Survive Cliques, Gossip, Boyfriends, and Other Realities of Adolescence "(Crown, 2002). Twice a "New York Times "Bestseller, " Queen Bees & Wannabes "was the basis for the 2004 movie "Mean Girls." In fall 2009, an updated edition of "Queen Bees & Wannabes "will be republished with a chapter on younger girls, insights on how technology has impacted kids social landscapes, and new commentary from girls and boys. Her follow up book" Queen Bee Moms and Kingpin Dads "was released in 2006, and she is a monthly columnist for" Family Circle "magazine.

Additional publications include the "Owning Up Curriculum," a comprehensive social justice program for grades 6 12, and a forthcoming young adult novel, "Boys, Girls, and Other Hazardous Materials," in stores in January 2010.

Since founding the Empower Program, a national violence prevention program, in 1992, Wiseman has gone on to work with tens of thousands of students, educators, parents, counselors, coaches, and administrators to create communities based on the belief that each person has a responsibility to treat themselves and others with dignity. Audiences have included the American School Counselors Association, Capital One, National Education Association, Girl Scouts, Neutrogena, Young Presidents Association, Independent School Associations and the International Chiefs of Police, as well as countless schools throughout the U.S. and abroad.

National media regularly depends on Wiseman as the expert on ethical leadership, media literacy, bullying prevention, and school violence. She is a frequent guest on the Today Show and been profiled in "The New York Times," "People, Los Angeles Times," "Chicago Tribune, Washington Post, USA Today," Oprah, Nightline, CNN, Good" "Morning America, and National Public Radio affiliates throughout the country."

"

Wiseman holds a Bachelor of Arts in Political Science from Occidental College. She lives in Washington D.C. with her husband and two sons."
or
Not Currently Available for Direct Purchase