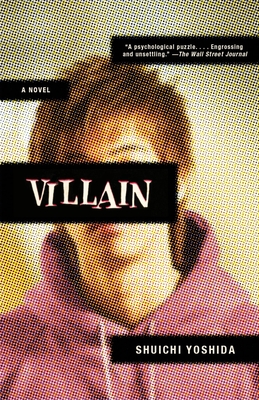 Villain (Paperback)
Vintage Books, 9780307454942, 295pp.
Publication Date: August 9, 2011
Description
A chilling and seductive story of loneliness, desperation, and murder, Villain is the English-language debut of one of Japan's most popular writers.
A woman is killed at a ghostly mountain pass in southern Japan and the local police quickly pinpoint a suspect. But as the puzzle pieces of the crime slowly click into place, new questions arise. Is a villain simply the person who commits a crime or are those who feel no remorse for malicious behavior just as guilty? Moving from office parks and claustrophobic love hotels to desolate seaside towns and lighthouses, Shuichi Yoshida's dark thriller reveals the inner lives of men and women who all have something to hide.
About the Author
Shuichi Yoshida was born in Nagasaki, Japan, in 1968. The author of nine books, he has won numerous literary awards in Japan and has also had several of his short stories adapted for Japanese television. Villain won the Osaragi Jiro Prize and the Mainichi Publishing Culture Award, two prestigious Japanese prizes. Yoshida lives in Tokyo.
Praise For Villain…
"A psychological puzzle. . . . Engrossing and unsettling."
—The Wall Street Journal

"A ripping good story of murder and secrets. . . . Yoshida writes with the cool confidence of a seasoned storyteller."
—Jessa Crispin, Books We Like (NPR.org)

"A complex portrait of contemporary Japan. . . . A place where families have begun to fragment but old bonds still remain, and where loneliness drives people to acts they wouldn't otherwise consider."
—The Columbus Dispatch

"Powerful. . . . Set in the sterile world of online dating and love hotels, Villain is a moving and disturbing novel about loneliness, lies and the gap between expectation and reality. Highly recommended."
—The Guardian (London)
 
"A compelling examination of loneliness and desperation."
—Newark Star-Ledger

"A convincing portrait of today's Japan."
—The Week
 
"Shuichi Yoshida, Japan's Stieg Larsson? . . . Villain is more than a typical 'Whodunnit?' suspense. . . . Yoshida focuses on the motivations behind the crime through his portrayal of  lost youth struggling to find direction and purpose. . . . Suspense junkies that get a taste for the Japanese twist on the genre after reading Villain can rest assured that there is more to come."
—Rosie Kusunoki Jones, "Japan Real Time," a Wall Street Journal blog

"Hypnotizing. . . . While the unfolding mystery holds our interest, Yoshida is really most concerned with exploring the alienation of his young characters and the lack of connective tissue between them. As the story takes a surprising turn toward the end, the author saves the biggest question for his readers: Who is the real villain: a killer who feels remorse, or a person who feels nothing at all?"
—Booklist

"[A] subtle but powerful novel about collective guilt and individual atonement. . . . Yoshida's complex portrait of Japanese society leaves no doubt as to his characters' actions, but tantalizing doubts about their meaning."
—Publishers Weekly

"Thrilling. . . . The sort of book that is difficult to put down. [Villain] lays out a panorama of modern Japanese society, a patchwork of composed people of various classes and occupations. . . . A modern literary achievement the like of which is rarely seen."
—Japan Book News

"A page-turning mystery. . . . Ably translated by Philip Gabriel . . . [it] will make you think and will leave you guessing right up to the very end."
—BSCReview.com
Advertisement