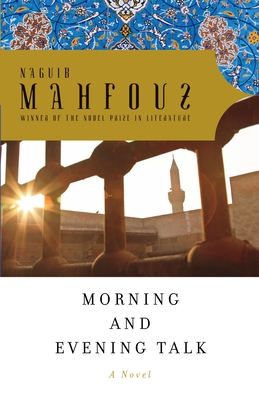 Morning and Evening Talk (Paperback)
Anchor Books, 9780307455062, 195pp.
Publication Date: March 10, 2009
Description
This unusual epic from the Nobel Laureate Naguib Mahfouz portrays five generations of one sprawling family against the upheavals of two centuries of modern Egyptian history.Set in Cairo, Morning and Evening Talk traces three related families from the arrival of Napoleon to the 1980s, through short character sketches arranged in alphabetical order. This highly experimental device produces a kind of biographical dictionary, whose individual entries come together to paint a vivid portrait of life in Cairo from a range of perspectives. The characters include representatives of every class and human type and as the intricate family saga unfolds, a powerful picture of a society in transition emerges. This is a tale of change and continuity, of the death of a traditional way of life and the road to independence and beyond, seen through the eyes of Egypt's citizens. Naguib Mahfouz's last chronicle of Cairo is both an elegy to a bygone era and a tribute to the Egyptian spirit.
About the Author
Naguib Mahfouz was born in Cairo in 1911 and began writing when he was seventeen. His nearly forty novels and hundreds of short stories range from re-imaginings of ancient myths to subtle commentaries on contemporary Egyptian politics and culture. Of his many works, most famous is The Cairo Trilogy, consisting of Palace Walk (1956), Palace of Desire (1957), and Sugar Street (1957), which focuses on a Cairo family through three generations, from 1917 until 1952. In 1988, he was the first writer in Arabic to be awarded the Nobel Prize in Literature. He died in August 2006.
Praise For Morning and Evening Talk…
"Like an acrostic. . . . The banal and the brilliant, birth and death, history and politics tossed together-it reads, ironically, just like life." —The California Literary Review"[Mahfouz is] a storyteller of the first order in any idiom." —Vanity Fair
Advertisement