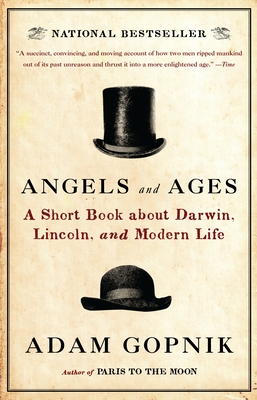 Angels and Ages: A Short Book about Darwin, Lincoln, and Modern Life (Paperback)
A Short Book about Darwin, Lincoln, and Modern Life
Vintage Books USA, 9780307455307, 235pp.
Publication Date: February 9, 2010
Description
In this captivating double life, Adam Gopnik searches for the men behind the icons of emancipation and evolution. Born by cosmic coincidence on the same day in 1809 and separated by an ocean, Lincoln and Darwin coauthored our sense of history and our understanding of man's place in the world. Here Gopnik reveals these two men as they really were: family men and social climbers, ambitious manipulators and courageous adventurers, grieving parents and brilliant scholars. Above all we see them as thinkers and writers, making and witnessing the great changes in thought that mark truly modern times.
About the Author
Author of the beloved best seller Paris to the Moon, Adam Gopnik has been writing for The New Yorker since 1986. He is a three-time winner of the National Magazine Award for Essays and for Reviews and Criticism and of the George Polk Award for Magazine Reporting. He lives in New York City with his wife and their two children.
Praise For Angels and Ages: A Short Book about Darwin, Lincoln, and Modern Life…
A New York Times, Los Angeles Times, and San Francisco Chronicle Bestseller

"A succinct, convincing, and moving account of how two men ripped mankind out of its past unreason and thrust it into a more enlightened age."
—Time

"Gopnik is a vivid and charming writer. . . . He moves from the personal to the political with ease, and his writing hums with authenticity. I cannot think of a better introduction to either of its protagonists, for it makes clear the scale of their achievements, and their historical significance."
—Peter Aspden, Financial Times

"An elegant, intelligent meditation on skepticism and the making of the liberal mind."
—The New York Observer
 
"A scintillating synthesis of history, biography and cultural commentary. . . . Gopnik is a writer of dazzling skill and daunting accomplishment."
—Chicago Tribune
 
"This is the essay every essayist would like to have written. . . . "Gopnik has taken a coincidence and turned it into a theory of everything, or at least of everything important—death, progress, belief and language."
—The Daily Telegraph (London)

"[An] elegant and engrossing bicentennial twin portrait. . . . By advancing political and scientific liberalism, Lincoln and Darwin left as legacies an American century and a Darwinian world. Their principles, Gopnik maintains, still 'shine light on the kind of place we've made, and the way we can make it better.'"
—The Boston Globe
 
"Gopnik draws vividly characterized personal and intellectual portraits of each man. . . . Throughout, he seeks to entertain even as he provokes and, sometimes, moves. . . . [His] writing is pungent, inventive and rich."
—Los Angeles Times Book Review
 
"Ambitious. . . . Gopnik casts fresh and honest light on two figures distorted by years of excessive comment, quotation, and ideological appropriation."
—The Christian Science Monitor
 
"Gopnik revels in the revolutionary ideas that helped create our 'moral modernity' as he reveals the complex characters who unearthed startling truths about nature, human and otherwise."
—O, The Oprah Magazine
 
"Profound. . . . An amazing work of scholarship and philosophical thought. . . . Gopnik's examination of these two men leads to nothing less than the exploration of what it means to live a meaningful life."
—Rocky Mountain News
 
"Exquisite. . . . Powerful. . . . Angels and Ages makes a persuasive case that our liberal, bourgeois lives, resting on reason, law, and the primacy of science, rest also on Darwin and Lincoln."
—The Philadelphia Inquirer
 
"Gopnik makes his points with a grace and intelligence that remind us, 200 years on, how much the two men continue to shape our thinking and our discourse."
—Richmond Times-Dispatch
 
"First Gopnik makes this odd couple look even odder. Then he brings them hauntingly near us."
—Garry Wills, author of Lincoln at Gettysburg
 
"Gopnik's commentary, when it focuses on the fine points of Darwin's rhetorical style, or the significance of Lincoln's earliest speech, feels both effortless and edifying."
—The Oregonian
 
"Wide-ranging and thought-provoking reading. . . . Gopnik's intelligence, fluid style and elegant observations pour forth."
—The Wichita Eagle
 
"Astonishing. . . . This is a book of no small learning, research and derring-do. . . . Gopnik has, quite brilliantly triangulated all of us, with the two men born on Feb. 12, 1809."
—The Buffalo News

"Two giants come humanly to life in these pages, and the deeds that made them giants are wisely appreciated. But, most of all, Angels and Ages is a hymn to liberal thinking—to its modesty, its openness, its occasional courage, its honesty about our transience, its loyalty to the pleasures and virtues of the everyday. And, like everything that Adam Gopnik writes, this book has a heart."
—Louis Menand, author of The Metaphysical Club

"Illuminating. . . . [An] extremely elegant work."
—The Guardian (London)

"Places Lincoln and Darwin in their rightful places as giants of intellectual history."
—The Courier-Journal (Louisville, Kentucky)

"Darwin and Lincoln shared far more than a birthday. With succulent prose and incisive reasoning, Adam Gopnik shows that both men were wordsmiths of the highest order, emancipating minds with rhetorical skills that were wedded to moral and scientific truths. Always worth reading, Gopnik has produced a engaging and novel celebration of the Darwin/Lincoln bicentennial."
—Jerry Coyne, Professor of Ecology and Evolution, The University of Chicago, and author of Why Evolution is True

"Ambitious. . . . Gopnik brings to his narrative not only passionate faith in the importance of the how . . . of Darwin's theory of evolution and Lincoln's politics of emancipation, but also an intellectual rigour and deftness, along with a kind of discursive bravado. . . . Angels and Ages certainly walks the walk of the glorious talk and prose it explores."
—The Globe and Mail (Toronto)

"One could spend a couple of years just dipping into some of the hundreds of books about Charles Darwin and Abraham Lincoln, and Adam Gopnik has. He distills all that knowledge with his usual verve and insight in Angels and Ages. . . . Convincing." —St. Petersburg Times
Advertisement