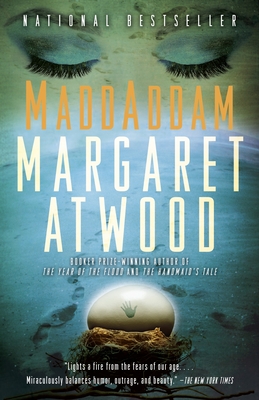 MaddAddam (The MaddAddam Trilogy #3) (Paperback)
Anchor, 9780307455482, 416pp.
Publication Date: August 12, 2014
Other Editions of This Title:
Digital Audiobook (9/2/2013)
CD-Audio (9/3/2013)
Hardcover (9/3/2013)
Paperback, Large Print (9/3/2013)
Pre-Recorded Audio Player (9/3/2013)
* Individual store prices may vary.
Description
From the #1 New York Times bestselling author of The Handmaid's Tale

In this final volume of the internationally celebrated MaddAddam trilogy, the Waterless Flood pandemic has wiped out most of the population. Toby is part of a small band of survivors, along with the Children of Crake: the gentle, bioengineered quasi-human species who will inherit this new earth.

As Toby explains their origins to the curious Crakers, her tales cohere into a luminous oral history that sets down humanity's past—and points toward its future. Blending action, humor, romance, and an imagination at once dazzlingly inventive and grounded in a recognizable world, MaddAddam is vintage Atwood—a moving and dramatic conclusion to her epic work of speculative fiction.

A New York Times Notable Book
A Washington Post Notable Book
A Best Book of the Year: The Guardian, NPR, The Christian Science Monitor, The Globe and Mail
A GoodReads Reader's Choice

About the Author
Margaret Atwood, whose work has been published in thirty-five countries, is the author of more than forty books of fiction, poetry, and critical essays. In addition to The Handmaid's Tale, her novels include Cat's Eye, short-listed for the Booker Prize; Alias Grace, which won the Giller Prize in Canada and the Premio Mondello in Italy; The Blind Assassin, winner of the 2000 Booker Prize; Oryx and Crake, short-listed for the 2003 Man Booker Prize; and The Year of the Flood. She is the recipient of the Los Angeles Times Innovator's Award, and lives in Toronto with the writer Graeme Gibson.
Praise For MaddAddam (The MaddAddam Trilogy #3)…
"Lights a fire from the fears of our age. . . . Miraculously balances humor, outrage, and beauty." —The New York Times Book Review

"Margaret Atwood is an utterly thrilling storyteller. . . . [MaddAddam is] wonderfully entertaining and just about everything you could want in a novel." —The Washington Post

"Thoughtful, sardonic, and full of touches that almost resemble a fairy tale, MaddAddam will stick with you long after you've put it down." —NPR

"The most profound [book] of the trilogy. . . . An adventure story and a philosophical meditation on humanity's predilection for carnage and creation." —The Economist
 
"[Atwood's] most incisive and sociologically acute work. . . . A picture of a very near and very plausible future." —New York magazine

"[Atwood's] vision of global disaster in the not-too-distant future is thrilling, funny, touching and, yes, horrific." —The Washington Post

"Fiction master Margaret Atwood wields a mighty pen." —O, The Oprah Magazine

"Sardonically funny. . . . [Atwood] certainly has the tone exactly right, both for the linguistic hypocrisy that can disguise any kind of catastrophe, and for the contemptuous dismissal of those who point to disaster. . . . MaddAddam is at once a pre- and a post-apocalypse story." —The Wall Street Journal

"The culmination of a satirical dystopian saga a decade in the making. . . . Full of adventure and intrigue." —San Francisco Chronicle

"The imaginative universe Atwood has created in these books is huge. . . . It's a dystopia, but it's still fun." —Los Angeles Times

"This third book of Margaret Atwood's acclaimed near-future dystopian trilogy is its best. . . .  Atwood presents a moving and convincing case for our stories' continued existence long after we're gone." —The Seattle Times

"This unsentimental narrative exposes the heart of human creativity as well as our self-destructive darkness. . . . MaddAddam is fueled with edgy humor, sardonic twists, hilarious coincidences." —The Boston Globe

"This novel sings. . . . Close attention to detail, to voice, to what's in the hearts of these people: love, loss, the need to keep on keeping on, no matter what." —The Miami Herald

"There is something funny, even endearing, about such a dark and desperate view of a future—a ravaged world emerging from alarmingly familiar trends—that is so jam-packed with the gifts of imagination, invention, intelligence and joy. There may be some hope for us yet." —Minneapolis Star Tribune

Why are Adam and Zeb so different? Or are they more similar than they first seem?generic viagra price canada
The MaddAddamites set about building a basic community for themselves, one that meets the need for food, clothing, shelter, and an energy source. If you were in this position, would you do things differently? Should children be taught elementary survival skills?generic viagra price canada
What comment, if any, do you think Margaret Atwood is making about environmentalism in this book, through organizations like Bearlift? Or does Bearlift suffer simply from the human flaws that appear in all organizations, no matter how well-meaning?generic viagra price canada
The Internet has an almost physical presence in MaddAddam—the "lilypads," the game Intestinal Parasites. Do you think this is where the Internet is heading? Is it becoming a "real" entity of its own?generic viagra price canada
Is Toby right to trust Zeb? Do you think his feelings for Toby are genuine?generic viagra price canada
Toby teaches Blackbeard to write. Is that a good thing or a bad thing? What consequences do you think this will have for the Crakers and their new world?generic viagra price canada
Margaret Atwood's trilogy often portrays humans and our future grimly, but it is also both funny and profane. Is Atwood's gallows humor effective?generic viagra price canada
What parallels do you see between the events of MaddAddam and recent events in our real world? Are Atwood's three dystopian books exaggerated or could they really be our future?generic viagra price canada
Despite havingseemed violent and disposed to eat humans, the Pigoons ultimately display more compassion than many of the humans in MaddAddam. Is that because the Pigoons are animals, or is it because of the implanted human tissue in their brains?generic viagra price canada
The Crakers seek stories from Jimmy and Toby to explain the world around them. What do these stories say about how myths are formed? Is the desire for religion innate within us? What do you think MaddAddam is saying about our need for gods and how religions are created?generic viagra price canada
How important is language in shaping and changing history and rumour into myth? Discuss the way gods form in Toby's monologues to the Crakers—including the one named for a swear word?generic viagra price canada
Religion and our need for belief is a key concern in MaddAddam. What does the Church of Petroleum say about Atwood's view of religion? Has religion become a commodity?generic viagra price canada
How do you think the hybrid babies will turn out? Will they be more human or Craker, and which would be best for the future of Earth?generic viagra price canada
Is Atwood's view of humanity ultimately negative? Is there hope at the end of MaddAddam, and if there is, where does it come from?generic viagra price canada