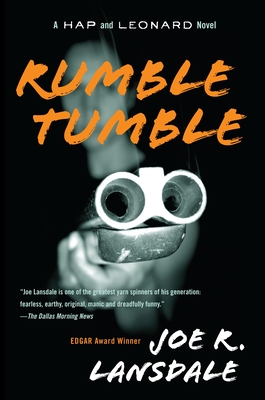 Rumble Tumble (Paperback)
A Hap and Leonard Novel (5) (Hap and Leonard Series #5)
Vintage Crime/Black Lizard, 9780307455512, 256pp.
Publication Date: November 10, 2009
* Individual store prices may vary.
Description
Hap and Leonard is now a Sundance TV series starring James Purefoy and Michael Kenneth Williams.

Hap Collins and Leonard Pine are in for an action-packed adventure when they cross paths with a towering Pentecostal preacher, a midget with a giant attitude, and a gang of bikers turned soldiers of fortune.
Even though a midlife crisis just hit Hap Collins like a runaway pickup truck, he's still got his job, he knows his best friend, Leonard Pine, will always be there for him, and of course he's got his main squeeze, Brett Sawyer. Things hit a new low, however, when Brett's daughter, Tillie, who has been walking on the wrong side of the law suddenly stands in need of a rescue. It's won't be easy—it never is—but nothing is going to stop Hap and Leonard as they hit the road destined for Hootie Hoot, Oklahoma to shake things up. And with Hap and Leonard at the wheel this promises to be a wild ride.
About the Author
Joe R. Lansdale is the author of over thirty novels and numerous short stories. His work has appeared in national anthologies, magazines, and collections, as well as numerous foreign publications. He has written for comics, television, film, newspapers, and Internet sites. His work has been collected in eighteen short-story collections, and he has edited or co-edited over a dozen anthologies.

Lansdale has received the Edgar Award, eight Bram Stoker Awards, the Horror Writers Association Lifetime Achievement Award, the British Fantasy Award, the Grinzani Cavour Prize for Literature, the Herodotus Historical Fiction Award, the Inkpot Award for Contributions to Science Fiction and Fantasy, and many others.

A major motion picture based on Lansdale's crime thriller Cold in July was released in May 2014, starring Michael C. Hall (Dexter), Sam Shepard (Black Hawk Down), and Don Johnson (Miami Vice). His novella Bubba Hotep was adapted to film by Don Coscarelli, starring Bruce Campbell and Ossie Davis. His story "Incident On and Off a Mountain Road" was adapted to film for Showtime's "Masters of Horror." He is currently co-producing a TV series, "Hap and Leonard" for the Sundance Channel and films including The Bottoms, based on his Edgar Award-winning novel, with Bill Paxton and Brad Wyman, and The Drive-In, with Greg Nicotero.

Lansdale is the founder of the martial arts system Shen Chuan: Martial Science and its affiliate, Shen Chuan Family System. He is a member of both the United States and International Martial Arts Halls of Fame. He lives in Nacogdoches, Texas with his wife, dog, and two cats.
www.joerlansdale.com
Praise For Rumble Tumble: A Hap and Leonard Novel (5) (Hap and Leonard Series #5)…
"[Joe Lansdale] is one of the greatest yarn spinners of his generation: fearless, earthy, original, manic and dreadfully funny."—Dallas Morning News

"A folklorist's eye for telling detail and front porch raconteur's sense of pace." --The New York Times Book Review

"Hilarious. . . .  Addictively scarfable. . . . Two thumbs-up, and pardon the barbecue smears."—Texas Monthly "A master at taking a simple everyday event and turning reality upside down."--Mystery Scene "Hilarious. . . . Lansdale is a terrifically gifted storyteller with a sharp country boy wit."--The Washington Post Book World "Lansdale's prose, both laconic and sarcastic, is so thick with slang and regional accent that it's as tasty as a well-cured piece of beef jerky. Readers will want to savor each bite."—Milwaukee Journal Sentinel "Lansdale has an unsettling sensibility. Be thankful he crafts such wild tall tales."--Chicago Sun-Times "A storyteller in the great American tradition of Ambrose Bierce and Mark Twain."--The Boston Globe "Funny, compulsive . . . enjoyably raffish."—Esquire