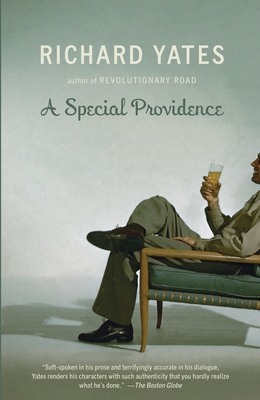 A Special Providence (Paperback)
Vintage Books USA, 9780307455956, 321pp.
Publication Date: March 10, 2009
Description
Robert Prentice has spent all his life attempting to escape his mother's stifling presence. His mother, Alice, for her part, struggles with her own demons as she attempts to realize her dreams of prosperity and success as a sculptor. As Robert goes off to fight in Europe, hoping to become his own man, Richard Yates portrays a soldier in the depths of war striving to live up to his heroic ideals. With haunting clarity, Yates crafts an unforgettable portrait of two people who cannot help but hope for more even as life challenges them both.
About the Author
Richard Yates was born in 1926. The author of several acclaimed works of fiction, including Revolutionary Road, Eleven Kinds of Loneliness, Disturbing the Peace, and The Easter Parade, he was lauded during his lifetime as the foremost novelist of the post-war "age of anxiety." He died in 1992.
Praise For A Special Providence…
"Soft-spoken in his prose and terrifyingly accurate in his dialogue, Yates renders his characters with such authenticity that you hardly realize what he's done." —The Boston Globe"One of America's best-kept secrets. . . . Keenly insightful, brutally honest...delivering a swift kick to the heart." —The Denver Post"Yates writes powerfully and enters completely and effortlessly into the lives of his characters." —The New York Times Book Review
Advertisement