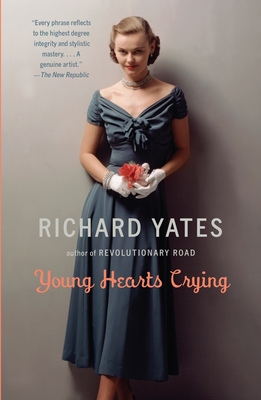 Young Hearts Crying (Paperback)
Vintage Books USA, 9780307455963, 422pp.
Publication Date: March 10, 2009
Description
In Young Hearts Crying, Yates movingly portrays a man and a woman from their courtship and marriage in the 1950s to their divorce in the 70s, chronicling their heartbreaking attempts to reach their highest ambitions. Michael Davenport dreams of being a poet after returning home from World War II Europe, and at first he and his new wife Lucy enjoy their life together. But as the decades pass and the success of others creates an oppressive fear of failure in both Michael and Lucy, their once bright future gives way to a life of adultery and isolation. With empathy and grace, Yates creates a poignant novel of the desires and disasters of a tragic, hopeful couple.
About the Author
Richard Yates was born in 1926. The author of several acclaimed works of fiction, including Revolutionary Road, Eleven Kinds of Loneliness, Disturbing the Peace, and The Easter Parade, he was lauded during his lifetime as the foremost novelist of the post-war "age of anxiety." He died in 1992.
Praise For Young Hearts Crying…
"To me and to many other writers of my generation, the work of Richard Yates came as a liberating force. . . . He was one of the most important writers of the second half of the century."—Robert Stone
Advertisement