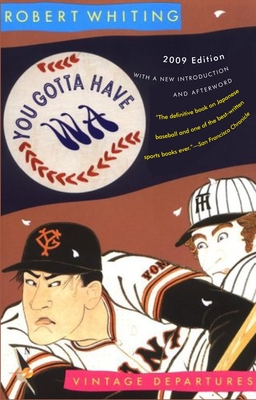 You Gotta Have Wa (Paperback)
Vintage, 9780307455970, 416pp.
Publication Date: March 24, 2009
Description
A hilarious, informative, and riveting account of Japanese baseball and the cultural clashes that ensued when Americans began playing there professionally.
In Japan, baseball is a way of life. It is a philosophy. It is besuboru. Its most important element is wa group harmony embodied in the proverb "The nail that sticks up shall be hammered down." In this witty and incisive book, Robert Whiting gives us a close-up look at besuboru's teams, obsessive ritualism, and history, as seen through the eyes of American players who found the Japanese approach rigorous pregame practices, the tolerance for tie games, injured pitchers encouraged to pitch through the pain completely baffling. With vivid accounts of East meeting West, involving Babe Ruth, Ichiro Suzuki, Bobby Valentine, Japanese home run king Sadaharu Oh, and many others, this lively and completely unique book is an utter gem and baseball classic.
About the Author
Robert Whiting is the author of You Gotta Have Wa and is one of the very few Westerners to write a regular column in the Japanese press. He has appeared as a commentator in documentaries about Japan and on such shows as Larry King Live and The MacNeil-Lehrer Newshour. He has also written for The New York Times, Sports Illustrated, Smithsonian, Newsweek, U.S. News and World Report, and Time, among other publications. He lives in Tokyo.
Praise For You Gotta Have Wa…
"The definitive book on Japanese baseball and one of the best-written sports books ever."
—San Francisco Chronicle

"Run, or at least jog, to the nearest bookstore and buy You Gotta Have Wa."
—New York Times Book Review

"Far more than a sports book."
—David Halberstam

"Bob Whiting has done it again! . . . A book that will please baseball fans and enlighten anyone interested in Japanese-American relations."
—James Fallows, Atlantic Monthly
Advertisement