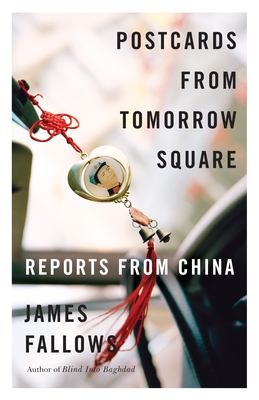 Postcards from Tomorrow Square
Reports from China
Paperback

* Individual store prices may vary.
Description
"Americans need not be hostile toward China's rise, but they should be wary about its eventual effects. The United States is the only nation with the scale and power to try to set the terms of its interaction with China rather than just succumb. So starting now, Americans need to consider the economic, environmental, political, and social goals they care about defending as Chinese influence grows."
—from "China Makes, the World Takes"

Since December 2006, The Atlantic Magazine's James Fallows has been writing some of the most discerning accounts of the economic and political transformation occurring in China. The ten essays collected here cover a wide-range of topics: from visionary tycoons and TV-battling entrepreneurs, to environmental pollution and how China subsidizes our economy. Fallows expertly and lucidly explains the economic, political, social, and cultural forces at work turning China into a world superpower at breakneck speed. This eye-opening and cautionary account is essential reading for all concerned not only with China's but America's future role in the world.
Praise For Postcards from Tomorrow Square: Reports from China…
"In a series of sharply observed essays, James Fallows gives us a top-notch primer on contemporary China. Wisely eschewing the easy view from Beijing, he takes us to the factories and export zones that have turned China into an economic powerhouse, the fantasy world of a megalomaniacal Chinese robber baron and the nether world of the Internet police. His lucid writing makes these topics not only understandable but a pleasure to explore. I would unreservedly recommend this book to anyone interested in a fresh perspective on what remains the most remarkable rise of a country in a century."
—Ian Johnson, Pulitzer Prize-winning author of Wild Grass: Three Stories of Change in Modern China

"Sometimes it takes a fresh pair of eyes to notice important features of a familiar landscape. In twelve delightful essays, James Fallows draws on his long experience as an observer of Asian society and culture to explore some of the deepest enigmas of post-reform China. With humanist sensitivities and a reporter's instincts, he peers behind the headlines in search of the human factor in China's rise to global prominence. The result is a thoughtful, incisive look at the interior workings of a society on the make—and a very good read to boot."
—Richard Baum, Professor of Political Science, UCLA; Director Emeritus, UCLA Center for Chinese Studies; and author of China Watcher: Confessions of a Peking Tom

"Dispatches from Atlantic Monthly national correspondent Fallows (Blind Into Baghdad: America's War in Iraq, 2006, etc.) capture with clarity and humor the present and future of the country that could be the next world superpower. . . . Neither alarmist nor apologist, one of the clearest and most enjoyable accounts of China currently available."
—Kirkus Reviews

"I devoured Postcards from Tomorrow Square on a return flight from Shanghai, and it was the perfect travel companion. Not only did James Fallows make me rethink my own recent experiences in China but he also inspired me to reconsider how Americans and Chinese can more effectively and imaginatively join forces to address the most pressing challenges of our time."
—Deborah Davis, Yale University and a member of the National Committee on US-China Relations

"Jim Fallows' reflections on his three-year immersion experience in China challenge common clichés about China's rise. They are fascinating and original even to long time China hands. It's not just the vivid portraits of the individuals he encounters in China or the clarity of his analysis of China's economy, society and politics and the country's interdependence with the United States and the rest of the world. What's special about Fallows' book is that he guides readers to ponder larger questions about our own history and values as we look at China's.  This is the perfect book to take on the long plane trip to China." —Susan Shirk, director of the University of California Institute on Global Conflict and Cooperation and professor of political science and former Deputy Assistant Secretary of State in the Bureau of East Asia and Pacific Affairs

"Postcards from Tomorrow Square offers some wonderful snapshots of the contradictions of modern China. As always, Fallows writes from the front line with insight and flair."
—Rob Gifford, NPR's former Beijing correspondent and author of China Road

"James Fallows insatiable curiosity and clear narrative makes his China journey a real reward."
—John Sculley, former president of PepsiCo and former CEO of Apple Computer

"Fallows (Blind into Baghdad) offers a candid outsider's take on contemporary China in this entertaining and richly illustrated investigation of what distinguishes China from other Asian nations and what causes the dissonance between how China sees itself and how it is viewed by the rest of the world, particularly the U.S. The author's range is admirably broad—he takes on Chinese reality television, school systems, incisive economic analysis—and uncovers a raft of surprising similarities between the East and West. . . . What Fallows lacks in expertise, he makes up for in a truly global vision and a magician's chest of social, economic and political insight."
—Publishers Weekly (starred review)

"James Fallows's eye recognizes the large significance of small details. His pen conveys that significance with elegance, humor, and argumentative power. Fallows shows humane sympathy for his characters, from high-level bureaucrats to a farmer in Xiakou. And he is sure-footed and precise as he explores complex policy issues, gently refuting the most common oversimplifications as he goes. There is simply no better introduction to contemporary China than this outstanding volume."
—Jeffrey Lehman, Chancellor and Founding Dean, Peking University School of Transnational Law

"These aren't sepia-toned 'postcards' of Cathay's scenic spots. Jim writes to us from the crowded, supercharged, exhaust-filled streets of modern China. The scenes could come straight from a Dickens' novel, and that's just Jim's point: scratch the exotic surface, and you meet the familiar. China won't be so mysterious after you read this book"
—Charles R. McElwee, China Environmental Law

"With these delightful 'Postcards,'James Fallows takes wing, soars over China's vast panorama, then swoops down to bring human-scale subjects home to his hungry readers. His essays reveal the deepening curiosity of a sensitive and articulate journalist on a lengthening reportorial mission. Fallows avoids breezy over-generalizations, and is humble enough to sense how much about China he has yet to understand, but never does he flirt with 'inscrutability.' In the narrow lane between blithe certainty and fatalistic mystification lie the seeds of his own growing understanding, and of ours."
—Robert A. Kapp, Former President, US-China Business Council
Vintage, 9780307456243, 288pp.
Publication Date: December 30, 2008
About the Author
James Fallows is The Atlantic Monthly's national correspondent, who has been based in China since 2006. He is a former editor of U.S. News & World Report and a former chief White House speechwriter for Jimmy Carter. His previous books include Blind Into Baghdad: America's War in Iraq; Breaking the News: How the Media Undermine American Democracy; Free Flight; Looking at the Sun; More Like Us; and National Defense, which won the American Book Award for nonfiction. He has been a finalist for the National Magazine Award four times, and his article about the consequences of victory in Iraq, "The Fifty- first State?" won that award in 2003.
or
Not Currently Available for Direct Purchase