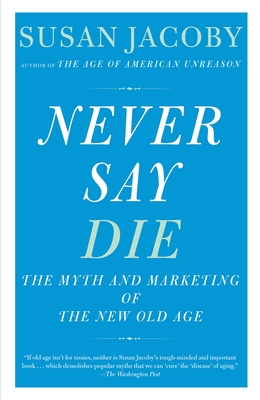 Never Say Die
The Myth of the New Old Age
Paperback

* Individual store prices may vary.
Other Editions of This Title:
Digital Audiobook (2/7/2011)
MP3 CD (2/8/2011)
Compact Disc (2/8/2011)
Description
A wake-up call to Americans who have long been deluded by the dangerous twenty-first hucksters of longevity. "If old age isn't for sissies, neither is Susan Jacoby's tough-minded and important book ... which demolishes popular myths that we can 'cure' the 'disease' of aging."—The Washington Post
 
Combining historical, social, and economic analysis with personal experiences of love and loss, Jacoby reveals the hazards of the magical thinking that prevents us from facing the genuine battles of growing old. Never Say Die speaks to Americans, whatever their age, who draw courage and hope from facing reality instead of embracing platitudes and delusions, and who want to grow old with dignity and purpose. It is a life-affirming and powerful message that has never been more relevant.
Praise For Never Say Die: The Myth of the New Old Age…
"If old age isn't for sissies, neither is Susan Jacoby's tough-minded and important book. . . which demolishes popular myths that we can 'cure' the 'disease' of aging." —The Washington Post

"For those of us who are old, Susan Jacoby's candor about old age is bracing; for those not yet old, Never Say Die should provide an unsentimental education for the years to come." —Philip Roth 
 
"Jacoby's tough-minded refusal to buy the rosy image painted by advertisers and the 'anti-aging industry'—a greedy crowd that includes bogus health gurus, pill pushers and other medical hucksters—is empowering." —Time
 
"Jacoby is sharp and shoots straight." —The New Yorker
 
"[A] book that will change the way you think about growing old. . . . In the end, and in ways not recognized at the beginning of the book, Never Say Die is life-affirming." —Washington Independent Review of Books

"Mixes rigorous reportage and tart-tongued criticism with memoir and history, slashing through romanticized versions of the golden years and delivering tough truths." —Newsday

"Jacoby cuts through the fog of bromides and half-truths enveloping the discussion of aging, shines a light on issues long neglected and offers cogent solutions to pressing problems." —The Miami Herald
 
"In this beautifully crafted book, [Jacoby] punctures the promises that aging will eventually be 'cured' either by a wonder drug or though positive thinking. The good news is that if we wake up from our delusions we may be better able to grow old with dignity." —Barbara Ehrenreich, author of Nickel and Dimed: On (Not) Getting by in America
 
"Jacoby's book, which mixes the intellectual and the emotional, academic studies and personal anecdotes, is intentionally contentious. . .That is just as it should be. Jacoby does not want to serve as a destroyer of hope. Thank goodness, however, that she is willing to be perceived as a destroyer of false hope." —Seattle Times
 
"Lively, carefully researched. . . . [Jacoby] writes with both passion and reason." —St. Petersburg Times
 
"Eloquent. . . . [Jacoby] is courageously right. . . . One can hope that her impassioned, closely argued tract gains a serious hearing among her fellow boomers." —Columbia Journalism Review
 
"Never Say Die is a beautifully written, clear-eyed, and deeply compassionate book." —Sam Harris, author of The Moral Landscape and The End of Faith.
Vintage, 9780307456281, 352pp.
Publication Date: February 14, 2012
About the Author
SUSAN JACOBY is the author of nine books, most recently The Age of American Unreason, Alger Hiss and the Battle for History, and Freethinkers: A History of American Secularism. She writes The Spirited Atheist blog for On Faith, a website sponsored by The Washington Post. She lives in New York City.
or
Not Currently Available for Direct Purchase