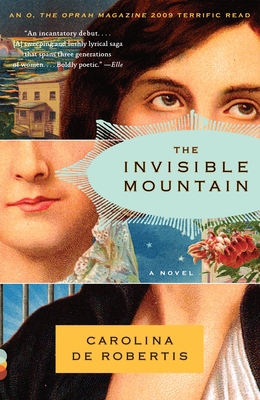 The Invisible Mountain (Vintage Contemporaries) (Paperback)
Vintage, 9780307456618, 448pp.
Publication Date: August 10, 2010
Other Editions of This Title:
Digital Audiobook (8/24/2009)
Hardcover (8/25/2009)
Compact Disc (8/25/2009)
* Individual store prices may vary.
Description
On the first day of the year 1900, a small town deep in the Uruguayan countryside gathers to witness a miracle—the mysterious reappearance Pajarita, a lost infant who will grow up to begin a lineage of fiercely independent women. Her daughter, Eva, a stubborn beauty intent on becoming a poet, overcomes a shattering betrayal to embark on a most unconventional path. And Eva's daughter, Salomé, awakens to both her sensuality and political convictions amid the violent turmoil of the late 1960s.
 
The Invisible Mountain is a stunning exploration of the search for love and a poignant celebration of the fierce connection between mothers and daughters.
About the Author
Carolina De Robertis was raised in England, Switzerland, and California by Uruguayan parents. Her fiction and literary translations have appeared in ColorLines, The Virginia Quarterly Review, and Zoetrope: All-Story, among others. She is the recipient of a 2008 Hedgebrook Residency for Women Authoring Change and the translator of the Chilean novella Bonsái by Alejandro Zambra. She lives in Oakland, California.
 
Visit the author's website: www.carolinaderobertis.com
Praise For The Invisible Mountain (Vintage Contemporaries)…
INTERNATIONAL BESTSELLER

An O, The Oprah Magazine 2009 Terrific Read
A San Francisco Chronicle Book of the Year

"An incantatory debut. . . . [A] sweeping and lushly lyrical saga that spans three generations of women. . . . Boldly poetic. . . . This visionary book beautifully, bravely breaks open all the old secrets."
—Elle

"A galloping saga. . . . Its ensemble of women and men [are] bent on living every moment as if on fire. . . . The kind of novel you stay up late to finish."
—The San Francisco Chronicle

"Beautifully told with rich details and a plot that is finely woven. . . . Pulls you in from the first page and holds you until its last."
—Dallas Morning News
 
"Passionate. . . . De Robertis has created a vivid new landscape, both internal and external, and provided the reader with a glimpse of the country of her ancestry, a land haunted by a mountain that is not really a mountain."
—The Philadelphia Inquirer

"Marvelous. . . . Carolina De Robertis brings to vivid life the history and culture of Uruguay. Bold, passionate, and filled with songs both ecstatic and tragic, The Invisible Mountain tells the stories of three generations of women whose lives transcend the ordinary."
—Cristina García, author of Dreaming in Cuban
 
"The brainiest dynastic novel in years. A high-end story full of sex, politics and family."
—Sara Nelson, The Daily Beast
 
"Stunning. . . . The Invisible Mountain has the body of an epic and the soul of a sassy, sexy storyteller."
—Paste

"Deeply engrossing. . . . This novel makes us ponder the struggles of our own grandmothers, mothers, and daughters, and gives us the compassion to recognize that the links between us are deeper than the differences. A fierce, wise, and tender tale."
—Anita Amirrezvani, author of The Blood of Flowers
 
"Enchanting, funny and heartbreaking. . . . An extraordinary first effort whose epic scope and deft handling reverberate with the deep pull of ancestry, the powerful influence of one's country and the sacrifices of reinvention."
—Publishers Weekly, (starred review)
 
"With grace, fluidity and a modicum of magic, an extraordinary and passionate family navigates the social and political landscapes of South America. The Invisible Mountain is a wonderful story; and De Robertis is a writer to watch."
—Matthew Aaron Goodman, author of Hold Love Strong
 
"De Robertis is a skilled storyteller, but it is her use of language—from the precision of poetry to the sensuality of sex—that makes this literary debut so exceptional."
—Booklist (starred review)
 
"Carolina De Robertis is a writer of uncanny wisdom and an alchemist of words. . . . A gifted literary voice mapping the uncharted territories of the Americas in a fearless new way."
—Alex Espinoza, author of Still Water Saints
 
"A poetic and absorbing generational epic that pays tribute to a colorful culture and amazing history. De Robertis is a promising young writer, and we can only hope there is much more to come from her."
—BookPage
 
"Beautifully wrought. . . . A winning debut."
—Kirkus Reviews
 
"A haunting novel about an extraordinary family and an evocative tribute to the endurance of women and the spirit of poetry."
—Diana Gabaldon, author of The Outlander series