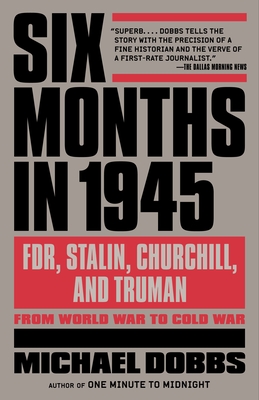 Six Months in 1945: FDR, Stalin, Churchill, and Truman--From World War to Cold War (Paperback)
FDR, Stalin, Churchill, and Truman--From World War to Cold War
Vintage, 9780307456670, 464pp.
Publication Date: July 2, 2013
* Individual store prices may vary.
or
Not Currently Available for Direct Purchase
Description
When Franklin Roosevelt, Winston Churchill, and Joseph Stalin met in Yalta in February 1945, Hitler's armies were on the run, and victory was imminent. The Big Three wanted to draft a blueprint for a lasting peace--but instead they set the stage for a forty-four year division of Europe into Soviet and Western spheres of influence. After fighting side by side for nearly four years, their political alliance was beginning to fracture. Although the most dramatic Cold War confrontations such as the Berlin airlift were still to come, a new struggle for global hegemony had got underway by August 1945 when Truman used the atomic bomb on Hiroshima. Six Months in 1945 brilliantly captures this momentous historical turning point while illuminating the aims and personalities of larger-than-life political giants.
About the Author
Now a U.S. citizen, Michael Dobbs was born and educated in Britain, with fellowships at Princeton and Harvard. He spent much of his career as a reporter for The Washington Post, for which he covered the collapse of communism. His previous books include One Minute to Midnight, and Down with Big Brother: The Fall of the Soviet Empire, a finalist for the 1997 PEN award for nonfiction.
Praise For Six Months in 1945: FDR, Stalin, Churchill, and Truman--From World War to Cold War…
Praise for Michael Dobbs' Six Months in 1945

"Superb . . . Dobbs tells the story with the precision of a fine historian and the verve of a first-rate journalist."
—The Dallas Morning News
 
"Elegant and convincing. . . . Dobbs's description of the fledgling relationship between the two superpowers is unerringly fascinating."
—The Washington Post
 
"[S]uperbly evocative . . . So vivid is the writing that you can practically feel the shuddering vibration and turbulence in what was then the state-of-the-art aircraft carrying Roosevelt on the first visit by an American president to the Soviet Union."
—San Francisco Chronicle
 
"A gifted storyteller and thorough researcher with an eye for detail . . . tension and suspense aplenty."
—Washington Times

"This extraordinary and well-documented account of a short period in history illustrates how just a few men in a closed room can influence history in a monumental and sometimes devastating way. Six Months in 1945 is an important book to read to better understand how such negotiations influence us for decades. It illustrates that events and decisions made on the world stage affect us all, without most of us being aware of the decisions."
—Free Lance-Star

"Elegantly written . . . Dobbs delivers engaging portraits of the national leaders . . . . A confident and rewarding survey of a hinge point in 20th century history."
—Kirkus Reviews

"Dobbs brings these 'six months in 1945' to life better than anyone before him. In brisk, engrossing chapters, he weaves between the Big Three decision-makers . . . and sketches their stratagems, illusions, strengths and weaknesses."
—Military Book Club

"Dobbs is a gifted writer. His characterizations of powerful men are well judged and rounded, as are his evaluations of the fateful choices they faced."
—Foreign Affairs

"Dobbs lends the subject an immediacy that will engage history readers. . . . a readily accessible presentation of the onset of the Cold War."
—Booklist

"An astute narrative of the six months that changed the world."
—Publishers Weekly


Advertisement