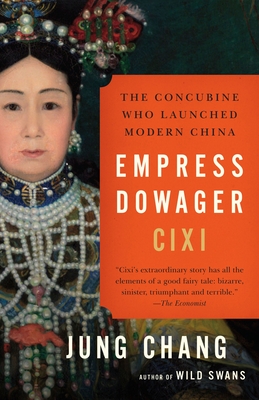 Empress Dowager Cixi
The Concubine Who Launched Modern China
Paperback

* Individual store prices may vary.
Other Editions of This Title:
Digital Audiobook (10/28/2013)
Paperback, Chinese (9/4/2014)
Description
A New York Times Notable Book
An NPR Best Book of the Year

In 1852, at age sixteen, Cixi was chosen as one of Emperor Xianfeng's numerous concubines. When he died in 1861, their five-year-old son succeeded to the throne. Cixi at once launched a coup against her son's regents and placed herself as the true source of power—governing through a silk screen that separated her from her male officials.
        Drawing on newly available sources, Jung Chang comprehensively overturns Cixi's reputation as a conservative despot. Cixi's extraordinary reign saw the birth of modern China. Under her, the ancient country attained industries, railways, electricity, and a military with up-to-date weaponry. She abolished foot-binding, inaugurated women's liberation, and embarked on a path to introduce voting rights. Packed with drama, this groundbreaking biography powerfully reforms our view of a crucial period in China's—and the world's—history. 
Praise For Empress Dowager Cixi: The Concubine Who Launched Modern China…
"Cixi's extraordinary story has all the elements of a good fairy tale: bizarre, sinister, triumphant and terrible." —The Economist

"A truly authoritative account of Cixi's rule. Her story is both important and evocative." —Orville Schell, The New York Times Book Review 

"A fantastic Machiavellian tale. . . . Dives into a genuinely fascinating figure: a fierce imperial consort who ruled behind the thrones of two successive Chinese emperors and helped ease China into the twentieth century." —New York magazine
 
"Certain to become the standard by which all future biographies of the Dowager Empress are measured." —The Daily Beast

"Jung Chang has written a pathbreaking and generally persuasive book." —The New York Review of Books

"If there is one woman who mattered in the history of modern China, it is the empress dowager Cixi. . . . [Her] conventional image is queried in this detailed and beautifully narrated biography, which at long last restores the empress dowager to her rightful place." —The Sunday Times (London)

"Sets out to rehabilitate the reputation of a woman who, [Chang] argues, helped modernize China. . . . While Chang acknowledges Cixi's missteps—such as allowing the Boxers to fight against a Western invasion, which led to widespread slaughter—she sees her as a woman whose energy, farsightedness, and ruthless pragmatism transformed a country." —The New Yorker

"[An] authoritative and epic biography." —The Toronto Star

"Well-researched and provocative. . . . Cixi deserves to be remembered and this book is to be welcomed for giving an important figure in Chinese history the prominence she deserves. . . . This spirited biography reminds us that a greater female presence might be a trigger for much-needed political change." —New Statesman

"Fascinating. . . . Wonderfully illuminating. . . . Jung Chang's new book gives the infamous concubine Cixi her due." —The Spectator

"This is a rich, dramatic story of rebellions, battles, plotting, rivalry, foreign invasion, punishment and forbidden love. . . . [Chang] uses new evidence and meticulous research to cast a spotlight on the amazing woman she regards as the mother of modern China." —Daily Mail

"Corrects a longstanding misconception about a woman whose impact on China can't be overstated. It's a fascinating look at power, politics and the gender divide." —BookPage

"A rich and fascinating book that never relaxes its hold on the reader despite the marshalling of a mass of complex historical details seen through the prism of Cixi." —The New York Journal of Books
Anchor, 9780307456700, 464pp.
Publication Date: September 9, 2014
About the Author
Jung Chang is the best-selling author of Wild Swans, which The Asian Wall Street Journal called the most widely read book about China, and Mao: The Unknown Story (with Jon Halliday), which was described by Time as "an atom bomb of a book." Her books have been translated into more than forty languages and sold more than fifteen million copies outside mainland China, where they are both banned. She was born in China in 1952 and moved to Britain in 1978. She lives in London.