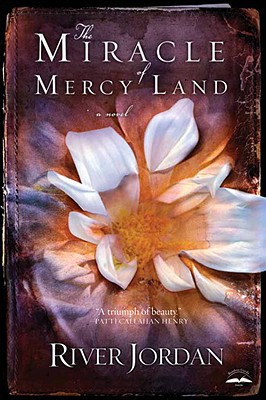 The Miracle of Mercy Land
A Novel
Paperback

* Individual store prices may vary.
Description
Two journalists in a small Alabama town discover a mysterious book that makes them confront the past.

If you had the power to amend choices you made in the past, would you—even if it changed everything?
 
Mercy Land has made some unexpected choices for a young woman in the 1930s. The sheltered daughter of a traveling preacher, she chooses to leave her rural community to move to nearby Bay City on the warm, gulf-waters of southern Alabama. There she finds a job at the local paper and spends seven years making herself indispensible to old Doc Philips, the publisher and editor. Then she gets a frantic call at dawn—it's the biggest news story of her life, and she can't print a word of it.
           
Doc has come into possession of a curious book that maps the lives of everyone in Bay City—decisions they've made in the past, and how those choices affect the future. Mercy and Doc are consumed by the mystery locked between the pages—Doc because he hopes to right a very old wrong, and Mercy because she wants to fulfill the book's strange purpose. But when a mystery from Mercy's past arrives by train, she begins to understand that she will have to make choices that will deeply affect everyone she loves—forever.
 
"A tremendously well-written tale. River Jordan is a truly gifted author. Highly recommended." – Davis Bunn, best-selling author
Praise For The Miracle of Mercy Land: A Novel…
Praise for The Miracle of Mercy Land

"With words spoken like a gentle angel, River Jordan takes her reader deep into the human spirit. The Miracle of Mercy Land is a story about the past, the present, and the future all at once, not only altering the hearts of the characters in the novel, but also changing the heart of the reader. A triumph of beauty." —PATTI CALLAHAN HENRY, author of Losing the Moon, When Light Breaks, and the New York Times bestseller Driftwood Summer

"A tremendouslywell-written tale. River Jordan is a truly gifted author. Highly recommended." —DAVIS BUNN, best-selling author of Gold of Kings and coauthor of the Acts of Faith series

"River Jordan takes us on a magical journey to the banks of Bittersweet Creek where the past is revisited and broken hearts aremended. A story told with equal parts Southern charm and supernatural fantasy, this one leaves you dreaming of a world where anything is possible. Jordan has cast her spell again!" —SUSAN GREGG GILMORE, author of The Improper Life of Bezellia Grove and Looking for Salvation at the Dairy Queen

"River Jordan's words are so delicious that I read them aloud just so I could taste them. In The Miracle of Mercy Land, she explores destiny and will, good and evil, power and powerlessness. If you find it difficult to find a breath of literary fresh air, I assure you, you won't be disappointed in Jordan." —KAYA MCLAREN, author of On the Divinity of Second
Chances and Church of the Dog

"In The Miracle of Mercy Land, River Jordan once again brings us a world filled with magic and light. Her characters walk straight off the pages and into our hearts.These are people we wish we knew, individuals with fullmeasures of courage, love, devotion, faith, loyalty, and goodness. Jordan strikes a blow for hope in a troubled time. She is a treasure, and The Miracle of Mercy Land is cause for celebration." —RAYMOND L. ATKINS, winner of the 2009 Georgia
Author of the Year Award and author of The Front Porch Prophet and SorrowWood

"This story of a girl from Bittersweet Creek, Alabama, beats with a steady love and suspense as a young reporter and storycatcher discovers her destiny by a tremendous act of courage. Mercy Land has a heart as big and beautiful as River Jordan's luminous prose." —KERRY MADDEN, author of theMaggie Valley novels

"River Jordan draws the reader through this magically compelling tale of dark versus light, temptation versus self-knowledge, curiosity versus truth. One's life is full of choices, and the right choice is not always so easy to determine. The Miracle of Mercy Land will keep the reader guessing." —DARNELL ARNOULT, award-winning author of the novel
Sufficient Grace and What Travels with Us: Poems

"River Jordan has crafted a memorable spiritual thriller with beautiful prose, vivid characters, and a unique, haunting plot that grabs the reader by the arm and doesn't let him go until he reaches the end. Mercy Land is a celebration of the goodness within us all. It's also a prescient study of the good and evil that permeate every community,
both yours and mine." —AD HUDLER, best-selling author of Man of the House, Southern Living, and Househusband
WaterBrook, 9780307457059, 352pp.
Publication Date: September 7, 2010
About the Author
River Jordan is a critically acclaimed novelist and playwright. Her previous works include Saints In Limbo and The Messenger of Magnolia Street.  She speaks around the country on the "Power of Story" and produces and hosts the radio series, Clearstory from Nashville, Tennessee, where she makes her home.
or
Not Currently Available for Direct Purchase