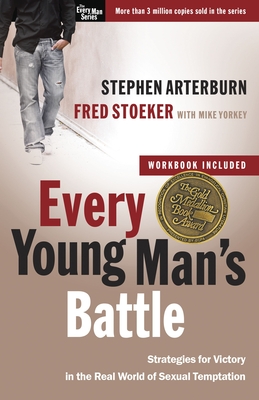 Every Young Man's Battle: Strategies for Victory in the Real World of Sexual Temptation (Paperback)
Strategies for Victory in the Real World of Sexual Temptation
Waterbrook Press, 9780307457998, 336pp.
Publication Date: August 18, 2009
Description
Can any young man escape the lure of sexual temptation in today's world?
You're surrounded by sex constantly--in movies, on TV, video games, music, the Internet. Is it any wonder that it feels impossible to stay sexually pure?
How do men survive the relentless battle against the onslaught of lust?
With powerful ammunition.
The authors of the hard-hitting mega-bestsellerEvery Man's Battle knowthe temptations young menface every day. The fact is, you can achieve victory over sexual compromise.
Every Young Man's Battleshows you how to rise above today's debased, self-seeking culture by examining God's standard, training your eyes and mind, cleaning up your thought life, and developing a plan. With extensive updates for a new generation of men, this is the award-winning guide to practical resistance. Bottom line: these strategies are biblical and they have worked for millions of men.
Experience real hope for living the way God designed. Enter the battle.
Includes comprehensive workbook for individual and group study.
About the Author
Stephen Arterburn is coauthor of the best-selling Every Man Series from WaterBrook Press. He is founder and chairman of New Life Clinics, host of the daily New Life Live! national radio program, creator of the Women of Faith Conferences, a nationally known speaker and licensed minister, and theauthor of more than fortybooks. He livesin Laguna Beach, California. Fred Stoeker is coauthor of the best-selling Every Man Series. He is founder and chairman of Living True Ministries and a conference speaker who has counseled hundreds of men and married couples. Fred and his wife, Brenda, live in the Des Moines, Iowa, area with their four children."
Praise For Every Young Man's Battle: Strategies for Victory in the Real World of Sexual Temptation…
Praise for Every Young Man's Battle
 
"Every Young Man's Battle does the best job I have ever seen on the subject
of sexual temptation. Once upon a time we lived in a world that didn't talk
about secrets, and that world has brought us to the mess we are in today.
Young men must have an honest, blunt, and unashamedly Christian look
at their sexuality. This book will save thousands of future marriages."
—Jim Burns, president, YouthBuilders
 
"I have never read a book as direct and open as Every Young Man's Battle.
The profound principles communicate the authors' personal experiences
and provide the hope that anyone can overcome a day-to-day battle with
impure thoughts. Every Young Man's Battle helps you see the importance of
taking control over your eyes, your mind, and your heart so that you can
completely honor God in every facet of your life."
—Scott Bullard, of musical recording group Soul Focus
 
"It's encouraging to see some real men stand up and sound the alarm to
young men. Stephen, Fred, and Mike's courage to tell their stories exposes
what has unfortunately become a dirty little secret among men in the
church. The battle cry of the day is for men of all ages to live a pure and
holy life, and this book will crush Satan's strategy by giving the troops the
guts to talk about what has been taboo in the church for so long. The
authors' poignant stories paint a picture of battle in which all men can
relate and offer hope and camaraderie to win the war."
—Troy Vanliere, artist/manager (representing NewSong,
Carolyn Arends, Soul Focus, Jadyn Strand, and Glad)
 
"There has been a gaping void in the search for holiness, and Every Young
Man's Battle addresses those issues where others have been comfortably
silent. If there is even a spark of desire for purity in your life, this book will
kindle that fire… It is possible to walk in victory, as you will surely find out
after reading the Every Man series."
—Matt Butler, of musical recording group NewSong

Advertisement