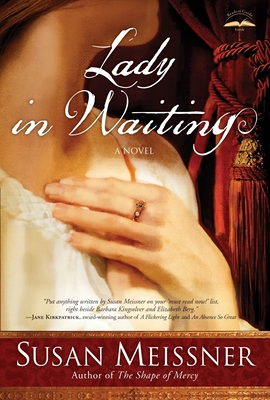 Lady in Waiting
A Novel
Paperback

* Individual store prices may vary.
Other Editions of This Title:
Digital Audiobook (9/6/2010)
Description
Love is a choice you make every day.

Content in her comfortable marriage of twenty-two years, Jane Lindsay never expected to watch her husband, Brad, pack his belongings and walk out the door of their Manhattan home. But when it happens, she feels powerless to stop him, or the course of events that follow Brad's departure.

Jane finds an old ring in a box of relics from a British jumble sale and discovers a Latin inscription in the band along with just one recognizable word: Jane. Feeling an instant connection to the mysterious ring bearing her namesake, Jane begins a journey to learn more about the ring—and perhaps about herself.

~

In the sixteenth-century, Lucy Day becomes the dressmaker to Lady Jane Grey, an innocent young woman whose fate seems to be controlled by a dangerous political and religious climate, one threatening to deny her true love and pursuit of her own interests.

As the stories of both Janes dovetail through the journey of one ring, it becomes clear that each woman has far more influence over her life than she once imagined. It all comes down to the choices each makes despite the realities they face.
Praise For Lady in Waiting: A Novel…
Praise for Lady in Waiting
"Lady in Waiting is sheer beauty set in two time periods, both equally captivating stories. Meissner writes characters I care for, root for, and pine alongside—and she does so while weaving enticing, heart-wrenching plots. This book proves why I'm an ardent Susan Meissner fan."
—Mary DeMuth, author of Life in Defiance

"Lady in Waiting by Susan Meissner: The pacing, perfection. Transitions between centuries, seamless. Capturing the nuances of relationship, flawless. Put anything written by Susan Meissner on your "must read now!" list, right beside Barbara Kingsolver and Elizabeth Berg. I couldn't put this elegant novel of love and choice down. A completely satisfying read."
—Jane Kirkpatrick, award-winning author of A Flickering Light and An Absence So Great

"A novel about decisions long regretted and decisions yet to be made, Lady in Waiting resonates with the great hope and exhilaration that come with the realization that there is always a choice."
—Siri Mitchell, author of She Walks in Beauty

"Artfully blending past and present, Susan Meissner weaves the stories of two different women into a rich tapestry of love, disappointment, and ultimately the power of standing up for what you believe in. The subtlety of her storytelling makes Lady in Waiting both delightful to read and impossible to forget."
—Nicole Baart, author of The Moment Between
 
 
Praise for Susan Meissner
"As raindrops become mighty rivers, Susan Meissner's words seem simple in the beginning, but one thought builds naturally upon another, phrases and sentences flow together with effortless fluidity, and before you know it, you are totally engrossed by the powerful undercurrents of her story. To read Ms. Meissner is to put yourself into the hands of that rarest kind of author: an artist working in the medium of words."
—Athol Dickson, Christy Award–winning author of The Cure and Winter Haven

"Writing as incandescent as pure flame. Susan Meissner delivers again with a family story that wraps you up and stays with you long after the last page."
—James Scott Bell, best-selling author of Deceived and Try Fear

"I loved The Shape of Mercy from beginning to end. Ms. Meissner's prose sings, and her characters captured my interest from the start. As the story unfolded, those same characters captured my heart. I won't soon forget Mercy, Lauren, or Abigail."
—Robin Lee Hatcher, award-winning author of Wagered Heart and When Love Blooms

"With a deft hand, Meissner blends an intriguing storyline, artful writing, and memorable characters for a truly delicious read. This one's a keeper!"
—Denise Hunter, author of The Convenient Groom

"White Picket Fences, with its wonderful cast of characters, offers hope to all of us who live less than perfect lives behind our own white picket fences. Susan Meissner skillfully weaves together parallel storylines to show how healing can come when we risk sharing our secret pain with others."
—Lynn Austin, author of Until We Reach Home
WaterBrook, 9780307458834, 352pp.
Publication Date: September 7, 2010
About the Author
Susan Meissner is a former managing editor of a weekly newspaper and an award-winning columnist. She is the award-winning author of A Bridge Across the Ocean, Secrets of a Charmed Life, A Fall of Marigolds, and Stars Over Sunset Boulevard, among other novels. Visit her website at www.susanmeissner.com.
or
Not Currently Available for Direct Purchase