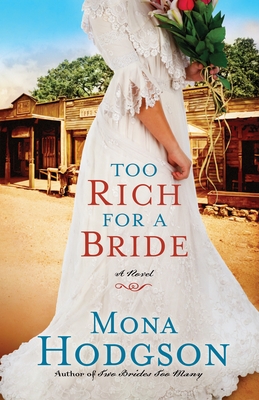 Too Rich for a Bride (Paperback)
Waterbrook Press, 9780307458926, 312pp.
Publication Date: May 3, 2011
* Individual store prices may vary.
or
Not Currently Available for Direct Purchase
Description
With a head more suited to bookkeeping than a bridal veil, Ida's dreams include big business- not beaus. Ida Sinclair has joined her sisters, Kat and Nell, in the untamed mining town of Cripple Creek, Colorado for one reason: to work for the infamous but undeniably successful businesswoman, Mollie O'Bryan. Ida's sisters may be interested in making a match for their determined older sister, but Ida only wants to build her career. Under Mollie's tutelage, Ida learns how to play the stock market and revels in her promising accomplishments. Fighting for respect in a man's world, her ambition leaves little room for distractions. She ignores her family's reservations about Mollie O'Bryan's business practices, but no matter how she tries, she can't ignore the two men pursuing her affections--Colin Wagner, the dashing lawyer, and Tucker Raines, the traveling preacher. Ida wants a career more than anything else, so she shrugs off the suitors and pointed "suggestions" that young ladies don't belong in business. Will it take unexpected love--or unexpected danger--for Ida to realize where her priorities truly lie?
About the Author
Over the last twenty years, Mona Hodgson's publishing credits have grown to include nearly thirty children's books, contributions to more than ten books for adults, and historical novels, including her debut, Two Brides Too Many. Mona is a popular speaker for women's groups, schools, and educators' and writers' conferences. She lives in Arizona with her husband and has two daughters and several grandchildren.
Praise For Too Rich for a Bride…
Praise for Too Rich for a Bride

"A beautiful tale. Intriguing. Inviting. Inspiring."
—Cindy Woodsmall, author of The Hope of Refuge and When the Soul Mends

"This is a story that lets us stand on the cusp of a great societal shift—the entrance of women into the business world…. Cripple Creek's cast of colorful characters plays host to a new romance, as well as pulling back the curtain on a local family tragedy. This sequel revisits the characters we've already come to love and creates a complementary depth to an entertaining new tale."
—Allison Pittman, author of Stealing Home and The Bridegrooms

"Ida believes her future is secure in a man's world. After all, she has drive and determination. But what happens when she meets a man who makes a withdrawal from her heart? Author Mona Hodgson makes discovering the answer to this question a rich, rewarding adventure."
—DiAnn Mills, author of A Woman Called Sage and the Texas Legacy Series

"Ah! A book I've been waiting for. Too Rich for a Bride by Mona Hodgson will charm your socks off. All the ups and downs of a romance with a delightful dose of history and characters who will sneak into your heart and take up residence. More, more, we want more."
—Lauraine Snelling author of No Distance Too Far and the Daughters of Blessing series

"Mona Hodgson has done it again. With deft storytelling and characters that leap off the page, Too Rich for a Bride is a book I won't soon forget."
—Kathleen Y'Barbo author of The Confidential Life of Eugenia Cooper and Anna Finch and the Hired Gun

Advertisement