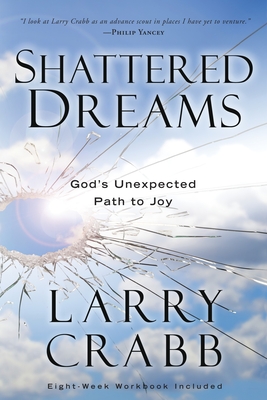 Shattered Dreams: God's Unexpected Path to Joy (Paperback)
God's Unexpected Path to Joy
Waterbrook Press, 9780307459503, 320pp.
Publication Date: November 2, 2010
Description
Learn How to Look Through Life's Tragedies and See the Lavish Blessings God Has For You "Shattered dreams," writes Dr. Larry Crabb, "are never random. They are always a piece in a larger puzzle, a chapter in a larger story. The Holy Spirit uses the pain of shattered dreams to help us discover our desire for God, to help us begin dreaming the highest dream." To help you understand this neglected truth in the deepest and most helpful way, author and counselor Larry Crabb has written a wise, hopeful, honest, and realistic examination of life's difficulties and tragedies. He wraps insights around the bold story of Naomi in the Bible's book of Ruth. As Crabb retells and illuminates this sometimes disturbing and often profoundly touching story, we are shown how God stripped Naomi of happiness in order to prepare her for joy. And we gain an unforgettable picture of how God uses shattered dreams to release better dreams and a more fulfilling life for those He loves. Shattered dreams have the power to change our lives for good. Forever.
About the Author
Dr. Larry Crabb is a well-known psychologist, seminar speaker, Bible teacher, author, and founder/director of NewWay Ministries. In addition to various speaking and teaching opportunities, he is also Scholar in Residence at Colorado Christian University and serves as Spiritual Director for the American Association of Christian Counselors. His many popular books include Inside Out, Finding God, The Pressure's Off, Connecting, Becoming a True Spiritual Community, The PAPA Prayer, SoulTalk, and his life work, 66 Love Letters. For additional information visit NewWayMinistries.org.
Advertisement