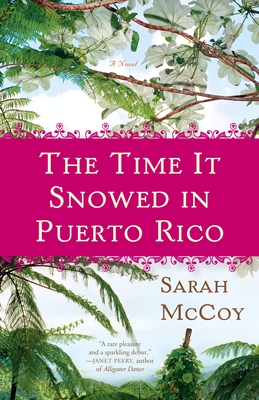 The Time It Snowed in Puerto Rico
A Novel
Paperback

* Individual store prices may vary.
Other Editions of This Title:
Hardcover (8/11/2009)
Description
It is 1961 and Puerto Rico is trapped in a tug-of-war between those who want to stay connected to the United States and those who are fighting for independence. For eleven-year-old Verdita Ortiz-Santiago, the struggle for independence is a battle fought much closer to home.

Verdita has always been safe and secure in her sleepy mountain town, far from the excitement of the capital city of San Juan or the glittering shores of the United States, where her older cousin lives. She will be a señorita soon, which, as her mother reminds her, means that she will be expected to cook and clean, go to Mass every day, choose arroz con pollo over hamburguesas, and give up her love for Elvis. And yet, as much as Verdita longs to escape this seemingly inevitable future and become a blond American bombshell, she is still a young girl who is scared by late-night stories of the chupacabra, who wishes her mother would still rub her back and sing her a lullaby, and who is both ashamed and exhilarated by her changing body.

Told in luminous prose spanning two years in Verdita's life, The Time It Snowed in Puerto Rico is much more than a story about getting older. In the tradition of The House on Mango Street and Annie John, it is about the struggle to break free from the people who have raised us, and about the difficulties of leaving behind one's homeland for places unknown. At times joyous and at times heartbreaking, Verdita's story is of a young girl discovering her power and finding the strength to decide what sort of woman she'll become.
Praise For The Time It Snowed in Puerto Rico: A Novel…
This touching coming-of-age debut novel transcends borders and times. Readers will laugh and cry along with Verdita as she navigates a tumultuous adolescence, easily identifying with her problems and struggles. As a result, the novel will appeal to a wide range of readers, and the addition of discussion questions is a plus for book groups."
- Library Journal review

"The book is ripe with the lush island's landscape, culture, and foods, as well as the political upheaval of the 1960s. Verdita's experience, though, is universal, as she must reconcile both the passion she witnesses and the changes in her own body with a child's perspective of the world. McCoy's intoxicating novel is perfect for multicultural literature classes and best compares with Sandra Cisneros's The House on Mango Street (Knopf, 1994) and Julia Alvarez's How the García Girls Lost Their Accents (Penguin, 1992)."
- School Library Journal review

"Beautiful…steeped in Puerto Rican culture and rich in authentic detail, McCoy's debut captures the essence of life in Puerto Rico." 
- Booklist

"McCoy's lyrical writing is absorbing"
- Publishers Weekly review

"Sarah McCoy tells a story of magic, myth, and mystery amid political and cultural unrest. You can't help loving Verdita, the world she comes from and the world she yearns for. A delightful debut by a promising and saucy new writer."
- Sheri Reynolds, author of A Gracious Plenty and Oprah's Book Club Rapture of Canaan

"Like snow in Puerto Rico, this novel is a rare pleasure. A sparkling debut by a writer who possesses a feel for place and time, a sense of the sacrifices love calls us to, and an uncommon talent for mapping the territory of the heart."
- Janet Peery, author of Alligator Dance and National Book Award Finalist The River Beyond the World

"Sarah McCoy has written a story so replete with sensuality, so infused with love and community, so exquisitely observant and poetic, the reader can only wish for a package tour to the dream that is Verdita's life."
- Sandra Scofield, author of Occasions of Sin and National Book Award Finalist Beyond Deserving
Crown, 9780307460172, 224pp.
Publication Date: August 3, 2010
About the Author
SARAH MCCOY is the family columnist for Your Health Monthly magazine and has taught writing courses at Old Dominion University in Norfolk, Virginia, and at the University of Texas in El Paso. As a child, she spent much time in Puerto Rico visiting her mother's family. She lives in El Paso with her husband.
or
Not Currently Available for Direct Purchase