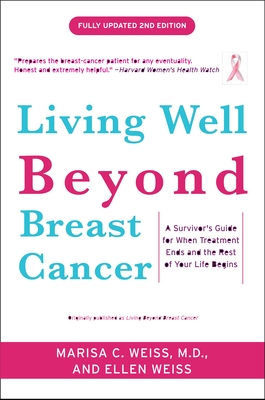 Living Well Beyond Breast Cancer (Paperback)
A Survivor's Guide for When Treatment Ends and the Rest of Your Life Begins
Harmony, 9780307460226, 528pp.
Publication Date: January 5, 2010
* Individual store prices may vary.
Description
What do I do now? Why am I still so tired? Am I really cured? How do I reduce my risk of recurrence? Is it safe for me to get pregnant? How do I get rid of the hot flashes so I can sleep?  

This fully revised and updated second edition contains crucial information about these issues and more—including the revolutionary medical advances in follow-up testing, ongoing treatments, and recovery. With answers for everything from how to deal with hair loss and weight gain to finding online support groups and understanding healthy foods and supplements, Living Well Beyond Breast Cancer contains a greater depth and breadth of information in its enhanced chapters—plus all-new chapters that cover current treatment options and preventative tips for those at high risk for developing breast cancer.

Enhanced Chapters:
• Tests: Peer, Poke, and Prod
• After Mastectomy: Re-creating a Breast with or Without Surgery
• Intimacy, Sex, and Your Love Life: Relieving Discomfort and Increasing Libido
• A Child in Your Future: Fertility, Pregnancy, and Adoption
• Reducing Your Risk: Living Well

All-New Information:
• Pre-Survivors: Risks and Prevention
• Thinking and Remembering: Clearing the Fog and Sharpening Your Mind
• Bone Health: Weakness Explained and Strengthening Exercises
• Sleep: Restoration and Renewal
 
With this book as your guide, you'll have the tools not just to live beyond breast cancer, but to live well and well beyond this challenge in your life!
About the Author
Marisa C. Weiss, M.D., is a physician who specializes in taking care of women with breast cancer. She is founder and president of the nonprofit educational organization Living Beyond Breast Cancer, which promotes the health of all women affected by breast cancer with conferences, workshops, newsletters, and a help line. Dr. Weiss works and lives in the Philadelphia area with her husband and three children.

Ellen Weiss has served as editorial consultant to Living Beyond Breast Cancer since its founding. She is also the author of The Secondhand Supershopper. This is the first professional collaboration she has had with any of her six children. She and her husband live in the Philadelphia area.

ELLEN WEISS has written hundreds of books for kids of all ages. She's collaborated on dozens of books with Mel Friedman, including The Tiny Parents, The Adventures of Ratman, The Curse of the Calico Cat, and The Poof Point.
Praise For Living Well Beyond Breast Cancer: A Survivor's Guide for When Treatment Ends and the Rest of Your Life Begins…
"Women at any stage of the breast cancer journey, including those grappling with emotional issues surrounding the chance of recurrence, will benefit from the Weisses' up-to-date and uplifting outlook."
—Publishers Weekly
or
Not Currently Available for Direct Purchase