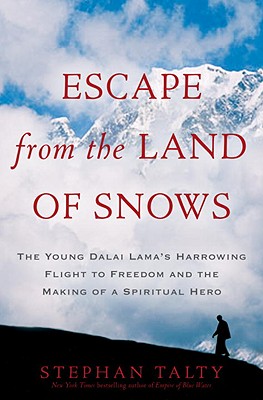 Escape from the Land of Snows
The Young Dalai Lama's Harrowing Flight to Freedom and the Making of a Spiritual Hero
Hardcover

* Individual store prices may vary.
Other Editions of This Title:
Digital Audiobook (1/17/2011)
Paperback (1/18/2011)
Description
On the evening of March 17, 1959, as the people of Tibet braced for a violent power grab by Chinese occupiers—one that would forever wipe out any vestige of national sovereignty—the twenty-four-year-old Dalai Lama, Tibet's political and spiritual leader, contemplated the impossible. The task before him was immense: to slip past a cordon of crack Chinese troops ringing his summer palace and, with an escort of 300, journey across the highest terrain in the world and over treacherous Himalayan passes to freedom—one step ahead of pursuing Chinese soldiers.

Mao Zedung, China's ruthless Communist dictator, had pinned his hopes for total Tibetan submission on controlling the impressionable Dalai Lama. So beloved was the young ruler—so identified with his country's essence—that for him to escape might mean perpetual resistance from a population unwilling to tolerate an increasingly brutal occupation. The Dalai Lama's minders sent word to the Tibetan rebels and CIA-trained guerrillas who waited on the route: His Holiness must escape—at all costs.

In many ways, the 14th Dalai Lama, Tenzin Gyatso, was unprepared for the epic journey awaiting him. Twenty-two years earlier, government search parties, guided by prophecies and omens, had arrived at the boy's humble peasant home and subjected the two-year-old to a series of tests. After being declared the reincarnation of Tibet's previous ruler, the boy was brought to Lhasa to learn the secrets of Buddhism and the ways of ultimate power. Forced in the ensuing two decades to cope with aching loneliness and often stifling ritual—and compelled to suppress his mischievous personality—Gyatso eventually proved himself a capable leader. But no previous Dalai Lama had ever taken on a million Communist Chinese soldiers bent on stamping out Tibetan freedom.

To keep his country's dream of independence alive by means of a government in exile, the young ruler would not only have to brave battalions of enemy soldiers and the whiteout conditions waiting on the slopes of the Himalayas' highest peaks, he'd have to overcome a different type of blindness: the naïveté intrinsic to his sheltered palace life and his position as leader of a people who considered violence deeply taboo.

His mind made up, the young Dalai Lama set off on his audacious journey to India while behind him a Chinese army rolled over Lhasa, its advance hunter patrols in fierce pursuit of the man they most coveted. The 14th's escape was an act of daring and defiance that represented Tibet's last hope, and so the world watched, transfixed, as the gentle monk's journey unfolded.

Emotionally powerful and irresistibly page-turning, Escape from the Land of Snows is simultaneously a portrait of the inhabitants of a spiritual nation forced to take up arms in defense of their ideals, and the saga of an initially childlike ruler who at first wore his monk's robes uncomfortably but was ultimately transformed by his escape into the towering figure the world knows today—a charismatic champion of free thinking and universal compassion.
Praise For Escape from the Land of Snows: The Young Dalai Lama's Harrowing Flight to Freedom and the Making of a Spiritual Hero…
"Skillful...Talty has woven a vivid picture of a dangerous journey and a country in crisis."--Publishers Weekly

"Riveting, informed...A great read for Tibetophiles old and new."--Kirkus Reviews
 
"It was perhaps history's most momentous escape: the Dalai Lama fleeing over the roof of the world from Mao's advancing troops. I loved losing myself in ESCAPE FROM THE LAND OF SNOWS and you will too."--James Bradley, New York Times bestseller author of FLAGS OF OUR FATHERS, FLYBOYS, and THE IMPERIAL CRUISE
 
"An amazing, behind-the-scenes account that reads like a bound-for-the-big-screen thriller.  Talty vividly captures the Tibet I know and have immense respect for -- including its harsh beauty, epic terrain and fiercely resilient people.  Reading this, I was completely absorbed as a series of divine prophecies cause a small peasant boy – the future 14th Dalai Lama -- to be chosen to lead his people, and as threats from marauding Chinese occupiers send that same boy, now a young man, on a dangerous gauntlet through the Himalayas.  Talty shows in the most compulsively readable way how a champion for peace came by his warrior instincts."--Ed Viesturs, 7-Time climber of Mt. Everest and author of NO SHORTCUTS TO THE TOP: CLIMBING THE WORLD'S HIGHEST PEAKS
 
"ESCAPE FROM THE LAND OF SNOWS reads like a great adventure yarn, yet along the way Talty helps us see the Dalai Lama not as statesman or symbol, but as a courageous and terrified young man forced to undergo one of history's most remarkable and unlikely transformations.  We watch as a cloistered, teenage monk is thrust onto the world stage, finds himself in the path of Mao's juggernaut, and then rises -- beyond all expectations -- to the monumental task before him.  This wonderfully rich narrative should be required reading for anyone who cares about Tibet, the Dalai Lama, or the power of spiritual integrity."--by Greg Mortensen, author of the #1 New York Times bestseller THREE CUPS OF TEA and the New York Times bestseller STONES INTO SCHOOLS
 
"Loaded with hard, vivid detail and marked by a wonderful cast of characters…Few people know the facts of the Dalai Lama's escape from Chinese-occupied Tibet.  That will change with this marvelous book.  Acclaimed author Stephan Talty takes us with the Dalai Lama on a dangerous journey over the Himalayas while being pursued by Mao's soldiers.  Meanwhile, U.S. President Eisenhower and millions around the world eagerly follow his daring escape.  You will, too, as you turn these pages."--Jean Sasson, New York Times bestselling author of PRINCESS and GROWING UP BIN LADEN

"Riveting…Talty's portrait of the young Dalai Lama is nuanced and compelling; his account of the CIA's involvement is thriller ready; and his unique coverage of the news frenzy and shenanigans that ensued as the fleeing Dalai Lama became a cold-war hero is fascinating…Talty is also acutely attuned to the tragedy and grace of the Dalai Lama's long exile." --Booklist (Starred Review)
Crown, 9780307460950, 320pp.
Publication Date: January 18, 2011
About the Author
STEPHAN TALTY is a widely published journalist who has contributed to the "New York Times Magazine," "GQ," "Men's Journal," "Time Out New York," "Details," and many other publications. He is the author of the bestselling "Empire of Blue Water," "The Illustrious Dead," and "Mulatto America."
or
Not Currently Available for Direct Purchase