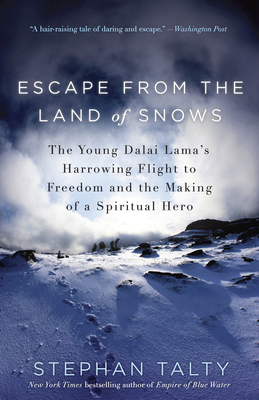 Escape from the Land of Snows
The Young Dalai Lama's Harrowing Flight to Freedom and the Making of a Spiritual Hero
Paperback

* Individual store prices may vary.
Other Editions of This Title:
Digital Audiobook (1/17/2011)
Description
The remarkable true story of the miraculous journey that made the Dalai Lama into the man he is today and sparked the fight for Tibetan freedom
 
"A hair-raising tale of daring and escape."—The Washington Post
 
In the early weeks of 1959, a bloody uprising gripped the streets of the Tibetan capital of Lhasa as ragtag Tibetan rebels faced off against their Communist Chinese occupiers. Realizing that the impending battle would result in a bloodbath and his own capture, the young Dalai Lama began planning an audacious escape to India, a two-week journey that would involve numerous near-death encounters, a dangerous mountain crossing, and evading thousands of Chinese soldiers who were intent on hunting him down. The journey would transform this naïve young man into one of the world's greatest statesmen . . . and create an enduring beacon of hope for a nation.
 
Emotionally powerful and irresistibly page-turning, Escape from the Land of Snows is simultaneously a portrait of the inhabitants of a spiritual nation forced to take up arms in defense of their ideals, and the saga of a burgeoning leader who was ultimately transformed into the towering figure the world knows today—a charismatic champion of free thinking and universal compassion.
Praise For Escape from the Land of Snows: The Young Dalai Lama's Harrowing Flight to Freedom and the Making of a Spiritual Hero…
"Riveting . . . Talty's portrait of the young Dalai Lama is nuanced and compelling; his account of the CIA's involvement is thriller ready; and his unique coverage of the news frenzy and shenanigans that ensued as the fleeing Dalai Lama became a cold-war hero is fascinating. . . . Talty is also acutely attuned to the tragedy and grace of the Dalai Lama's long exile."—Booklist (starred review)

"Skillful . . . Talty has woven a vivid picture of a dangerous journey and a country in crisis."—Publishers Weekly

"Riveting, informed . . . a great read for Tibetophiles old and new."—Kirkus Reviews
 
"Biography at it best: suspenseful, revealing, and profoundly humane."—Eric Swanson, New York Times bestselling co-author of The Joy of Living

"It was perhaps history's most momentous escape: the Dalai Lama fleeing over the roof of the world from Mao's advancing troops. I loved losing myself in Escape from the Land of Snows and you will too."—James Bradley, New York Times bestselling author of Flags of Our Fathers, Flyboys, and The Imperial Cruise

"An amazing, behind-the-scenes account that reads like a bound-for-the-big-screen thriller. Talty vividly captures the Tibet I know and have immense respect for—including its harsh beauty, epic terrain and fiercely resilient people. Reading this, I was completely absorbed as a series of divine prophecies cause a small peasant boy—the future 14th Dalai Lama—to be chosen to lead his people, and as threats from marauding Chinese occupiers send that same boy, now a young man, on a dangerous gauntlet through the Himalayas. Talty shows in the most compulsively readable way how a champion for peace came by his warrior instincts."—Ed Viesturs, seven-time climber of Mt. Everest and author of No Shortcuts to the Top: Climbing the World's Highest Peaks
 
"Loaded with hard, vivid detail and marked by a wonderful cast of characters . . . Few people know the facts of the Dalai Lama's escape from Chinese-occupied Tibet. That will change with this marvelous book. Acclaimed author Stephan Talty takes us with the Dalai Lama on a dangerous journey over the Himalayas while being pursued by Mao's soldiers. Meanwhile, U.S. President Eisenhower and millions around the world eagerly follow his daring escape. You will, too, as you turn these pages."—Jean Sasson, New York Times bestselling author of Princess and Growing Up bin Laden
Crown, 9780307460967, 320pp.
Publication Date: January 18, 2011
About the Author
Stephen Talty is the award-winning author of Agent Garbo, Empire of Blue Water, and other bestselling works of narrative nonfiction. His books have been made into two films, the Oscar-winning Captain Phillips and Only the Brave. He is also the author of two psychological thrillers, including the New York Times bestseller Black Irish, set in his hometown of Buffalo. He has written for The New York Times Magazine, GQ, and many other publications. Talty now lives outside New York City with his family.