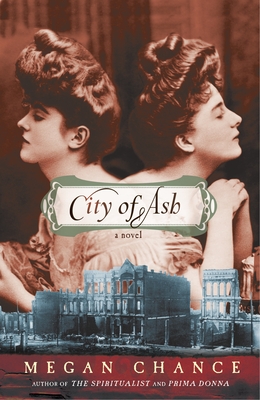 City of Ash (Paperback)
Broadway Books, 9780307461032, 432pp.
Publication Date: June 7, 2011
* Individual store prices may vary.
or
Not Currently Available for Direct Purchase
Description
When the great Seattle fire of 1889 leaves them with nothing to lose, two very different women discover a mutual passion for revenge.
Chicago socialite and art patron Geneva Langley has brought scandal to her family for the last time. Her latest and boldest act of immodesty is too much for her father to bear, and he banishes her to Seattle, along with her scheming, ambitious husband, Nathan. Seattle is a far cry from Chicago the streets are muddy, the society backward, and Ginny feels stifled and alone.
Despite her considerable talent, Beatrice Wilkes is an actress whose dream of being a leading lady is fading rapidly. She can t believe her luck when a new production gives her a chance at stardom, but Geneva Langley seizes the opportunity for her own and unwittingly crushes Bea's last dream.
The two women engage in a fierce battle for center stage, but the great Seattle fire, which ravages the city, changes their fates and plans. In its aftermath, Ginny and Bea see an opportunity to change their lives: but it would mean banding together to enact a truly wicked plan. Their dark and perilous alliance will set them on the path to either redemption or damnation.
About the Author
MEGAN CHANCE is the author of "Prima Donna, The Spiritualist, An Inconvenient Wife, " and "Susannah Morrow." A former television news photographer, she lives in the Pacific Northwest with her husband and two daughters."
Praise For City of Ash…
"Leave it to Chance (Prima Donna) to pen a fine historical that's both a gripping novel and a study of the constraints placed on 19th-century women. Stellar characterization, terrific dialogue, and a twisty plot make this story of old-time Seattle pop." —Publishers Weekly (starred review)

"Evocative of Seattle's rough history and early society…as fun to read as Jane Adams' Seattle Green (1987), which is set around the same time." —Booklist


"Chance's sharp writing, believable and detailed historical setting, and strong female characters keep her latest from descending into melodrama."—Library Journal
 
"Wrapped in a bonbon of juicy melodrama […] flourishes of page-turning suspense."-- Agnes Torres Al-Shibibi, Seattle Times

"A few years ago Chance moved from romance to historical fiction with grace and panache. Her powerfully written feminist novels have strong appeal for both long-time fans and newcomers. Her characters leap from the pages as her dialogue grips readers. The dark and wicked twists plot turns are stellar." -- RTBookReviews.com 
 
"A riveting, intoxicating story with multi-dimensional characters and elements that reminded me of two of my favorite movies—George Cukor's Victorian-set Gaslight and the late '50s Hitchcock thriller, Vertigo…One grand play you won't want to miss."--Nancy Davis, RomanceReaderAtHeart.com
 
"Megan Chance breathes life into Geneva and Beatrice, actresses in the city's premier theater company. Although they should be sworn enemies -- they're sharing the affections of one scheming, abusive man -- a winning combination of girl power and circumstance transforms them into heroines of an edgy historical novel that proves impossible to put down."-- Andrea Hoag, Minneapolis Star Tribune

"Throw caution to the wind and just immerse yourself in the absolute drama of it all, you're in for a wild and amusing ride through muddy Seattle streets."—Seattlest.com

  
Advertisement