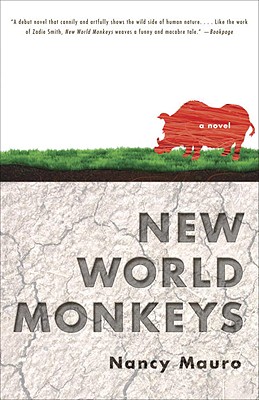 New World Monkeys
Paperback

* Individual store prices may vary.
Other Editions of This Title:
Hardcover (9/15/2009)
Description
A savagely smart, darkly comic literary debut,
New World Monkeys
exposes the false idols of marital tranquillity, small-town idyll, and corporate Darwinism in the dazzling voice of a major new talent.
Duncan and Lily, young and adrift in a prickly marriage and lackluster careers, flee Manhattan for the peaceful allure of a recently inherited crumbling Victorian home. But the two are left with little time to ponder the traditional "he said, she said" failings of a relationship: On an upstate road miles shy of their house, a wild boar leaps to his death in front of their Saab an accident whose consequences will haunt them throughout the summer.
That was no ordinary hog.

Lily and Duncan arrive in the eccentric town of Osterhagen to discover the boar had a name: The Sovereign of the Deep Wood. That it was the town mascot. And, as the hapless urbanites are coerced into the vortex of tea socials, cannon fire, and communal history, they realize that the residents of the bizarre hamlet intend to seek justice for their fallen hero.
Next come the bones.

Duncan, an adman whose controversial new campaign could make or break his career, wants a temporary escape from the pressures of urban life. But his pastoral retreat darkens when an attempt at gardening turns up a human femur in the lawn, a headstone inscribed simply Tinker, 1902, and a sense that Lily's family may have violence in its aristocratic blood.
And then there's Lloyd.

Lily, conflicted about her marriage and her career, spends her days at the local library researching her impossibly arcane dissertation topic but can t seem to make any progress. One day she observes the town pervert in action and befriends him.
Lloyd, a Peeping Tom, invites her to follow him on a bird s-eye tour of Osterhagen that may help her home in on her own flaws and failings.
Keep digging.

Thrown together in their complicity over the boar's death, fueled to exhume Tinker's bones from the garden, and inspired by Lloyd's philosophical savoir faire, Duncan and Lily begin to excavate the profound truth about themselves and their marriage. But how deep can the two dig before the summer's violent beginning catches up with them?
From the Hardcover edition.
Praise For New World Monkeys…
Named one of the Best Books of 2009 by Publishers Weekly

Featured in USA Today's New Voices

"NEW WORLD MONKEYS belongs to a distinct subgenre that we don't see too often anymore: Educated-Women's Lit....closely resembles the works of Alison Lurie,  Diane Johnson and  Alice Adams."
—Washington Post

"A debut novel that cannily and artfully shows the wild side of human nature. . . .With narration that sounds at times like the work of Zadie Smith, NEW WORLD MONKEYS weaves a funny and macabre tale."
—Bookpage


"[A] trippy, hilarious debut."
—MORE Magazine

"Nancy Mauro's darkly comedic debut novel quickly veers from one eccentric plot twist to another, making for a fascinating and compelling read."
—Very Short List

"Unabashedly eccentric. . . . fun, funny, and touching — a great summer book."
—Publishers Weekly (starred review)

"Debut novelist Mauro perfectly balances humor and soulfulness in this poisonously funny, torchlight eerie, psychologically astute tale of archaic instincts, deviance, and violence. A provocative tale of evolutionary short-circuits and the wildness that flows beneath civilization's flimsy veneer."
—Booklist (starred review)

"A onetime advertising executive herself, [Mauro] offers a knowingly damning portrait of Duncan's profession–her delineation of people slipping into a kind of subhuman, pre-rational state is chilling. It's also frequently very funny and strangely moving . . . A brave and accomplished debut: weird, disturbing and intensely engaging."
—Kirkus Reviews (starred review)

"Nancy Mauro is a writer of rare and refined talent. This novel is a beautiful work of cunning and pathos. With her flawless prose she opens bare the hearts of her characters, their vain desires and everyday tragedies."
—Anthony Swofford, New York Times bestselling author of Jarhead and Exit A





Broadway Books, 9780307461421, 304pp.
Publication Date: September 7, 2010
About the Author
NANCY MAURO lives in New York City. She has worked as an advertising creative director and copywriter in Canada and the United States. From the Hardcover edition.
or
Not Currently Available for Direct Purchase