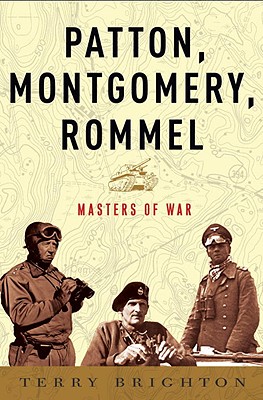 Patton, Montgomery, Rommel
Masters of War
Hardcover

* Individual store prices may vary.
Other Editions of This Title:
Digital Audiobook (12/13/2009)
Paperback (11/2/2010)
MP3 CD (12/14/2009)
Compact Disc (12/14/2009)
Compact Disc (12/1/2009)
Compact Disc (12/1/2009)
MP3 CD (12/1/2009)
Description
In Patton, Montgomery, Rommel, one of Britain's most accomplished military scholars presents an unprecedented study of the land war in the North African and European theaters, as well as their chief commanders—three men who also happened to be the most compelling dramatis personae of World War II.

Beyond spellbinding depictions of pivotal confrontations at El Alamein, Monte Cassino, and the Ardennes forest, author-scholar Terry Brighton illuminates the personal motivations and historical events that propelled the three men's careers: how Patton's, Montgomery's, and Rommel's Great War experiences helped to mold their style of command—and how, exactly, they managed to apply their arguably megalomaniacal personalities (and hitherto unrecognized political acumen and tact) to advance their careers and strategic vision.

Opening new avenues of inquiry into the lives and careers of three men widely profiled by scholars and popular historians alike, Brighton definitively answers numerous lingering and controversial questions: Was Patton really as vainglorious in real life as he was portrayed to be on the silver screen?—and how did his tireless advocacy of "mechanized cavalry" forever change the face of war? Was Monty's dogged publicity-seeking driven by his own need for recognition or by his desire to claim for Britain a leadership role in postwar global order?—and how did this prickly "commoner" manage to earn affection and esteem from enlisted men and nobility alike? How might the war have ended if Rommel had had more tanks?—and what fundamental philosophical difference between him and Hitler made such an outcome virtually impossible?

Abetted by new primary source material and animated by Terry Brighton's incomparable storytelling gifts, Patton, Montgomery, Rommel offers critical new interpretations of the Second World War as it was experienced by its three most flamboyant, controversial, and influential commanders—and augments our understanding of each of their perceptions of war and leadership.
Praise For Patton, Montgomery, Rommel: Masters of War…
Praise for Patton, Montgomery, Rommel

In WWII the U.S., Great Britain and Germany each produced a ground commander who stood out from the rest and who has come to define their countries' respective ways of war. Brighton combines archival and published sources with his experience as curator of the Queen's Royal Lancers Museum to compare these three men of war: George Patton, Bernard Law Montgomery and Erwin Rommel. All were showmen. All had "[s]wollen egos... easily bruised." And all possessed "an unrivaled enthusiasm for combat." Montgomery emerges as not only a battle manager but a battle captain ready to stay the course and accept the accompanying losses. Rommel's will took a different form, responding directly to the new demands of armored warfare. He took chances against odds and against orders—and his willpower overcame the risks from the enemy and the inertia imposed from his superiors. The "rollicking, mocking" Patton epitomized the dash of the cavalry in his willingness to dare, then dare again, pursuing outcomes that could not be calculated in advance. Clausewitz called audacity essential for greatness. Brighton demonstrates it in action, moving into the top rank of general audience military writers with this effervescent, perceptive triple biography. 4 maps."
--Publishers Weekly (starred)

"Entertaining and lucidly written . . . the best way of comparing these three formidable egos—Brighton puts the three generals in the ring and lets them slug it out."
—Sunday Times
 
 "Brighton has masterfully welded together a compellingly readable triple biography of three of WWII's most charismatic and enigmatic commanders. Highly recommended."
—Mason B. Webb, WWII History magazine
 
"Brighton does an admirable job at throwing new light on his subjects and puncturing some of the myths that surround them."
—Sunday Business Post
 
 
Praise for Hell Riders
"A first-rate account . . . written with humour and understanding. A masterly, moving, and entertaining book."
—Times (UK)
 
"Fascinating."
—Daily Mail
 
"Thorough, accurate, concise, clear. Brighton writes with pace and precision. . . . As an account of this episode, his book will be hard to beat. Excellent."
—Spectator
 
"Hard to put down, full of interesting historical fact, highly recommended."
—Regiment Magazine
 
Crown, 9780307461544, 448pp.
Publication Date: November 3, 2009
About the Author
TERRY BRIGHTON is a master historian and curator of the Queen's Royal Lancers Regimental Museum. He is also the author of "Hell Riders: The True Story of the Charge of the Light Brigade." He lives in England.
or
Not Currently Available for Direct Purchase