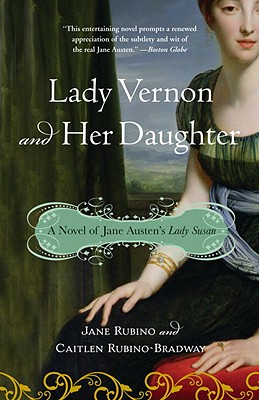 Lady Vernon and Her Daughter
A Novel of Jane Austen's Lady Susan
Paperback

* Individual store prices may vary.
Other Editions of This Title:
Digital Audiobook (10/5/2009)
Hardcover (10/6/2009)
Description
In Lady Vernon and Her Daughter, Jane Rubino and Caitlen Rubino-Bradway have taken Jane Austen's novella, Lady Susan, and transformed it into a vivid and richly developed novel of love lost and found--and the complex relationships between women, men, and money in Regency England.

Lady Vernon and her daughter, Frederica, are left penniless and without a home after the death of Sir Frederick Vernon, Susan's husband. Frederick' s brother and heir, Charles Vernon, like so many others of his time, has forgotten his promises to look after the women, and despite their fervent hopes to the contrary, does nothing to financially support Lady Vernon and Frederica.

When the ladies, left without another option, bravely arrive at Charles's home to confront him about his treatment of his family, they are faced with Charles's indifference, his wife Catherine's distrustful animosity, and a flood of rumors that threaten to undo them all. Will Lady Vernon and Frederica find love and happiness--and financial security--or will their hopes be dashed with their lost fortune?

With wit and warmth reminiscent of Austen's greatest works, Lady Vernon and Her Daughter brings to vivid life a time and place where a woman's security is at the mercy of an entail, where love is hindered by misunderstanding, where marriage can never be entirely isolated from money, yet where romance somehow carries the day.
Praise For Lady Vernon and Her Daughter: A Novel of Jane Austen's Lady Susan…
"Like any worthwhile pastiche, this entertaining novel prompts a renewed appreciation of the subtlety and wit of the real Jane Austen, who would never have had a character say '. . . everything is all about money!' even when it was."--Boston Globe

"One imagines it is precisely what Austen would have done with the character had she the inclination to turn her novella into a novel"--Newark Star-Ledger


"Inspired by Jane Austen's novella Lady Susan, this biting social comedy from mother-daughter duo Rubino (the veteran author) and Rubino-Bradway (the first-timer) is a delightful, worthy homage to Austen. In 19th-century England, Lady Susan Vernon is left nearly penniless after her honorable, wealthy husband dies and his unscrupulous little brother, Charles, bilks Susan and her daughter, Frederica, of their share of his fortune. Forced to rely upon the kindness of friends, the two spend several months bouncing from home to home. Subjected to the two-faced machinations of her social circle (particularly from Charles's wife, Catherine), Susan cleverly (and believably) turns several of her enemies against each other, using their own words. As in Austen's novels, securing a generous dowry and a "good" marriage (that is, one with money and status) is the all-important goal of every woman, but Susan is a dynamic character more than capable of delivering a shocking surprise."--Publishers Weekly


"Cleverly inverts the premise of Austen's Lady Susan, with a richness of background and detail that enlivens the original epistolary novel. Should delight the most acute Austen fans."
—Stephanie Barron, national bestselling author of the Jane Austen Mysteries

"A captivating read with a charmingly redeemed heroine–Jane Austen fans will love it!"
—Syrie James, author of the bestselling The Lost Memoirs of Jane Austen and The Secret Diaries of Charlotte Brontè

"Austen devotees will appreciate the authenticity of language and setting as well as the many witty allusions to the canon."
—Laurie Viera Rigler, author of Rude Awakenings of a Jane Austen Addict

"A delightful trip through the complex world of the Regency, exposing goodness and hypocrisy with equal skill. I was sorry to see it end!"
—Abigail Reynolds, author of Impulse & Initiative

"This solid rethinking of Lady Susan deserves a place on the shelf of any Austen aficionado."
—Marsha Altman, author of the Darcys & the Bingleys

"A delightfully clever resculpting of Austen's youthful Lady Susan. Jane Rubino and Caitlen Rubino-Bradway have rewarded honesty and perseverance in the style of Sense and Sensibility. Good fun!"
—Kathryn L. Nelson, author of Pemberley Manor

"I loved this book! A brilliant tour de force in Austen-related fiction and I believe that Jane Austen would be the first to congratulate the authors on their achievement."
—C. Allyn Pierson, author of And This Our Life: Chronicles of the Darcy Family

"I admire the way the authors have paid homage to the Austen style throughout. I loved it."
—Jill Pitkeathley, author of Cassandra & Jane


From the Hardcover edition.
Broadway Books, 9780307461674, 336pp.
Publication Date: November 2, 2010
About the Author
Jane Rubino is the author of the Cat Austen mystery series, as well as a volume of Sherlockian novellas.

Caitlen Rubino-Bradway is the author of the middle grade novel, Ordinary Magic, and contributed to the story collection, Jane Austen Made Me Do It. She lives and works in New York City.
or
Not Currently Available for Direct Purchase