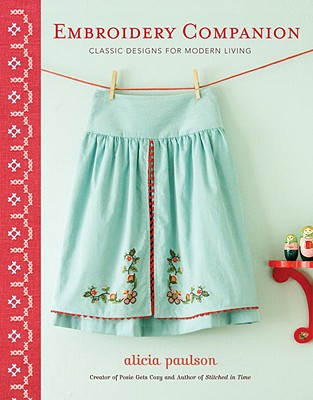 Embroidery Companion
Classic Designs for Modern Living: 30 Projects in Decorative Embroidery, Counted Cross Stitch, and Crewelwork
Paperback

* Individual store prices may vary.
Description
For Alicia Paulson, embroidery is so much more than simply pulling needle and thread through cloth. It's a way to let loose the imagination, elevate everyday materials by decorating them with fanciful designs, and perhaps most of all, to enjoy the quiet reflection resulting from embroidery's unique textures, vibrant colors, and gentle rhythms.
If Alicia's first book, Stitched in Time, could be considered a valentine to the craft of sewing, then Embroidery Companion is Alicia's full-on love letter to embroidery. This is the craft that captured her imagination as a child, helped her through the most difficult times in her adult life, and continues to stay closest to her heart. In Embroidery Companion, she shares stitch patterns and instructions for 30 beautiful projects, featuring three different kinds of embroidery:
- Decorative embroidery
- Counted cross-stitch
- Crewelwork
Inspired by vintage motifs and the folk-art traditions of various cultures, Alicia's embroidered embellishments frequently draw from the archives of historical resources to bring a homemade modern touch to tablescapes, household items, and wearables. Alicia also shares all she's learned through helpful glossaries, discussions of essential tools, clear instructions, and projects for crafters of every experience level.
Embroidery is an easy-to-learn---and easy-to-love--craft that spans generations and touches many lives. Whether you're attempting your first project, or you're anxious to challenge yourself with a new technique, Embroidery Companion will be your guide to inspire and instruct for years to come.
Praise For Embroidery Companion: Classic Designs for Modern Living: 30 Projects in Decorative Embroidery, Counted Cross Stitch, and Crewelwork…
"Readers of Alicia Paulson's blog Posie Gets Cozy know she's got a magic way with a needle and thread, making creations so lovely you want to marry them. Until that's legal, you can make your own life a bit cozier by picking up a copy of Embroidery Companion: Classic Designs for Modern Living." --BUST
Potter Craft, 9780307462350, 160pp.
Publication Date: August 10, 2010
About the Author
ALICIA PAULSON learned to stitch as a child, but developed a passion for embroidery while recovering from a bad accident in 1998. She spends her days in her home studio sewing, crocheting, embroidering, and designing a small, ever-changing collection of original crafts and patterns called Posie: Rosy Little Things, and writes about them at her blog, Posie Gets Cozy. She is the author of Stitched in Time: Memory-Keeping Projects to Sew and Share from the Creator of Posie Gets Cozy (Potter Craft, 2008). Born and raised outside Chicago, she now lives in Portland, Oregon, with her husband, two-time Nurse of the Year Andy Paulson, R.N.; two comfort-obsessed cats; and the lovely, long-suffering Cardigan Welsh corgi, Clover Meadow Paulson. Find them all at www.AliciaPaulson.com.
or
Not Currently Available for Direct Purchase