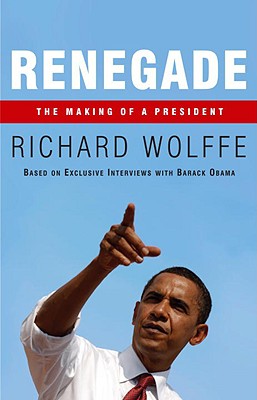 Renegade
The Making of a President
Hardcover

* Individual store prices may vary.
Other Editions of This Title:
Digital Audiobook (6/1/2009)
Digital Audiobook (6/1/2009)
Paperback (5/4/2010)
Description
Before the White House and Air Force One, before the TV ads and the enormous rallies, there was the real Barack Obama: a man wrestling with the momentous decision to run for the presidency, feeling torn about leaving behind a young family, and figuring out how to win the biggest prize in politics.

This book is the previously untold and epic story of how a political newcomer with no money and an alien name grew into the world's most powerful leader. But it is also a uniquely intimate portrait of the person behind the iconic posters and the Secret Service code name Renegade.

Drawing on a dozen unplugged interviews with the candidate and president, as well as twenty-one months covering his campaign as it traveled from coast to coast, Richard Wolffe answers the simple yet enduring question about Barack Obama: Who is he?

Based on Wolffe's unprecedented access to Obama, Renegade reveals the making of a president, both on the campaign trail and before he ran for high office. It explains how the politician who emerged in an extraordinary election learned the personal and political skills to succeed during his youth and early career. With cool self-discipline, calculated risk taking, and simple storytelling, Obama developed the strategies he would need to survive the onslaught of the Clintons and John McCain, and build a multimillion-dollar machine to win a historic contest.

In Renegade, Richard Wolffe shares with us his front-row seat at Obama's announcement to run for president on a frigid day in Springfield, and his victory speech on a warm night in Chicago. We fly on the candidate's plane and ride in his bus on an odyssey across a country in crisis; stand next to him at a bar on the night he secures the nomination; and are backstage as he delivers his convention speech to a stadium crowd and a transfixed national audience. From a teacher's office in Iowa to the Oval Office in Washington, we see and hear Barack Obama with an immediacy and honesty never witnessed before.

Renegade provides not only an account of Obama's triumphs, but also examines his many personal and political trials. We see Obama wrestling with race and politics, as well as his former pastor Reverend Jeremiah Wright. We see him struggling with life as a presidential candidate, a campaign that falters for most of its first year, and his reaction to a surprise defeat in the New Hampshire primary. And we see him relying on his personal experience, as well as meticulous polling, to pass the presidential test in foreign and economic affairs.

Renegade is an essential guide to understanding President Barack Obama and his trusted inner circle of aides and friends. It is also a riveting and enlightening first draft of history and political psychology.
Praise For Renegade: The Making of a President…
"The first of the President Obama books–and a good one–insightful, thorough, and straight."
—Ben Bradlee, Washington Post

"If you really want to know what happened inside the Obama campaign, this is the one book that will take you there. My jaw dropped time and time again reading details that, despite the coverage, were never revealed in the long campaign. A clear-eyed, up-close look at the campaign, Renegade is the one Obama book that should not be missed."
—Michele Norris, All Things Considered

"A superb achievement. With an almost painterly eye, compelling insights, and extraordinary access to Barack Obama and his inner circle, Richard Wolffe's Renegade tells the hidden, dramatic story of the 2008 campaign and also reveals much we did not know about the 44th president's life before politics. Wolffe's brisk, well-written narrative is fully in the tradition of Theodore White and Richard Ben Cramer, capturing a pivotal presidential contest dominated by one of the most luminous figures in modern American history."
—Michael Beschloss, author of Presidential Courage

"Many journalists covered the 2008 presidential campaign for newsrooms and blogvilles. Not the intrepid Richard Wolffe. With gumshoe persistence he tracked Barack Obama's historic march to victory with grace and cunning. Renegade offers a deft mix of biography, personal reflection, British wit, and old-style journalism. Destined to be a classic in its genre."
—Douglas Brinkley, professor of history, Rice University

"Politics is a lot like basketball–complete with drives up the middle, clutch rebounding, and smart head fakes. In Renegade, Richard Wolffe takes us inside the game through unparalleled access to candidate-turned-president Obama and through his own canny eye and wit. I learned something new on practically every page."
—Gwen Ifill, Washington Week in Review and The NewsHour with Jim Lehrer

"This is an insightful, unusually moving, fully observed portrait of the improbable candidate and complicated man who would be president, a riveting backstage drama set just at the moment America's third act prepared to debut. If Jefferson started the exalted but flawed exercise and Lincoln enlarged it, then with Richard Wolffe's wonderful book–graced as it is with a journalist's eye and a historian's breadth and command–we are granted the gift of access to the second skinny lawyer from Illinois who would save our country. Marvelous."
—Ken Burns, award-winning filmmaker
Crown, 9780307463128, 368pp.
Publication Date: June 2, 2009
About the Author
RICHARD WOLFFE is an award-winning journalist and political analyst for MSNBC television, appearing frequently on MSNBC's Countdown with Keith Olbermann, 1600 Pennsylvania Avenue, and Hardball. He covered the entire length of Barack Obama's presidential campaign for "Newsweek" magazine. Before "Newsweek," Wolffe was a senior journalist at the "Financial Times," serving as its deputy bureau chief and U.S. diplomatic correspondent. He lives with his wife and their three children in Washington, D.C.
Book Videos
or
Not Currently Available for Direct Purchase