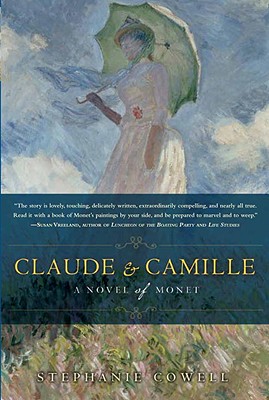 Claude & Camille (Hardcover)
A Novel of Monet
Crown, 9780307463210, 352pp.
Publication Date: April 6, 2010
Other Editions of This Title:
Digital Audiobook (4/5/2010)
Paperback (4/5/2011)
Paperback (7/1/2010)
* Individual store prices may vary.
Description
Sometimes he dreamt he held her; that he would turn in bed and she would be there. But she was gone and he was old. Nearly seventy. Only cool paint met his fingers. "Ma très chère . . ." Darkness started to fall, dimming the paintings. He felt the crumpled letter in his pocket. "I loved you so," he said. "I never would have had it turn out as it did. You were with all of us when we began, you gave us courage. These gardens at Giverny are for you but I'm old and you're forever young and will never see them. . . ."
 
In the mid-nineteenth century, a young man named Claude Monet decided that he would rather endure a difficult life painting landscapes than take over his father's nautical supplies business in a French seaside town. Against his father's will, and with nothing but a dream and an insatiable urge to create a new style of art that repudiated the Classical Realism of the time, he set off for Paris.
 
But once there he is confronted with obstacles: an art world that refused to validate his style, extreme poverty, and a war that led him away from his home and friends. But there were bright spots as well: his deep, enduring friendships with men named Renoir, Cézanne, Pissarro, Manet – a group that together would come to be known as the Impressionists, and that supported each other through the difficult years. But even more illuminating was his lifelong love, Camille Doncieux, a beautiful, upper-class Parisian girl who threw away her privileged life to be by the side of the defiant painter and embrace the lively Bohemian life of their time.
 
His muse, his best friend, his passionate lover, and the mother to his two children, Camille stayed with Monet—and believed in his work—even as they lived in wretched rooms, were sometimes kicked out of those, and often suffered the indignities of destitution. She comforted him during his frequent emotional torments, even when he would leave her for long periods to go off on his own to paint in the countryside.
 
But Camille had her own demons – secrets that  Monet could never penetrate, including one that when eventually revealed would pain him so deeply that he would never fully recover from its impact. For though Camille never once stopped loving the painter with her entire being, she was not immune to the loneliness that often came with being his partner.
 
A vividly-rendered portrait of both the rise of Impressionism and of the artist at the center of the movement, Claude and Camille is above all a love story of the highest romantic order.
About the Author
STEPHANIE COWELL is the author of "Nicholas Cooke: Actor, Soldier, Physician, Priest"; "The Physician of London" (American Book Award 1996) and "The Players: A Novel of the Young Shakespeare." She is the also the author of "Marrying Mozart," which was translated into seven languages and has been optioned for a movie. Visit her at www.stephaniecowell.com and http: //everydaylivesfrenchimpressionists.blogspot.com.
Praise For Claude & Camille: A Novel of Monet…
"Once again the acclaimed novelist Stephanie Cowell deftly takes us into the world of the classical arts with her well researched and beautifully written novel of historical fiction, Claude & Camille."--LA Times Book Examiner 5 Stars (Examiner.com)

"Cowell is nothing short of masterful in writing about Claude Monet's life and love….An enthralling story, beautifully told."--The Boston Globe

"What a man! I am in awe before him. To be swept up by this novel which reveals the man and woman behind--no, in, the waterlily paintings, the seascapes and landscapes, is, and must be, a heartbreak. For me, reading Claude and Camille is like seeing old friends, learning them anew, from the inside, their passionate lives pulsing again by virtue of Stephanie Cowell's sure pen. The story is lovely, touching, delicately written, extraordinarily compelling, and nearly all true. Read it with a book of Monet's paintings by your side, and be prepared to marvel, and to weep."--Susan Vreeland, author Luncheon of the Boating Party and Girl in Hyacinth Blue

"You'll never look at Monet's water lilies the same way after reading Cowell's luminous biography of the artist and his muse" – Romantic Times (4 Stars)

"Rich and satisfying…Cowell seems poised on the cusp of very great things." –January Magazine

"There's more than one love triangle involved in this highly recommended tale. Don't miss Claude & Camille."--BookLoons

"Fleshing out the artist's biographical outline with fresh imagery, well-paced dramatic scenes and carefully calculated dialogue, Cowell presents a vivid portrait of Monet's remarkable career. She writes with intelligence and reverence for her subject matter, providing a rich exploration of the points at which life and art converged for one of history's greatest painters."--Booklist

"With elegant prose that blends color, light, and shadow to perfection, much as Monet did in his canvasses, Stephanie Cowell offers us a gorgeously rendered tale of love, genius, and haunting loss set against the dramatic backdrop of a world on the verge of inescapable change."—C.W. Gortner, author of The Last Queen
 
"Stephanie Cowell 's Monet and his Camille are achingly real, and the miserable garrets of Paris where they struggle to survive are so sensitively portrayed you can almost smell the paint.  Cowell sweeps the reader up into a story as dazzling and turbulent as the art whose creation she depicts."—Laurel Corona, author of Four Seasons
 
"Claude & Camille is a wonderfully absorbing and romantic novel, the story of Claude Monet's passion for his painting and his equally passionate love for a woman who is as elusive as the water lilies that he strove to capture on canvas. This elegant novel was hard to put down, and once I did, I rushed to view Monet's paintings with a deeper understanding. Stephanie Cowell is a wonderful writer."—Sandra Gulland, author of the Josephine B. trilogy and Mistress of the Sun
 
"An engaging, lyrical, and spirited work of fiction about the great love of Monet's life. Cowell creates a vivid world here, of art, friendship, and ardent love within the Impressionist circle."—Harriet Scott Chessman, author of Lydia Cassatt Reading the Morning Paper
 
"Stephanie Cowell's new novel of art and love is focused on Claude Monet's great passions: painting, friendship, and Camille Doncieux. With her uncanny ability to inhabit the hearts of historical characters, Cowell creates a wholly fascinating milieu as vividly as a film-maker. She has a special gift for rendering the scene--knowing which moments excite the reader, illuminate the characters, and create memorability. I was touched by the novel's tenderness and compassion, and moved to immerse myself in my books of Impressionist paintings."—Sandra Scofield, author of Opal on Dry Ground and Occasions of Sin
 
"Claude & Camille offers a fascinating look at nineteenth-century Paris, the bohemian lives of the Impressionists, and their struggle to create a new way of seeing the world. From Parisian ateliers to Giverny's lush gardens, Stephanie Cowell paints an unforgettable portrait of Claude Monet and the two passions that framed his life: his beautiful, tragic wife, Camille, and his pursuit of art."—Christi Phillips, author of The Devlin Diary
or
Not Currently Available for Direct Purchase