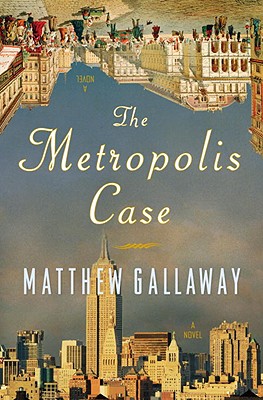 The Metropolis Case
Hardcover

* Individual store prices may vary.
Other Editions of This Title:
Paperback (11/8/2011)
Description
From the smoky music halls of 1860s Paris to the tumbling skyscrapers of twenty-first-century New York, a sweeping tale of passion, music, and the human heart's yearning for connection
 
Martin is a forty-year-old lawyer who, despite his success, feels disoriented and disconnected from his life in post-9/11 Manhattan. But even as he comes to terms with the missteps of his past, he questions whether his life will feel more genuine going forward.
 
Decades earlier, in the New York of the 1960s, Anna is destined to be a grande dame of the international stage. As she steps into the spotlight, however, she realizes that the harsh glare of fame may be more than she bargained for.
 
Maria is a tall, awkward, ostracized teenager desperate to break free from the doldrums of 1970s Pittsburgh. When the operatic power of her extraordinary voice leads Maria to Juilliard, New York seems to hold possibilities that are both exhilarating and uncertain.
 
Lucien is a young Parisian at the birth of the modern era, racing through the streets of Europe in an exuberant bid to become a singer for the ages. When tragedy leads him to a magical discovery, Lucien embarks on a journey that will help him—and Martin, Maria, and Anna—learn that it's not how many breaths you take, it's what you do with those you're given.
 
This unlikely quartet is bound together across centuries and continents by the strange and spectacular history of Richard Wagner's masterpiece opera Tristan and Isolde. Grandly operatic in scale, their story is one of music and magic, love and death, betrayal and fate. Matthew Gallaway's riveting debut will have readers spellbound from the opening page to its breathtaking conclusion.
Praise For The Metropolis Case…
"Author Matthew Gallaway has taken a great risk with his first novel by creating an intricate, multilayered tale that slides from past to present, from Europe to New York, from opera to pop. But despite the complexity, The Metropolis Case engages the reader emotionally on every page."--The Washington Post

"It's to the credit of Matthew Gallaway's enchanting, often funny first novel that it doesn't require a corresponding degree of obsession from readers, but may leave them similarly transported: the book is so well written — there's hardly a lazy sentence here — and filled with such memorable lead and supporting players that it quickly absorbs you into its worlds."—The New York Times

"An absorbing and intricately plotted first novel. Gallaway excels at the long form, producing a dense, well-structured puzzle. Like the opera that ultimately binds his characters together, CASE lingers beyond the final note."--Out Magazine (Critic's Pick)

"Matthew Gallaway's epic debut novel, intimately intertwined with Wagner's "Tristan and isolde," is itself an operatic masterpiece. Gallaway's wonderful prose leaves you hungry for more."--AM New York

"Gallaway is a perceptive and graceful author in his own right whose moving story will appeal to Wagnerian experts and neophytes alike."--Los Angeles Times

"Gallaway's novel, is not just an intricate, complex, and multilayered novel, but also a rewarding read, that leaves the audience looking forward to Gallaway's next work."—The Manhattan Times
 
"Mr. Gallaway writes epically, with multiple points of view, multiple stories. Historical and profound, he handles everything beautifully. He is a rich storyteller, and an evocative writer; the complexity of his characters, the rich scenes and the lyrical prose all make it hard to believe that this is his first novel."—Pittsburgh Post-Gazette

 "A cerebral novel."—Historical Novels Review

"Matthew Gallaway's The Metropolis Case is an ambitious, heady, intelligent and engaging first novel about the healing powers of art…it solidifies into a page turner, and better still, delivers on a wide range of concerns that go far beyond the musical interests that center the book's narrative."—Lambda Literary Review

"As ambitious a debut as they come, this sweeping first novel travels across not
only continents but centuries as well."—Entertainment Weekly
 
"Even for a reader unacquainted with opera, The Metropolis Case enthralls.
Theatrical history, training at Julliard, opening night at the Metropolitan—this is an engaging and unusual subject matter. The Metropolis Case is an intriguing debut from a fresh, unique voice."—Bookpage

"Gallaway, a former musician, gives music a literary presence, intertwining opera and punk by illuminating their shared passion and chaos."--Publishers Weekly

"A pleasingly intricate puzzle."--Kirkus Reviews

"Matthew Gallaway's fascinating and erudite debut novel is a portrait of the passion of several singers across the ages for a single opera, and turns into its own kind of novelistic chorus. Like Tristan und Isolde, the opera at its center, it is complete with wrong love, sacrifice and even a potion. An original new talent has arrived."-- 
Alexander Chee, author of Edinburgh and The Queen of the Night

"I know next to nothing about opera and I loved this book. Let me go further: I actually (don't tell anyone) find opera a bit dull, but now consider me a big buff -- if no other reason than it gave us this powerful, beautiful, wondrous novel."--Darin Strauss, author of Chang and Eng and Half a Life

"Matthew Gallaway possesses a massive vision and a wizard-like ability to weave story lines. The Metropolis Case is an ambitious and beautiful book sure to find a devoted following."--Shane Jones, author of Light Boxes

"The Metropolis Case is a terrifically engaging and elegantly panoramic novel that is sure to appeal to fans of majestic fiction such as Kostova's The Historian."--Katharine Weber, author of True Confections and Triangle
Crown, 9780307463425, 384pp.
Publication Date: December 28, 2010
About the Author
MATTHEW GALLAWAYis a first-time novelist originally from Pittsburgh, Pennsylvania. He now lives in New York City.
or
Not Currently Available for Direct Purchase