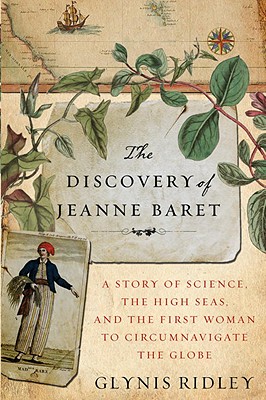 The Discovery of Jeanne Baret
A Story of Science, the High Seas, and the First Woman to Circumnavigate the Globe
Hardcover

* Individual store prices may vary.
Other Editions of This Title:
Paperback (12/6/2011)
Description
The year was 1765. Eminent botanist Philibert Commerson had just been appointed to a grand new expedition: the first French circumnavigation of the world. As the ships' official naturalist, Commerson would seek out resources—medicines, spices, timber, food—that could give the French an edge in the ever-accelerating race for empire.
 
Jeanne Baret, Commerson's young mistress and collaborator, was desperate not to be left behind. She disguised herself as a teenage boy and signed on as his assistant. The journey made the twenty-six-year-old, known to her shipmates as "Jean" rather than "Jeanne," the first woman to ever sail around the globe. Yet so little is known about this extraordinary woman, whose accomplishments were considered to be subversive, even impossible for someone of her sex and class.
           
When the ships made landfall and the secret lovers disembarked to explore, Baret carried heavy wooden field presses and bulky optical instruments over beaches and hills, impressing observers on the ships' decks with her obvious strength and stamina. Less obvious were the strips of linen wound tight around her upper body and the months she had spent perfecting her masculine disguise in the streets and marketplaces of Paris.
           
Expedition commander Louis-Antoine de Bougainville recorded in his journal that curious Tahitian natives exposed Baret as a woman, eighteen months into the voyage. But the true story, it turns out, is more complicated.
 
In The Discovery of Jeanne Baret, Glynis Ridley unravels the conflicting accounts recorded by Baret's crewmates to piece together the real story: how Baret's identity was in fact widely suspected within just a couple of weeks of embarking, and the painful consequences of those suspicions; the newly discovered notebook, written in Baret's own hand, that proves her scientific acumen; and the thousands of specimens she collected, most famously the showy vine bougainvillea.
 
Ridley also richly explores Baret's awkward, sometimes dangerous interactions with the men on the ship, including Baret's lover, the obsessive and sometimes prickly naturalist; a fashion-plate prince who, with his elaborate wigs and velvet garments, was often mistaken for a woman himself; the sour ship's surgeon, who despised Baret and Commerson; even a Tahitian islander who joined the expedition and asked Baret to show him how to behave like a Frenchman.
 
But the central character of this true story is Jeanne Baret herself, a working-class woman whose scientific contributions were quietly dismissed and written out of history—until now. Anchored in impeccable original research and bursting with unforgettable characters and exotic settings, The Discovery of Jeanne Baret offers this forgotten heroine a chance to bloom at long last.
Praise For The Discovery of Jeanne Baret: A Story of Science, the High Seas, and the First Woman to Circumnavigate the Globe…
"Thrilling and incensing…Woven throughout this gripping story are Ridley's piquant insights into eighteenth-century exploration, botany, taxonomy, biopiracy, and sexism. Baret could not have asked for a more exacting and expressive champion. Ridley is incandescent in her passion for the truth." —Booklist (starred review)
 
"A mesmerizing read…The Discovery of Jeanne Baret, woven from impeccable research and keen detective work, introduces readers to a memorable eighteenth-century female scientist who deserves to be remembered for her contributions to botany, and for her extraordinary courage and perseverance. Readers will be pulling for Jeanne Baret as she circumnavigates the world, her pistol ever ready by her side. The world of eighteenth-century seafaring expeditions comes alive in this fine book." —Robert Whitaker, author of The Mapmaker's Wife
 
"Ridley quickly crushes modern romantic ideas of the golden age of exploration…Captures both the optimism that inspired Baret's groundbreaking and courageous trip and the sordid reality she encountered." —Publishers Weekly
 
"A powerful story of a brave and intelligent woman who battled against the odds to live the life she wanted. Finally, Jeanne Baret's contributions to botany and world exploration have been brought to light in this wonderful book." —Amanda Foreman, author of Georgiana, Duchess of Devonshire
 
"Inquisitive biography of the first woman to circle the globe by sea…Ridley has definitely done her homework in recognizing Baret as an overlooked but important historical figure." —Kirkus Reviews
 
"Through skillful sleuthing and impressive research into the life of her eighteenth-century heroine, the courageous Jeanne Baret, Glynis Ridley has produced a gripping tale of romance, male prejudice, exploration, and scientific discovery. A great read—and all the better that it's true!" —Julia Fox, author of Jane Boleyn

Crown, 9780307463524, 304pp.
Publication Date: December 28, 2010
About the Author
GLYNIS RIDLEY is the author of "Clara's Grand Tour: Travels with a Rhinoceros in Eighteenth-Century Europe, "which won the Institute of Historical Research (University of London) Prize. A British citizen, she is now a professor of English at the University of Louisville.
or
Not Currently Available for Direct Purchase