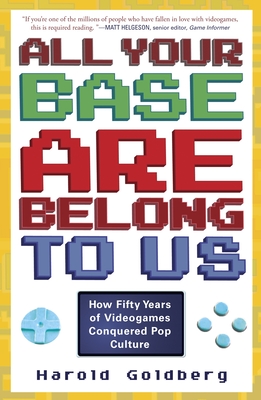 All Your Base Are Belong to Us (Paperback)
How Fifty Years of Videogames Conquered Pop Culture
Three Rivers Press, 9780307463555, 352pp.
Publication Date: April 5, 2011
* Individual store prices may vary.
Description
Through the stories of gaming's greatest innovations and most beloved creations, journalist Harold Goldberg captures the creativity, controversy--and passion--behind the videogame's meteoric rise to the top of the pop-culture pantheon.

Over the last fifty years, video games have grown from curiosities to fads to trends to one of the world's most popular forms of mass entertainment. But as the gaming industry grows in numerous directions and everyone talks about the advance of the moment, few explore and seek to understand the forces behind this profound evolution. How did we get from Space Invaders to Grand Theft Auto? How exactly did gaming become a $50 billion industry and a dominant pop culture form? What are the stories, the people, the innovations, and the fascinations behind this incredible growth?

Through extensive interviews with gaming's greatest innovators, both its icons and those unfairly forgotten by history, All Your Base Are Belong To Us sets out to answer these questions, exposing the creativity, odd theories--and passion--behind the twenty-first century's fastest-growing medium.

Go inside the creation of:
Grand Theft Auto * World of Warcraft * Bioshock * Kings Quest * Bejeweled * Madden Football * Super Mario Brothers * Myst * Pong * Donkey Kong * Crash Bandicoot * The 7th Guest * Tetris * Shadow Complex * Everquest * The Sims * And many more!
About the Author
HAROLD GOLDBERG has reviewed video games for fifteen years for such publications as Wired, Entertainment Weekly, Boys' Life, The Village Voice, and Radar, and for three years penned a widely syndicated gaming column. He has also written on a variety of other subjects for the New York Times, Vanity Fair, Esquire, New York, and Rolling Stone. In addition to his journalism, Goldberg served as editor-in-chief of Sony Online Entertainment during the launch of EverQuest.
Praise For All Your Base Are Belong to Us: How Fifty Years of Videogames Conquered Pop Culture…
"A love letter to gaming...filled with fascinating behind-the-scenes vignettes of game creation…perfectly encapsulates the passion and dedication of videogames' creators and fans."—Abbie Heppe, senior producer, G4TV

"The best window into the video game industry on the market today."—Steve Kent, author of The Ultimate History of Video Games
"Harold Goldberg's portrait of a weird, often dysfunctional and amazing video game industry makes a great, great read."—Ken Levine, co-founder and creative director, Irrational Games

"Indispensable…Goldberg takes us inside the hearts and minds of the hackers, hustlers, engineers, and dreamers who changed electronic entertainment forever."--Matt Helgeson, senior editor, Game Informer

"A story as riveting and addictive as the games it explores…If you've ever wanted someone to explain how and why video games captured the world's imagination, this is the book for you."--James Ledbetter, editor in charge, Reuters.com