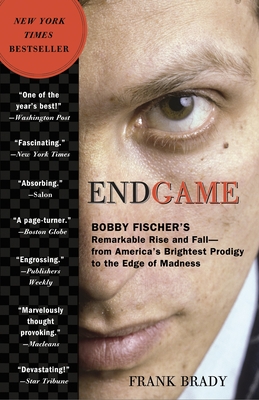 Endgame (Paperback)
Bobby Fischer's Remarkable Rise and Fall - from America's Brightest Prodigy to the Edge of Madness
Broadway Books, 9780307463913, 448pp.
Publication Date: January 17, 2012
Other Editions of This Title:
Digital Audiobook (1/31/2011)
Hardcover (2/1/2011)
Hardcover (5/1/2011)
Compact Disc (2/1/2011)
Pre-Recorded Audio Player (4/1/2011)
MP3 CD (2/1/2011)
Compact Disc (2/1/2011)
* Individual store prices may vary.
Description
Acclaimed biographer Frank Brady traces the meteoric ascent—and confounding descent—of enigmatic chess genius Bobby Fischer.

Drawing from Fischer family archives, recently released FBI files, and Bobby's own emails, this account is unique in that it limns Fischer's entire life—an odyssey that took the Brooklyn-raised chess champion from an impoverished childhood to the covers of Time, Life and Newsweek to recognition as "the most famous man in the world" to notorious recluse.
 
At first all one noticed was how gifted Fischer was. Possessing a 181 I.Q. and remarkable powers of concentration, Bobby memorized hundreds of chess books in several languages, and he was only 13 when he became the youngest chess master in U.S. history.
 
Arriving back in the United States to a hero's welcome, Bobby was mobbed wherever he went—a figure as exotic and improbable as any American pop culture had yet produced. No player of a mere "board game" had ever ascended to such heights. Commercial sponsorship offers poured in, ultimately topping $10 million—but Bobby demurred. Instead, he began tithing his limited money to an apocalyptic religion and devouring anti-Semitic literature. 
 
After years of poverty, Bobby remerged in 1992 to play Spassky in a multi-million dollar rematch—but the experience only deepened a paranoia that had formed years earlier when he came to believe that the Soviets wanted him dead for taking away "their" title. When the dust settled, Bobby was a wanted man—transformed into an international fugitive because of his decision to play in Montenegro despite U.S. sanctions. Fearing for his life, traveling with bodyguards, and wearing a long leather coat to ward off knife attacks, Bobby lived the life of a celebrity fugitive—one drawn increasingly to the bizarre. 
 
And yet, as Brady shows, the most notable irony of Bobby Fischer's strange descent—which had reached full plummet by 2005 when he turned down yet another multi-million dollar payday—is that despite his incomprehensible behavior, there were many who remained fiercely loyal to him. Why that was so is at least partly the subject of this book—one that at last answers the question: "Who was Bobby Fischer?"
About the Author
Frank Brady is internationally recognized as the person most knowledgeable about the life and career of Bobby Fischer.  Brady is the author of numerous critically acclaimed biographies, including Citizen Welles; Onassis: An Extravagant Life; and Bobby Fischer: Profile of a Prodigy (the first edition of which appeared in the mid-1960's and focuses on the young Bobby).  Until recently, Brady was the Chairman of the Communications Department at St. John's University, and he remains a full professor there. He is also the President of the Marshall Chess Club and was the founding editor of Chess Life.
Praise For Endgame: Bobby Fischer's Remarkable Rise and Fall - from America's Brightest Prodigy to the Edge of Madness…
"One the year's best biographies."  —Washington Post

"Mr. Brady's biography is well-written, studiously researched and filled with fascinating details.  It imparts the love of chess and affection for 'Bobby' that the author clearly feels...Boris Spassky, after the losing the world championship title to Fischer, said: 'I think I understand him.'  Perhaps one day the rest of us will too.  Until then, we have Endgame to fill the void." —Wall Street Journal

"The freakishly talented, freakishly flawed Fischer played the game as if it were a blood sport…In ENDGAME Frank Brady tells the story of Fischer's life with a dramatic flair and a sense of judiciousness."
—The Boston Globe
 
"Brady's book is an impressive balancing act and a great accomplishment...What results is a chance for the reader to weigh up the evidence and come to his own conclusions -- or skip judgments completely and simply enjoy reading a rise-and-fall story that has more than a few affinities with Greek tragedy." —The New York Review of Books

"Presents Fischer's story with an almost Olympian evenhandedness that ends up making it far more absorbing than any sensationalized account."
—Laura Miller, Salon.com 
 
"Brady is in a unique position to write about Fischer...he had access to new materials, including files from the FBI and the K.G.B. (which identified Fischer as a threat to Soviet chess hegemony in the mid-1980s); the personal archives of Fischer's mother, Regina, and his mentor and coach Jack Collins; and even an autobiographical essay written by the teenage Fischer.  The wealth of material allows Brady to describe many rich moments and details."
—New York Times Book Review

"Brady seems unusually well qualified to capture Fischer's many facets and contradictions…ENDGAME is a rapt, intimate book, greatly helped by Brady's acquaintance with Fischer…he sees the person behind the bluster…he also makes use of unusually good source material…fascinating."
—New York Times

"Even if you don't give a damn about chess, or Bobby Fischer, you'll find yourself engrossed …has the arc of a Greek tragedy --with a grim touch of mad King Lear at the end…ENDGAME is one of those books that makes you want your dinner guests to go the hell home so you can get back to it."
—Dick Cavett

"Recommended not just for chess enthusiasts but for anyone interested in the compelling compelling life of a complex, enigmatic, American icon." —Library Journal

"Brady masters Endgame." —Vanity Fair

"Insightful…Brady is uniquely qualified to write this…The book should appeal to a broad audience, from hard-core chess fans to casual players to those who are simply interested in what is a compelling personal story."
—Booklist

"Engrossing…The Mozart of the chessboard is inseparable from the monster of paranoid egotism in this fascinating biography…Brady gives us a tragic narrative of a life that became a chess game."
—Publishers Weekly (Pick of the Week/Starred Review)
 
"The teenage prodigy, the eccentric champion, the irascible anti-Semite, the genius, the pathetic paranoid—these and other Bobby Fischers strut and fret their hour upon celebrity's stage….Informed, thorough, sympathetic and surpassingly sad."
—Kirkus Reviews
 
"ENDGAME is rich in detail and insight. It is sympathetic and human, but not at all naive. I admire Brady's resolve, and I consider this book essential reading in the effort to understand Bobby Fischer and his place in our world."
—David Shenk, author of THE GENIUS IN ALL OF US and THE IMMORTAL GAME
 
"The definitive portrait of the greatest—and most disturbed—chess genius of all time."
—Paul Hoffman, author of THE MAN WHO LOVED ONLY NUMBERS and KING'S GAMBIT
 
"Bobby Fischer began life as a lonely prodigy and ended it as a hate-spewing enigma, and in between became America's greatest chess player, a man renowned both for his unmatched brilliance and social clumsiness. In ENDGAME, Frank Brady masterfully chronicles the full breadth of Fischer's life, producing a narrative driven by staggering detail and profound insight into the psyche of a troubled genius."
—Wayne Coffey, New York Times bestselling author of THE BOYS OF WINTER
 
"You don't have to know the game of chess to be mesmerized by the dizzying and ultimately dark journey of the world's most heralded player.  Frank Brady has researched and detailed Bobby Fischer's every move—on and off the chessboard—for an incisive and objective account of a man whose genius was matched by his eccentricities.  This is a riveting look at a tarnished American icon."
—Pat H. Broeske, New York Times bestselling co-author of HOWARD HUGHES: THE UNTOLD STORY
 
"I've wondered about the weird and fascinating life of Bobby Fischer since I was a teen-aged New York Times copyboy sent out to the lobby to keep Fischer's mother from pestering editors and reporters. Finally, after 50 years, I've finally gotten the weird and fascinating biography I've been waiting for. Bravo, Brady."
—Robert Lipsyte, author of AN ACCIDENTAL SPORTSWRITER 
  
"A definitive and finely detailed chronicle of one of the most fascinating and eccentric Americans of the 20th century, written by one of the few men with the expertise, knowledge and writing ability to pull it off in a manner deserving of the subject."
—Michael Weinreb, author of THE KINGS OF NEW YORK
 
"Fischer is America's greatest antihero. This fascinating biography is filled with hope, Cold War intrigue, the fulfillment of genius, and an explosive fall from grace that is both deeply moving and, ultimately, profoundly sad."
—Jeremy Silman, author of THE AMATEUR'S MIND
 
"I have been following Bobby Fischer my whole life, but I learned something new on nearly every page of this wonderful book. Frank Brady is the perfect biographer for Bobby Fischer, and ENDGAME tells the full and fair story of Fischer's astonishing rise and heartbreaking fall."
—­Christopher Chabris, author of THE INVISIBLE GORILLA
 
­