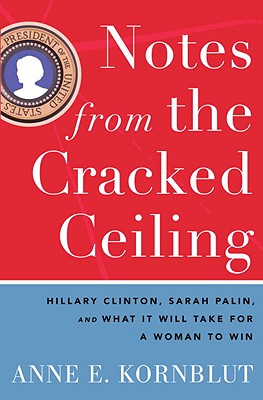 Notes from the Cracked Ceiling
Hillary Clinton, Sarah Palin, and What It Will Take for a Woman to Win
Hardcover

* Individual store prices may vary.
Other Editions of This Title:
Paperback (3/1/2011)
Description
In the presidential election of 2008 America seemed ready to elevate a woman to the presidency or vice presidency and—with Hillary Clinton and Sarah Palin—was on the verge of actually doing so. Words like inevitable and phenomenon were in the air and the political and cultural stars seemed to be aligned.

Why didn't it happen? What will it take to make it happen soon?

In a probing analysis sure to ignite controversy, acclaimed White House correspondent Anne Kornblut argues that the optimists are blind to formidable obstacles that still stand in the way of any woman who aims for America's highest political offices. And she makes clear exactly which strategies and common assumptions will need to change if a woman intends to break through the "highest, hardest glass ceiling" of all. Delving deep inside the Clinton and Palin campaigns, Kornblut reveals:

• the strategists' mishandling of their candidates as women by failing to strike the right balance between femininity and toughness

• Clinton's weathering of a series of stinging gender-based attacks, until accusations of "pimping out" her daughter, Chelsea, finally brought her to tears

• that Barack Obama was celebrated for his "historic"win in Iowa, even though it was not the first time an African American had won a caucus, but few noticed when Clinton became the first woman to  win a primary in New Hampshire

• that Palin was chosen solely by men, none of whom had experience in running women for office

Drawing from exclusive interviews with prominent women in both parties, Kornblut pinpoints where politically ambitious American women have gone wrong and what it will take to put them on track to the ultimate prize: the presidency. Former secretary of state Condoleezza Rice asserts: "We crossed the bar on African Americans some time ago. I'm not quite sure we've crossed it on women." House Speaker Nancy Pelosi remarks on the "suit of armor" women must don to survive the sexism and viciousness of politics. Homeland Security Director Janet Napolitano confronts the false rumors that she is a lesbian and reveals what an invigorating "kick in the pants" it is to be in politics. And California gubernatorial candidate Meg Whitman, the former head of eBay, compares politics to business: "It feels to me, thus far, as less of a meritocracy and more of a popularity contest. More of a little bit of an old boys' club."

Kornblut identifies the surprising realities of gender politics, such as the harsh treatment female candidates often receive from women voters, the gap between the United States and other countries when it comes to the electability of women, the "mommy penalty" that handicaps women candidates with young children, and the special appeal that women with law enforcement backgrounds have with voters.

Notes from the Cracked Ceiling reveals that the highly touted new era of gender-equal politics never got as far as was commonly perceived and is now in full retreat. It is essential reading for anyone who cares about politics and the limits for women that persist.
Praise For Notes from the Cracked Ceiling: Hillary Clinton, Sarah Palin, and What It Will Take for a Woman to Win…
"Unsettling...Full of astonishing anecdotes...This book is an eye-opener." —People
 
"[Kornblut] skillfully coaxes candor from guarded women...Gets to the heart of why women run and how they win...Illustrates why more women should be covering politics, and why it matters that she is one of them." —Washington Post
 
"Compelling...convincing and nuanced." —Associated Press
 
"This lively, perceptive discussion of what it will take for women to truly crack the glass ceiling in politics is rich in anecdote, common sense, analysis, and superb old-fashioned reporting." —Doris Kearns Goodwin, Pulitzer Prize-winning historian and author of Team of Rivals
 
 "In Notes from the Cracked Ceiling, Anne Kornblut has cracked the code, brilliantly reporting the struggles women face as candidates, including never before known facts about celebrated and controversial figures like Hillary Clinton, Nancy Pelosi and Sarah Palin. Kornblut brings her trademark analytical skill to paint a brilliant and compelling portrait of where women have been in politics, and how far they still must travel to succeed. This book will be a revelation to all women—and men—interested in politics and in great storytelling." —Andrea Mitchell, NBC Chief Foreign Affairs Correspondent
 
 "That Hillary Clinton and Sarah Palin were treated differently by some in the media and the public because of their gender is indisputable. Anne Kornblut looks at their campaigns, as well as other ones with happier endings, to probe just what a politician's gender means in this "enlightened" day and age. If my daughter is to ever live in a world where she will be judged professionally by the content of her character, not the shape of her skin, it will be in part because of the scholarship, reporting, and insight of reporters like Kornblut." —Jake Tapper, ABC News Senior White House Correspondent
 
"Anne Kornblut offers a careful, compelling, provocative analysis of the role gender continues to play in U.S. campaigns and elections.  She synthesizes academic literature, interviews with scholars, pollsters, strategists, and pundits, and her own experiences on the campaign trail into a first-rate account of how far women have come and how far women still must go to break through the political glass ceiling.  This is a must read for everyone who cares about women, elections, and representation." —Jennifer L. Lawless, Ph.D., Director, Women & Politics Institute at American University and author of It Takes A Candidate: Why Women Don't Run for Office
Crown, 9780307464255, 288pp.
Publication Date: December 29, 2009
About the Author
ANNE E. KORNBLUT has been a political reporter in Washington since 1998--covering, from start to finish, the three most recent presidential campaigns. She worked for the "Boston Globe "and the "New York Times" before joining the Washington Post in 2007 where she is currently a White House reporter.
Coverage from NPR
or
Not Currently Available for Direct Purchase