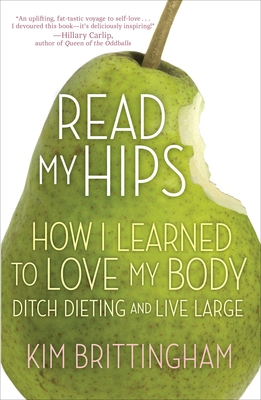 Read My Hips: How I Learned to Love My Body, Ditch Dieting, and Live Large (Paperback)
How I Learned to Love My Body, Ditch Dieting, and Live Large
Three Rivers Press (CA), 9780307464385, 224pp.
Publication Date: May 3, 2011
* Individual store prices may vary.
or
Not Currently Available for Direct Purchase
Description
Kim Brittingham struggled for years with her weight and body image before she learned how to love her self unconditionally, find her confidence, and fully enjoy her life. In this unflinching, humorous, and uplifting memoir, she openly explores her complex relationships with food and dieting, sex and dating, and exercise and health, ultimately inspiring every woman to live life to the absolute fullest, no matter what your jean size.
About the Author
Kim Brittingham is a writer and blogger whose personal essays have been published on iVillage, Salon and Fresh Yarn. She received widespread national attention, including appearances on the Today Show and NPR, when she created a mock self-help book jacket with the title, Fat is Contagious: How Sitting Next to a Fat Person Can Make YOU Fat, wrapped it around a real book, and pretended to read it while riding the buses of New York City as an informal social experiment. She divides her time between New York City and Ocean Grove, New Jersey. KimWrites.com
Praise For Read My Hips: How I Learned to Love My Body, Ditch Dieting, and Live Large…
"An uplifting, fat-tastic voyage to self-love, Read My Hips made me realize that I no longer need to be weighed down by constantly judging my body.  I devoured this book—it's deliciously inspiring!"
 
—Hillary Carlip, author of Queen of the Oddballs: And Other True Stories from a Life Unaccording to Plan
 
"Read My Hips is a spirited call to arms (and bellies and bare legs) to embrace ourselves inside and out. Brittingham explores and exposes the ways women are taught to hide our bodies, then boldly and humorously does the opposite. She speaks from the front lines of
standing up (or sitting on the bus) for women of all sizes who are tired of body image busybodies. Read her hips and rejoice!"
 
—Rachel Kramer Bussel, Editor, Fast Girls and Gotta Have It
 
"Read My Hips is a candid, funny, sometimes scathing chronicle of one woman's sometimes bumpy, always memorable transition from fearful fat-girl self-loathing to vibrant full-bodied joie de vivre.  If you've ever thought wistfully of all the ways your life would be better if only you were thinner, don't wait another minute to read Kim Brittingham's book."
 
—Hanne Blank, author of Big Big Love: A Sourcebook on Sex and Relationships for People of Size and Those Who Love Them
 
"If Kim Brittingham owned a scale, the numbers would be replaced with 300 adjectives like 'audacious,' 'sparkling,' and 'big-hearted.' Packing more confidence and self-respect into one belly roll than most of us do in our entire Pilates-toned bodies, Brittingham doesn't walk the walk: She struts a sassy strut, and stands poised as a radical game changer in the world of body image."
 
—Leslie Goldman, author of Locker Room Diaries: The Naked Truth About Women, Body Image, and Re-imagining the 'Perfect' Body
 
"Kim's voice is refreshing, real, brutally honest and laugh-out-loud funny.  Her words paint a vivid picture that is completely relatable.  In my work or in my life, I have never met a woman (of any age, size or shape) who did not experience body image issues or some degree of self-loathing.  Kim poses great thought-provoking questions and her message is uplifting…Love yourself as you are – no matter what your size and shape – you are already whole!  A fabulous, fun read!  Thanks, Kim, for your bravery." 
 
—Laurie Sliva, Founder/Director/Life-Skills Trainer B.R.I.D.G.E.S. Programs for Girls
 
"In Read My Hips, Kim entertainingly advocates a revolutionary way of being:  accepting our here-and-now bodies as we are and with love.  With wit, sensuality and realistic logic, she shares her journey through time and transformation, baring her attitudes and discovering antidotes for our society's limited and limiting way of seeing our bodies.  Kim's sensuous love of the world and all its prickly details makes for a delightful and moving read."
 
—Debora Iyall
 
Advertisement