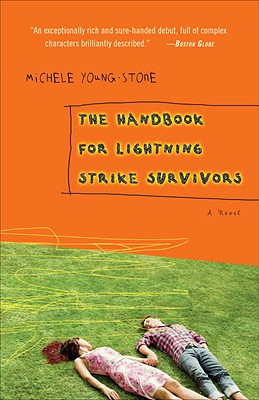 The Handbook for Lightning Strike Survivors (Paperback)
Broadway Books, 9780307464484, 376pp.
Publication Date: April 5, 2011
* Individual store prices may vary.
or
Not Currently Available for Direct Purchase
Description
When lightning strikes, lives are changed.
 
BECCA
 
On a sunny day in Chapel Hill, North Carolina, eight-year-old Becca Burke was struck by lightning. No one believed her—not her philandering father or her drunk, love-sick mother—not even when her watch kept losing time and a spooky halo of light appeared overhead in photographs. Becca was struck again when she was sixteen. She survived, but over time she would learn that outsmarting lightning was the least of her concerns.
 
BUCKLEY
 
In rural Arkansas, Buckley R. Pitank's world seemed plagued by disaster. Ashamed but protective of his obese mother, fearful of his scathing grandmother, and always running from bullies (including his pseudo-evangelical stepfather), he needed a miracle to set him free. At thirteen years old, Buckley witnessed a lightning strike that would change everything.
 
Now an art student in New York City, Becca Burke is a gifted but tortured painter who strives to recapture the intensity of her lightning-strike memories on canvas. On the night of her first gallery opening, a stranger appears and is captivated by her art. Who is this odd young man with whom she shares a mysterious connection?

When Buckley and Becca finally meet, neither is prepared for the charge of emotions—or for the perilous event that will bring them even closer to one another, and to the families they've been running from for as long as they can remember.

Crackling with atmosphere and eccentric characters, The Handbook for Lightning Strike Survivors explores the magic of nature and the power of redemption in a novel as beautiful and unpredictable as lightning itself.
About the Author
MICHELE YOUNG-STONE earned her MFA in fiction writing from Virginia Commonwealth University. Once, many years ago, she was struck by lightning in her driveway. She survived. Visit her at www.micheleyoung-stone.com "From the Hardcover edition."
Praise For The Handbook for Lightning Strike Survivors…
"[N]othing in this novel is predictable, which is one of many reasons that it's a delight. Young-Stone has written an exceptionally rich and sure-handed debut, full of complex characters, brilliantly described. . . . [H]er style certainly has an electric immediacy."
—Boston Globe

"Like a modern fairy tale, The Handbook for Lightning Strike Survivors shows the reader how to survive the inevitable; its magical coincidences are both possible and impossible, beautiful and tragic."--Blackbird

"A cast of good and bad characters and the interplay of human aspirations and chance. As with Dickens, life is a battle of survival here as well as a journey of understanding. . . . [Young-Stone] does not turn away from the harsh disappointments of modern life in America. In fact, she is at her best as an explorer of the ways in which we sometimes fail our children and burden them with traumas that blight their adult lives. Still, her storytelling also leaves room for forgiveness, reconciliation, friendship and love."
—Richmond Times-Dispatch

"Most writers entertain the not-so-secret wish that at least portions of their prose will pop and zing with verbal electricity. But it's difficult to construct a hook for your average dysfunctional-family story quite as illuminating as when the author herself, and also several of her characters, have actually been struck by lightning. Michele Young-Stone's first novel blends both true and fictional accounts of cascading storms of the heart and the sky. . . . Death, art, ghosts, love and the search for redemption populate her pages as frequently as the ominous rumble of thunder."
—Richmond Style Weekly

"Young-Stone tells parallel stories that hurdle storm after storm headlong into one another. . . . [She] is a very fine writer who has created a host of endearing losers—young, old, literate, and simple, all full of longing. What she does best is portray the incredulousness of the unlucky."
—Publishers Weekly

"Each character in this startlingly mature debut novel, from Becca's self-absorbed father and self-destructive mother to Buckley's evangelical stepdad, is complicated, nuanced, and sympathetic. Young-Stone's writing style is crystal clear and shot through with lightning-like flashes of description so vivid that readers might think that they are watching a movie. VERDICT: It's not often that this reviewer regrets a book ending, but that's what happened here. The sense of melancholy, tempered by the resilience and heart of the characters, makes this ripe for Oprah or fans of Elizabeth Berg or Anne Tyler."
—Library Journal (starred review)

"Luminescent . . . Becca and Buckley's parallel stories, as well as curiosity about how their paths finally converge, will keep the pages turning, while the complex, colorful characters, and the deep bonds that form between them in spite of and even because of the tragedies they survive, will live on in readers' minds long after they reach the end of this powerful, beautiful novel."
—Booklist (starred review)

"The Handbook for Lightning Strike Survivors is a quirky, intelligent, funny and well-written book filled with characters so imperfect they look like you and me." --The Raleigh News Observer  

"Vibrant, funny, complicated, magical, heartbreaking, electric. Michele Young-Stone's debut novel The Handbook for Lightning Strike Survivors is all of this and more. I loved it! I've been waiting to read a book like this for years."
—Sheri Reynolds, bestselling author of A Gracious Plenty and The Sweet In-Between

"If you have anything else to do in your life, don't open the cover of Michele Young-Stone's The Handbook for Lightning Strike Survivors. You won't be thinking about anything except Becca Burke's amazing life for a very long time . . . "
—Jacquelyn Mitchard, New York Times bestselling author of The Deep End of the Ocean

"Yes, it's a book about lightning, but it's so much more. It's about the interconnectedness of our stories, our seemingly lonely and individual sufferings. It's about the strength of the human spirit. It's about finding redemption where you least expect it. This book, like lightning itself, will take your breath away."  Our State Magazine
How important was Becca's friendship to Carrie? Do you fault Carrie for believing Mike's story over Becca's, or did Carrie have just cause to blame Becca?
Did you feel that Mary Burke was an empathetic character? Could you forgive her flaws after learning about her relationship with her own father?
Rowan Burke's philandering played a significant role in the early part of the novel. How did his behavior later impact Becca's relationships with men?
What significance did the Book of Job play in the novel? Who might be considered a Job figure and why?
When the author refers to "this god" and "that god," how are these gods different from Buckley's understanding of God?
Considering that Becca once saw roses in pork rinds, how did her father affect her view of the world? How did she regain a more idealistic view of the world?
Why do you think certain chapters like St. Patrick's Day were written in the present tense? What might be the significance?
Do you think Rowan Burke got what was coming to him? Do you think Becca should give him a second chance? Why or why not?
Mary Wickle Burke thinks, It's never too late. Do you agree or disagree with this statement? Explain
In what ways does Buckley change while in Galveston? What might be the reasons for these changes?
In what ways does Becca change while in New York? Discuss her transformation from art student to pharmacy clerk.
After going to dinner with her father in New York, Becca goes to Tripp's apartment and discovers, "…I can't feel anything." What is the significance of being numb? What do you think she finally comes to understand?
What is the significance of The Thin Man? How did the shooting death of Carmine Damici and Buckley's subsequent actions change Buckley's future/destiny?
There are multiple turning points in The Handbook for Lightning Strike Survivors. Discuss how each of the following events affected the character for good or ill.
* Bo's death
* Claire's suicide attempt
* Patty-Cake's appearance at Barnacle Bob's
* Abigail's death
* Buckley's friendship with Mia
* Buckley lying to the police
The relationships between parents and children play major roles in the novel. Discuss the relationships between the two main characters and their parents. In what ways was Rowan an absent father? Do you think Mary was an absent mother? What about Edna and Winter? Through Mary, Becca and Buckley, the novel expresses that blaming one's parents won't solve a person's problems. Instead, the resentment creates more problems. Discuss this message. How difficult is it to let go of blame?
Throughout the novel, the narrator occasionally draws attention to herself. For example, the narrator states: If you've never seen the ocean, board a plane, train, bus or car and go, now, today. If you've seen the ocean and walked a sandy beach or rocky cliff, you'll be familiar with the ocean's powers, how it washes things away;… What do you think about this technique? What purpose might it serve?
In what ways were Becca and Buckley similar? In what ways were they different? How did they function as foils for each other, and do you think that they managed to save the other? How?
How did The Handbook excerpts contribute to each character's story and their joint story? Were there any excerpts in particular that resonated with you? Discuss their importance.
If you had to designate one main character for this book, who would it be, Becca or Buckley? Why?
One major theme in the novel is that whether we believe in God or not, we as human beings are connected, having the ability to save one another. The Handbook for Lightning Strike Survivors is an epic novel taking place in multiple locations and spanning decades. How did the book's epic nature contribute or detract from this particular theme of connectedness?
Another theme is salvation through art. Where throughout the book was this particular theme present? Discuss Colin's work with the children's art from Terezin and Anya in relationship to this theme.
Since completing the novel, the author has been "struck" by the number of people, just like her, who have been affected by lightning. Do you know of anyone who's been a lightning strike victim? Discuss how actual victims' stories you're familiar with compare to Becca and Buckley's experiences.
Advertisement