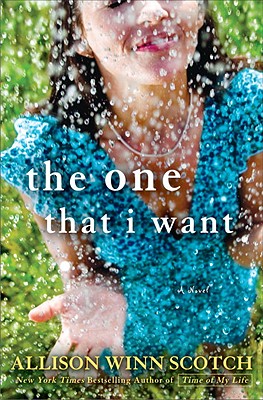 The One That I Want (Hardcover)
Crown, 9780307464507, 288pp.
Publication Date: June 1, 2010
Other Editions of This Title:
Digital Audiobook (5/31/2010)
Paperback (6/28/2011)
* Individual store prices may vary.
Description
Tilly Farmer is thirty-two years old and has the perfect life she always dreamed of: married to her high school sweetheart, working as a guidance counselor in her hometown, trying for a baby. Perfect. 

In fact, on the surface you might never know how tough things used to be. At seventeen, Tilly lost her mother to cancer, her father drowned his grief in alcohol, and she played parent to her two younger sisters more often than being a kid herself. Still Tilly never let tragedy overtake her belief that hard work and good cheer could solve any problem. Of course she's also spent a lifetime plastering a smile on her face and putting everyone else's problems ahead of her own.

But that relentless happiness has served her well—her sisters are grown and content, her dad is ten years sober, and she's helping her students achieve all their dreams while she and her husband, Tyler, start a family. A perfect life indeed.

Then one sweltering afternoon at the local fair, everything changes. Tilly wanders into the fortune teller's tent and is greeted by an old childhood friend, now a psychic, who offers her more than just a reading. "I'm giving you the gift of clarity," her friend says. "It's what I always thought you needed." And soon enough, Tilly starts seeing things: her father relapsing, staggering out of a bar with his car keys in hand; Tyler uprooting their happy, stable life, a packed U-Haul in their driveway; and even more disturbing, these visions start coming true. Suddenly Tilly's perfect life, so meticulously mapped out, seems to be crumbling around her. And she's not sure what's more frightening: that she's begun to see the future or what the future holds . . . 

As Tilly furiously races to keep up with—and hopefully change—her destiny, she faces the question: Which is the life she wants? The one she's carefully nursed for decades, or the one she never considered possible?
About the Author
ALLISON WINN SCOTCH is the author of the novels "Time of My Life" and "The""Department of Lost and Found." She lives in New York.
Praise For The One That I Want…
A Redbook Book Club Pick

One of Cosmo Magazine's Steamy Beach Tomes for the Summer

"[A] novel about the choices we welcome and the choices we resist."
–Redbook

"With a thriller of a conclusion...keeps readers in suspense until the final electrifying pages."
–American Way

"The real magic is Scotch's ability to create authentic moments between her characters that push this fast-paced story to the edge and joyfully brings us along with it."
–The LA Books Examiner

"Well-told . . . a good choice for fans of women's fiction and book clubs. It's fast-paced and feels light yet still packs a satisfying emotional punch."
–Library Journal

"Scotch creates eminently relatable characters, with a particularly excellent understanding of the way sisters interact, and has the ability to craft scenes of real emotional weight."
–Booklist

"[A]n aching, honest look into the death and rebirth of relationships....a wise, absorbing narrative."
–Publishers Weekly

"You'll like this book because it's not all about a guy. It's layered with friendships, family ties, heartbreak, and the excitement of a new crush. The One That I Want will call you to reflect on your own life, inspire you to live passionately, and teach you to embrace independence."  --Glamour.com
or
Not Currently Available for Direct Purchase