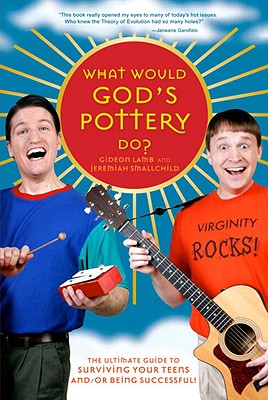 What Would God's Pottery Do? (Paperback)
The Ultimate Guide to Surviving Your Teens And/Or Being Successful!
Three Rivers Press (CA), 9780307464613, 290pp.
Publication Date: September 8, 2009
* Individual store prices may vary.
or
Not Currently Available for Direct Purchase
Description
Youth of Today, Rejoice This is the book you ve been waiting for ever since you stopped watching Davey and Goliath and started growing hair on your downstairs area

Gideon Lamb and Jeremiah Smallchild totally get it. From their take on Hootie and the Blowfish records to hip biblical parables to the joys of home-schooling, they know what the kids are into, and they know how to relate to them like a couple of awesome dudes. Which is why Gideon and Jeremiah, aka God's Pottery, are the perfect people to address the tough issues that plague the Youth of Today issues as complicated and troubling as rap music, speed dating ( the silent killer ), and the myth of sexercise.
What Would God's Pottery Do? combines essays, photographs, frank confessionals not to mention several clearly labeled humor sections to help steer kids in the right direction, all while speaking their language. Gideon and Jeremiah are totally jazzed to reach out and touch the youth using their trademark blend of people skills and biblical know-how. Though aimed primarily at adolescents, What Would God's Pottery Do? contains life lessons for students of any age (except old people)
Many cynics out there claim that God's Pottery is not really a Christian duo but rather a brilliantly executed parody. To those nonbelievers, Gideon and Jeremiah have but one thing to say: We still love you, and we still want to help everyone even the ones who will be going to Hell when they die
About the Author
GIDEON LAMB and JEREMIAH SMALLCHILD have starred on television both in the United States and abroad, most recently as finalists on NBC s Last Comic Standing. When they re not on television, you can often find them on tour throughout the United States! And when they re not on tour, Jeremiah loves to spend time with his Shetland pony-dog Zaccheus while Gideon loves to read about magical places and then images he s playing pick-up basketball with Jesus in those places."
Praise For What Would God's Pottery Do?: The Ultimate Guide to Surviving Your Teens And/Or Being Successful!…
"This book really opened my eyes to many of today's hot issues. Who knew the Theory of Evolution had so many holes?"
—Janeane Garofalo

"If you want to go to Heaven, buy this book. If not, see you in Hell. Or rather, see yourself in Hell—I'll be in Heaven (I bought the book)."
—Will Forte

"I love God's Pottery! Gideon and Jeremiah are like the brothers I never had, if I'd had two really judgmental brothers who dressed funny."
—Mike Birbiglia
Book Videos
Advertisement