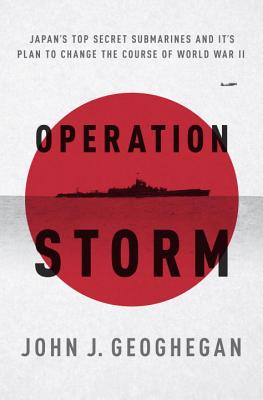 Operation Storm
Japan's Top Secret Submarines and Its Plan to Change the Course of World War II
Hardcover

* Individual store prices may vary.
Other Editions of This Title:
Paperback (3/18/2014)
Description
The riveting true story of Japan's top secret plan to change the course of World War II using a squadron of mammoth submarines a generation ahead of their time
In 1941, the architects of Japan's sneak attack on Pearl Harbor planned a bold follow-up: a potentially devastating air raid--this time against New York City and Washington, DC. The classified Japanese program required developing a squadron of top secret submarines--the "Sen-toku" or "I-400" class--which were, by far, the largest and among the most deadly subs of World War II. Incredibly, the subs were designed as underwater aircraft carriers, each equipped with three Aichi M6A1 attack bombers painted to look like US aircraft. The bombers, called Seiran (which translates as "storm from a clear sky"), were tucked in a huge, water tight hanger on the sub's deck. The subs mission was to travel more than half way around the world, surface on the US coast, and launch their deadly air attack. This entire operation was unknown to US intelligence, despite having broken the Japanese naval code. And the amazing thing is how close the Japanese came to pulling off their mission.
Meticulously researched and masterfully told, "Operation Storm" tells the harrowing story of the Sen Toku, their desperate push into Allied waters, and the dramatic chase of this juggernaut sub by the US navy. Author John Geoghegan's first person accounts from the last surviving members of both the I-401 crew and the US boarding party that captured her create a highly intimate portrait of this fascinating, and until now forgotten story of war in the Pacific.
Praise For Operation Storm: Japan's Top Secret Submarines and Its Plan to Change the Course of World War II…
"John Geoghegan's 'Operation Storm' is a fascinating, meticulously researched and deft account of this bizarre chapter."  - The Wall Street Journal

"An exciting narrative of a naval showdown revealing hubris and humility on both sides...Geoghegan has scoured the archives to present a little-touted facet of Japanese naval history that offers a fascinating glimpse into the workings of the Japanese mindset at the endgame of the war." -- Kirkus 
 
"Operation Storm is an exciting page turner comparable to the best of Tom Clancy's techno-thrillers--except this tale happens to be true...Geoghegan has delved deeply into...(the) records to tell a fascinating story." -- Aviation History 

"Aviation historian Geoghegan's virtuoso research turns up surviving witnesses and obscure documents to corroborate this engrossing story of politics, logistics, and the technological leaps and bounds made during wartime, and the resulting tale is a thrilling take on a little-known aspect of the conflict in the Pacific theater." -- Publishers Weekly 

"A magnificent page-turner that reveals the inside story of a remarkable top secret program, Operation Storm is a powerful, towering achievement." -- David King, bestselling author of Death in the City of Light

"A great historical read, scrupulously researched and brilliantly written. Geoghegan has produced a marvelous insight into the men on both sides who fought a brutal underwater war beneath the waters of the Pacific in WWII."    --Clive Cussler, bestselling author of the Dirk Pitt and NUMA Series

"The Imperial Navy's submarine force in WWII is still barely understood in the West. Geoghegan has given us one of the first detailed glimpses into the workings of Japan's undersea fleet. His detailed coverage of the Imperial Navy's I-400 program is uniquely interesting." -- Jonathan Parshall, author of Shattered Sword
 
"Anyone who believes there are no more hidden secrets to World War II will feel differently on seeing this book. I've been reading about the war all my life, but knew nothing of the extraordinary weapon whose story John Geoghegan tells here. And tells, I might add, in a riveting, vivid, suspenseful way that makes it hard to stop reading once you've begun…it's a remarkable tale."  -- Adam Hochschild, bestselling historian and author of, To End All Wars and King Leopold's Ghost

"Just when we were beginning to think that every conceivable World War Two topic worthy of study has already had a shelf's worth of books devoted to it…John Geoghegan's Operation Storm combines painstaking research and crisp writing to bring to life, for the first time in English, the fascinating story of Japan's late war I-400 experimental submarine program." -- M.G. Sheftall, author of Blossoms in the Wind: Human Legacies of the Kamikaze
 
"Operation Storm does for Japanese submarines what Das Boot did for U-boats showing the human side of a remarkable story no less extraordinary for being true. Geoghegan's splendid research combined with his writing skill makes Storm a genuine page turner." -- Col. (ret.) Walter J. Boyne, former head of the Smithsonian Air & Space Museum

"Impressively documented and lucidly written, here is a lively, well-balanced account of
the Imperial Japanese Navy's huge I-400 class submarines and their eleventh hour 'game-changer' mission." --Carl Boyd, co-author of The Japanese Submarine Force and World War II; Professor Emeritus, Old Dominion University; and U.S. Navy submariner 1954-58
Crown Publishing Group (NY), 9780307464804, 478pp.
Publication Date: March 19, 2013
About the Author
John Geoghegan has written extensively about aviation history, underwater exploration and marine engineering for the "New York Times" Science Section, Smithsonian Air & Space, WIRED, Popular Science, Aviation History, Military Heritage, Flight Journal and the San Francisco Chronicle Sunday Magazine.
or
Not Currently Available for Direct Purchase