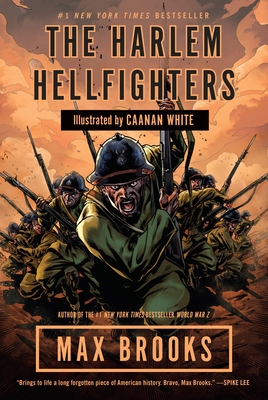 The Harlem Hellfighters
Paperback

* Individual store prices may vary.
Other Editions of This Title:
Prebound (4/1/2014)
Description
From bestselling author Max Brooks, the riveting story of the highly decorated, barrier-breaking, historic black regiment—the Harlem Hellfighters

In 1919, the 369th infantry regiment marched home triumphantly from World War I. They had spent more time in combat than any other American unit, never losing a foot of ground to the enemy, or a man to capture, and winning countless decorations. Though they returned as heroes, this African American unit faced tremendous discrimination, even from their own government. The Harlem Hellfighters, as the Germans called them, fought courageously on—and off—the battlefield to make Europe, and America, safe for democracy.  

In THE HARLEM HELLFIGHTERS, bestselling author Max Brooks and acclaimed illustrator Caanan White bring this history to life. From the enlistment lines in Harlem to the training camp at Spartanburg, South Carolina, to the trenches in France, they tell the heroic story of the 369th in an action-packed and powerful tale of honor and heart.


Praise For The Harlem Hellfighters…
NEW YORK TIMES BESTSELLER

"Writer Max Brooks and illustrator Caanan White hew closely to the true tale of the 369th Infantry Regiment...The horrors of war and the outrages of racism are vividly conveyed in a swift and suspenseful tale." —U-T San Diego

"Shattering...A visceral evocation of the horrors of trench warfare...A sharp reminder that venerating volunteer troops for their service is an ideal that has not always been a reality." —Washington Post

"[One] of of the most powerful books I've read so far this year...This is a stunning work of historical recovery and a very graphic graphic novel: bodies explode, rats feed on corpses, men are strafed and gassed. It's not pretty, but the "in your face" style of The Harlem Hellfighters is suited to dramatizing a crucial part of American history that hasn't been thrust forcefully enough into our collective faces." —NPR, Fresh Air

"Stunning... Like the regiment of African American soldiers it depicts, Harlem Hellfighters can't be stereotyped or pigeon holed. It might not be your typical history book, but it packs one hell of a punch." —Newsweek

"A splashy, fun, gripping number, and an intriguing look at an oft-ignored footnote in the history books." —New York Daily News

"Moral complexity is just one of the novel's many achievements. Dialogue and imagery are often richly juxtaposed... White's illustrations render the grisly and graphic details of trench warfare with haunting immediacy... The sharp lines and shadowy depths of his sketches are absorbing and Brooks' words are equally evocative. The dialogue is bleak, funny, and efficient... [Brooks'] careful research doesn't sap the story of its speed and strength." —Christian Science Monitor

"Shines a literary klieg light on a woefully overlooked chapter of World War I...Bolstering Brooks's storytelling muscle is the high-contrast black-and-white art of gifted Caanan White, whose graphic grit evokes Joe Kubert and 'Sgt. Rock'... A powerful comic that may do more than any previous work to illuminate the heroism of the 369th." —Washington Post

"The Harlem Hellfighters brings to life a long forgotten piece of American history. Bravo, Max Brooks, bravo." —Spike Lee

"An utterly fresh and shocking blend of storytelling and graphic art that takes us back to the global conflagration at the dawn of the last century and the heroic and outsized role brave African American soldiers played in turning the tide for the Allies. In an injustice oft repeated throughout our history, the heroic feats of the 'Harlem Hellfighters' were not just forgotten but deliberately suppressed by a nation eager to accept the Black man's sacrifice but terrified to give him the slightest credit for it. Denied the ability to even defend themselves back home, the Hellfighters tear up the Western Front and terrify the Germans, facing down machine guns, rats, and poison gas with stoic relentlessness and deflected fury. White's illustrations explode off the page and Brooks' storytelling brings gripping action and anger to every page." —Tom Reiss, Pulitzer Prize winning author of The Black Count

"Brooks's text seethes with rage at the soldiers' mistreatment, but he insists that even the racists who saw them in action would have respected their accomplishments. Like the text, White's b&w art is intensely furious, emphasizing the war's chaotic horror. Reading the book is a painful, memorable experience." —Publishers Weekly

"The Harlem Hellfighters is perhaps the first graphic novel taking as its theme a major episode in African American History, the heroic performance of black men in combat during World War I. Brilliantly dramatized by Max Brooks—author of such national bestsellers as World War Z and The Zombie Survival Guide—and stunningly illustrated by Caanan White, one of our foremost African-American comic book illustrators, the novel tells the gripping story of the often overlooked black men who served their country in combat against enemy forces during 'the Great War.' The Harlem Hellfighters served in combat longer than any other American unit, losing neither men nor ground, even as they fought entrenched racism within the U.S. military. Brooks and White tell a thrilling saga of noble perseverance, individual valor and sacrifice and collective triumph, showing how combat abroad in war contributed to the larger quest for civil rights at home. Informed by judicious historical research and vividly illustrated storytelling, this book itself is an historical "first," and is a major contribution to our understanding of Black History." —Henry Louis Gates, Jr., The Alphonse Fletcher University Professor, Harvard University

Del Rey, 9780307464972, 272pp.
Publication Date: April 1, 2014
About the Author
MAX BROOKS is the #1 New York Times bestselling author of World War Z, The Zombie Survival Guide, and The Zombie Survival Guide: Recorded Attacks.
Coverage from NPR